Whether you want to soak in the sun or surf in the ocean, South Korea will always brag about the best world-class beaches that can anytime satisfy your desire for a memorable beach vacation. South Korea is enclosed by water on three sides and hence it has got a wide array of beaches that make it no less than a beach paradise.
Best South Korea Beaches To Visit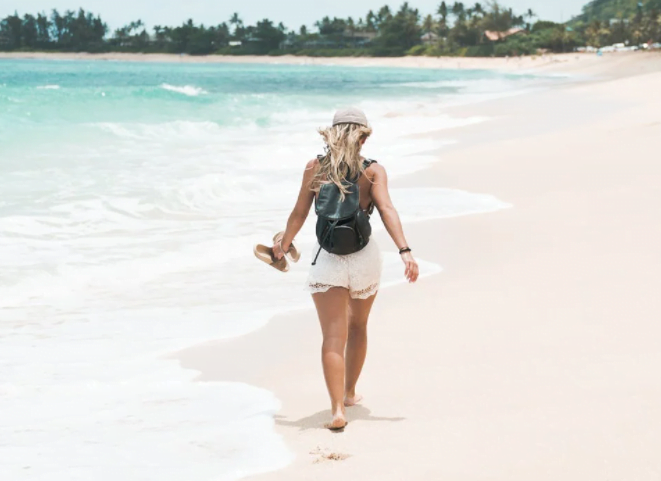 As some of the beaches are also commercialized with different types of water activities and some of the best restaurants, this is a favorite spot for travelers. Here are the 15 best beaches of South Korea.
Haeundae Beach
Do you wish to observe the Busan International Film of South Korea? If yes, this beach is probably the blockbuster beach that should be included on your list. Haeundae beach is counted among the best beaches of South Korea and you can party and cheer for the New Year or relax at this splendid beach.
Seobin Beach
Seobin is tucked away from Jeju coast and is located in Udo, also known as Peanut Island, is home to this beach, which is one of South Korea's best beaches.
Immerse yourself fin the beauty of the gin-clear water that is shimmering in its own turquoise blue color. This is a beautiful natural attraction and is said to be one of the best coral beaches.
Hojodae Beach
Hojodae is a beach which is stretched 2 miles and there are multiple reasons behind calling this a 'Surfy' beach. If you're anyone who's interested in surfing, this is certainly one of the most famous beaches that are known for surfing. The beach has two different zones for surfers and swimmers.
Hamdeok Beach
The shallow and shimmering water of Hamdeok Beach happens to be one of the best places for swimmers, especially from the younger generation.
You'll find that the sand is pristine and soft, just as you find in Hawaii. You can visit the best places and cafes where you can hire a banana or a kayak to experience adventurous rides.
Eurwangini Beach
This is just a few minutes away from the Incheon Airport and it has a fascinating curve which is filled with shallow water that's perfect for paddling. This is a beach destination that is crowded throughout the year and is filled with white sand. Accomodations are available here at an affordable price.
Muchangpo Beach
Muchangpo Beach is one of the most popular beaches in South Korea which is close to Daecheon Beach. You can escape the bustling sound of the city life and you'll enjoy the splendid view of chilled water and pine trees.  This is one of the most awesome beaches of South Korea.
Daecheon Beach
Daecheon Beach is located at a distance of 30 minutes through road and this is hardly 3 hours from Seoul. There are several activities that the beachgoers will enjoy during the festival. This has earned a great place on the map of tourism and this beach is one of the most awesome beaches near Seoul, in South Korea.
Naksan Beach
Naksann Beach is located on Gangwon-do Province's northeast coast of South Korea. Bestowed with magnificent Seorakshan Mountains as a backdrop and the beach is a perfect place for holidaying. This is a long sandy beach that spans across 4km. It is lined by broad walkways, stunning scenic beauty and pine trees.
Gwangalli Beach
This beach is a sweeping crescent of fine yellow sand and it is lined with restaurants, shops and bars that provide you entertainment from the morning till night. It stretches for 1.4km (0.8mi) and the beach is a perfect destination for windsurfers and water skiers. To visit this beach on your holiday, try to know what it has to offer.
Hyeopjae Beach, Jeju
This is a part of Hanrim Park and it stretches through a distance of 9km. Its white sand is colored by crushed seashells. An island is there that lies off the coast and there is a mountain in the background.
The beach offers plenty of scenic views. The shallows of this beach are smooth without any kind of abrupt drops. You get a number of amenities like eateries and showers across the beach.
Woljeongri Beach, Jeju
This beach is well known for its picturesque scenery, emerald water, white sand and the beach is famous for offering surfing opportunities, swimming and sunbathing.
The calm shoreline is dotted with some of the best cozy beachfront cafes. Once you take a walk down the boardwalk, you'll see the rustic painted chairs that are available for anyone who wishes to take rest for some moment.
Jeongdongjin Beach, Gangeneung
Once you go out for a walk along the Jeongdongjin beach in the early morning, you will go spellbound on seeing the sunrise and its awesome reflection on water.
The break of the day offers the most breathtakingly beautiful moment and you can simply enjoy the entertaining and calm surrounding no matter when you visit. Don't miss visiting the local harbor where you meet the local fishermen.
Gwakji Gwamul Beach
You can easily collect clams or go out for a swim at Gwakji Gwamul Beach as it is a favorite among tourists and residents alike. You may even rent inflatable tubes if you need a pleasant attraction for the kids or spend time in exploring the restaurants nearby. Plan a visit to the Gwakji Gwamul beach and other beaches reviewed by tourists.
Gimnyeong Seonsegi Beach
Gimnyeong Seonsegi Beach lures visitors with its clean white sand, cobalt-blue water and amazing black volcanic rock formations.
You needn't be alarmed by the strange fluctuations of the seabed as this is a strange underwater hill area along the shoreline that safeguards the shallows from big waves. One of the finest volcanic caves or lava tunnels are few of the nearby attractions of this beach.
Yongmeori Beach, Seogwipo
This stretches in a south-southwest direction and the Yongmeori Beach represents one of the largest possible beaches on the island with the same name. Take a walk or rent a bike for having a memorable ride and for the best photo opportunities. Visit the shipwreck museum to see sailing artifacts that are unique in their own way.