If you aren't someone who has been living under the rocks, you must have heard about Bitcoin by now. We're even pretty sure about the fact that some of you may also own some bitcoins. But while you may own them, where are you actually storing them?
Best Bitcoin Wallet to Store Bitcoins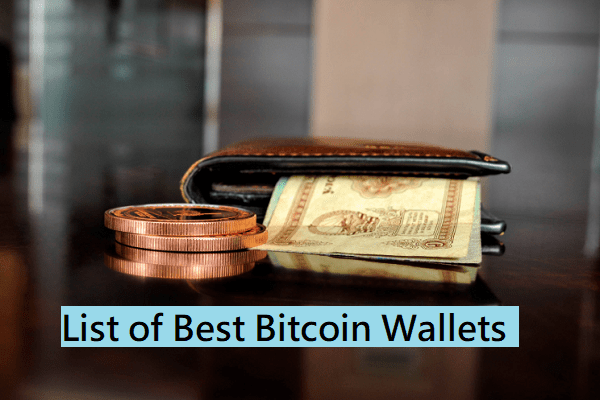 Are you storing them on Bitcoin exchanges like BitMEX or Binance or Bitcoin wallets like CEX or Coinbase? If answered yes, you should know that you're staking your ownership for enough risk.
Such services keep your private keys with them and this is not safe as the private key of Bitcoin is the only way you can claim them.
So, now that the question is where you should keep your Bitcoins? Let's take a quick look at the best Bitcoin wallets.
1] Ledger Nano X
Ledger Nano X is a hardware wallet designed by a French organisation. If you had to choose the most functional Bitcoin wallet, this is definitely the one.
This is a hardware wallet that works both with mobile and desktop and it comes with an in-built battery. Thinking of it from the security point of view, it has got 2 chips that makes sure that your private keys always remain personal to you and so that it never gets exposed to the world.
2] Atomic Wallet
This is an entirely decentralized and non-custodial wallet for storing multicurrencies like Bitcoin. It supports more than 300 coins and tokens.
This wallet offers you an interface which allows you to not just manage the cryptocurrencies but also exchange and buy without any help from external services. It offers users with a 12-word mnemonic seed so that the users get 100% access to funds.
3] Copay
Bitpay has introduced this Bitcoin wallet called Copay and this is available on Android, iOS, Linux, Windows Phone, Max OS and Windows.
As this wallet can be used on several platforms, it is easy to use same account over multiple devices. Thanks to its clean interface that it is a great choice for Bitcoin owners.
4] Coldcard Wallet
This is a user-friendly, open-source, ultra-secure and affordable hardware wallet that can be easily backed-up through an encrypted micro SD card. Your personal key is stored in a security chip and this design allows you to customize it according to your needs.
You don't require any specialized software for operating this Coldcard wallet. With plain design and simple packaging, this is ultrasecure.
5] Ledger Nano S
This one is the previous version of Ledger Nano X and it is like an USB drive that connects to a USB port. It doesn't require any battery and starts when you plug it into a mobile device or a computer.
The Ledger's cryptographic process checks the integrity of the machine whenever you switch on its power. It has got an OLED screen with two buttons on the side that are used to confirm transactions.
6] Trezor
This wallet has been designed by a Czech-Republic company called SatoshiLabs and Trezor is touted to be the first Bitcoin hardware wallet of the world. It is a rather small gadget with an OLED screen that can be connected through USB to your phone or PC.
The key purpose is to store the private keys offline and let you sign transactions. The setup is slightly different from Ledger Nano S. Trezor supports several cryptocurrencies like Bitcoin, Namecoin, Litecoin, Zcash and Dogecoin.
7] Exodus
This is a free of cost Bitcoin wallet that is designed only for desktop use and it has been crafted by Daniel Castagnoli and JP Richardson in 2015. This is the first ever desktop wallet for storing multi-cryptocurrencies. This company has invested lot of effort in ensuring good user experience.
Exodus lets you store bitcoins without any worry and also supports Litecoin, Dash, Dogecoin and Augur. You don't require any identity verification or registration to start using this wallet. However, you definitely need to take a backup of the seed key whenever you have balance in your wallet.
8] Trust Wallet
This is undoubtedly the world's leading multi-asset cryptocurrency wallet that has the ability to store altcoins and bitcoins. Presently, it can support 13 types of cryptocoins and hence it is an appropriate choice for users who work with multiple cryptocurrencies.
Thanks to their hardworking development team that their services are extremely reliable. On the roadmap to development, they have Altcoins like Monero, Binance, Ripple, Tether and many more. This wallet also offers a frictionless, seamless and user-friendly UI. This is also an HD wallet that has a feature of backing up your seed key.
9] Guarda
Users who have used different types of bitcoin wallets think that Guarda is the best. This is an open-sourced Bitcoin wallet that is always trying to invent new things. In case you're someone who is new to Bitcoin, you will fall in love with the simple user interface of Guarda.
Moreover, you can control the private key and import it whenever you feel the need to do so. Guarda is compatible with Ledger Nano wallets too.
10] Opendime
This is either called a Bitcoin stick or it is the first Bitcoin Bearer Bond. It is a small USB stick that lets you spend Bitcoin in a similar manner as a dollar bill. You can pass it several times and connect through any USB port for checking your balance.
This gadget acts like an USB flash drive and it works with any laptop, computer and phone. We all know that the world of Bitcoin changes fast but this wallet has been designed keeping in mind the key features of Bitcoin that haven't gone through any change since the last 5 years.
Therefore, if you're an owner of several types of cryptocurrencies, you need to find a safe place to store them so that your private keys are not seized. Choose any of the above listed Bitcoin wallets and use them to reap benefits of security, easy UI and reliability.