There are many bus manufacturing companies in India. This is because of the high demand of buses in our country. Buses are among the most economical means of transport in India. Thus, bus service runs within the cities. They also connect different cities and towns with each other.
Top Bus Manufacturers In India
Numerous people cover long and short distances by bus every day. The quality of buses manufactured by some manufacturers is higher compared to others. Buses are rated on various parameters.
Here is a look at the 10 best bus manufacturing companies in India.
Tata Marcopolo
Tata Marcopolo is a top notch bus manufacturing company. It is a joint venture between Tata Motors and Marcopolo. Marcopolo is a Brazilian company. Tata Marcopolo manufactures wide range of buses.
These are mainly used as local conveyance. You can see them running in different Indian cities. The latest offering of the company is the Y1 electrical buses. This one has particularly got an overwhelming response. Thereafter, the company's popularity has soared higher.
Ashok Leyland
Ashok Leyland manufactures high class commercial vehicles. It is the second largest commercial vehicle manufacturer in India. It is also the fourth largest bus manufacturer in the world. The company manufactures buses for different segments.
Its buses are commonly seen on the Indian roads. These buses boast of sturdy exteriors. They also offer comfortable interiors. Many schools opt for Lynx buses by Ashok Leyland.
The company also manufactures mini buses. MTC, 12 M, Lynx and JanBus are its popular buses. Its range of buses also includes Viking, Cheetah, Mitr, Eagle and Hawk. Besides, there are many others.
Mahindra Truck and Bus Division
Mahindra and Mahindra has partnered with Navistar International. Together, they manufacture buses and trucks in India. The company came into being in the year 2005. Its head office is in Pune. Mahindra buses are perfectly suitable for Indian roads.
They have excellent safety features, great suspension as well as robust exteriors. The company offers buses for different segments. Its range of buses is vast. It includes Comfio, Tourister Excelo, Cosmo and Cruzio. Tourister Excelo range includes 12, 25, 29, 32, 36, 40, 41, 46 and 55 seater buses.
Eicher Motors
Eicher Motors Limited came into being in 1948. The company manufactures high quality buses. It manufatures various other vehicles too. It does so in partnership with the Volvo Group.
Together, they are called VE Commercial Vehicles (VECV). Eicher Trucks and Buses is among the five business units of the company. The unit manufactures and markets buses and trucks. The company has established a strong foothold in the Indian market.
Force Motors
Force Motors manufacturers several commercial vehicles. It is in business since1958. However, until 2005 it was known by the name, Bajaj Tempo Motors. The company collaborates with international manufacturers. It does so to come up with high class buses as well as other vehicles.
It has dealer presence across India. Its school buses are particularly in demand. The company's buses boast of high quality engine. Other parts of the buses are also top notch. This ensures high performance and safety.
BharatBenz
BharatBenz manufacturers top quality modern buses. The company is in business since February 2011. Its manufacturing plant is in Chennai. It has a whole range of Made in India buses. These business offer comfort. They also ensure safety.
Their seats are designed to offer utmost comfort to travelers. Secondly, all the safety features have been incorporated in these buses. Furthermore, the buses are fuel efficient.
The buses boast of high performance. BharatBenz aims to popularize buses among large number of Indians. This is for the greater good of the society. As more people will start using this public transport, the pollution level will come down.
Volvo Buses
Volvo buses are symbolic of luxury and comfort. The Volvo Bus Corporation is a subsidiary of Volvo. Volvo is a well known Swedish vehicle maker. It is the largest bus manufacturer in the world. Volvo buses are the most sought after buses in India.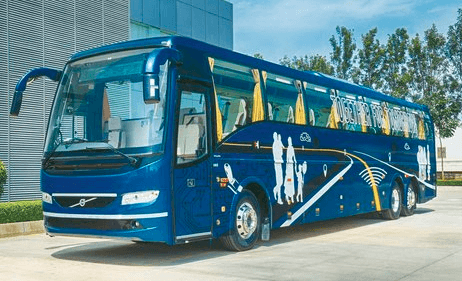 The production facility of Volvo in India is set up in Bangalore. Travelers prefer traveling long distance by these buses. This is because of the sheer comfort they offer. They also boast of beautiful interiors. The fare of these buses is comparatively higher. However, people do not mind spending on it. This is because the amount spent is totally worth it.
Scania
This company forms a part of the prestigious Volkswagen Group. Its buses are much in demand. They boast of luxury and safety. Scania AB manufactures large number of buses each year. The company also manufactures other heavy duty vehicles.
Besides, it manufactures coaches and industrial and marine engines. The Swedish company made its way to India back in 2007. Scania Commercial Vehicles India came into being in 2011. Thereafter, the company began full-fledged operations in India. Its buses are highly in demand. Other commercial vehicles by Scania are also quite popular.
SML Isuzu
SML Isuzu came into being 1983. It is a joint venture of Sumitomo Corporation and Isuzu Motors. It was earlier named Swaraj Vehicles Limited. Its headquarters are in Chandigarh. The company manufactures commercial vehicles. Its buses offer a comfortable travel.
It also sells ambulances and customized vehicles. SML Isuzu has seen a tremendous growth over the years. Its commercial operations began in 1986.
There has been no looking back since then. It manufactures wide range of buses. These include Standard School Bus, S7 Staff Bus and S7 School Bus. It also offers Semi Low Floor Bus and Standard Staff Bus.
MAN SE
MAN SE is a German mechanical engineering company. The company is a subsidiary of the Volkswagen Group. It manufactures various commercial vehicles. It collaborated with Force Motors to launch buses and trucks in India. This was back in 2006. However, in 2011 it bought the stakes of its partner.
Thereafter, it became completely owned subsidiary of MAN. Its buses are quite in demand in India. The company uses high quality parts to manufacture buses. Its buses are safe and comfortable.
So, do you travel by buses? If so, then do let us know which one you prefer? We would also love to know why? As for me, I prefer traveling in a Volvo bus. These buses have a great ambience and ensure a comfortable travel. Besides, these are maintained well.