We can't deny that edible oil is an important part of our life, especially our kitchen. Whether we cook any fried or curry item, we will always need oil because it is the main ingredient.
Can we think of preparing any recipe without using any kind of edible oil in our kitchen? Not really! Adding the right amount of edible oil in any food enhances the aroma and taste of the food item.
Best Cooking (Edible) Oil Brands In India
Currently, there is a soaring market growth of edible oils in India and hence there are numerous products to choose from. It follows CAGR (Compound Annual Growth Rate) of 15% in a year and hence there are many foreign edible oils that are showing interest in investing in the market of India.
Whenever it is about edible oil, we should make sure they are of premium quality. So, when you purchase edible oil, watch out for a brand that offers the best quality that also has proper brand value. When we consider the myriad options of edible oil in India, there are too many to choose from. Here are few choices to choose from.
Fortune
Fortune is one of the most famous brands of edible oil in India. This is a brand that you may find being used in several households and this brand is owned by Adani Wilmar Group.
The oil brand was introduced in the year 2002. They have a wide range of cooking oil like sunflower oil, mustard oil, rice bran oil and groundnut oil.
Saffola
Saffola is one of the most used cooking oil brands in India. This is a subsidiary brand of Marico Ltd and it is clear that South African and Asian markets prefer Saffola over several other cooking oil brands. Saffola has arrived with Nutrilock technology that is present in oils that help in retaining the quality of oil.
Wagga Wagga Pure
This is a brand that was launched recently as an edible oil brand in India. The company is owned by Agro Global Resources Ltd. and the brand is different from other brands of cooking oil by manufacturing oils that are tailor made for heart health and diabetes.
They don't use artificial elements as the brand promotes itself as a company that doesn't use GM seeds and chemicals.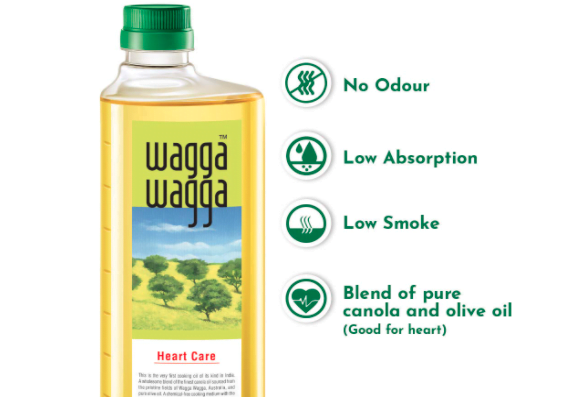 Sundrop
This is a subsidiary brand of Agro Tech Foods Ltd. and they have created their niche in the field of cooking oil brands. This is a brand that came into existence in the year 1989 and it focuses on boosting the quality of its oils regularly so that it helps in easy digestion and cooking.
Dhara
"Dhara Dhara, Shudh Dhara." Who doesn't remember this sweet song from this ad? The Dhara is a part of Mother Dairy brand and it has exclusive health benefits and also has great taste among the other vegetable oil brands in India. Dhara maintained a proper and long-lasting relationship with Indian consumers.
Dalda
Dalda is presently owned by Bunge Limited and few years back, this was the market leader among cooking oil brands in India. It is enriched with Vitamin D and Vitamin A. Dalda is a great buy for the middle and lower income groups. Majority of the hotels use this Dalda brand for preparing food.
Oils by Cargill
Cargill originated from America. This company entered the market of edible oil with a plethora of products in the year 1987. This brand emphasises on proper quality and nourishment. Few of the famous labels are Gemini, Sweekar, NatureFresh and Leonardo Olive Oil.
Nutrela Cooking Oil
Nutrela cooking oil is a good quality product of Ruchi Soya industries. This cooking oil competes with the other brands of cooking oil. This company has few of the most vital vitamins and minerals added to it.
It offers a wide range of cooking oil with several varieties. The Nutrela Sunflower oil and Vitamin E are few of its common products.
Vimal Oils and Food Limited
Vimal oils and food limited is one of the oldest vegetable oil brands that you get in India. The brand offers one of the most refined cooking oil in India.
This brand offers one of the most refined oils in India. The brand is involved into the production of different types of edible oil like corn oil, cottonseed oil, sunflower oil, groundnut oil and soybean oil.
Rasoya Protein Ltd.
This is a pretty old brand among other Indian cooking oil brands that started operating in the year 1992. Rasoya Protein Limited is associated with manufacturing soya products and vegetable oils. In the present market, this brand offers one of the best refined soybean oil. This company will also have its rice bran oil very soon.
Patanjali
Led by Baba Ramdev, this is one of the most visible and natural brands among all other Indian cooking oil brands. After concentrating only on ayurvedic medicines for a very long time, they diversified into other healthy products like cooking oil.
Emami
If you consider the Indian market, Emami is a famous brand. Emami's edible oils are promoted as healthy products for their consumers and it is touted to be tastier than other cooking oil brands.
Tirupati
Tirupati is also another edible oil brand that is owned by the company, NK Proteins. N K Protiens is famous for its contribution to the market of edible oils and they produce soybean oil, sunflower oil, groundnut oil and sesame seed oil.
Gulab Oils
This is yet another old oil brand in India. This was set up with the goal of supplying good quality and edible oil to the Indian market. It originated from Gujarat and this brand also produces soybean oil, corn oil and cottonseed oil.
Freedom Oil
Freedom is one of the most popular brands in Andhra Pradesh, Tamil Nadu, Karnataka and Odisha, among the other brands of vegetable oil in India. It is a brand that is regulated by GEF India.
GEF originated from Hyderabad and this company follows a selling proposition and structured marketing for creating its space among players in the Indian market.