Whether you're just getting started as a small business, or a veteran in the market, a POS system can help manage your business and keep things like inventory on track and accurate. These valuable systems perform many tasks other than payment processing, but some are built for larger business whereas others function better at a smaller level. Here's information on the best POS software for your business revenue level.
Best POS Software Systems For Small Business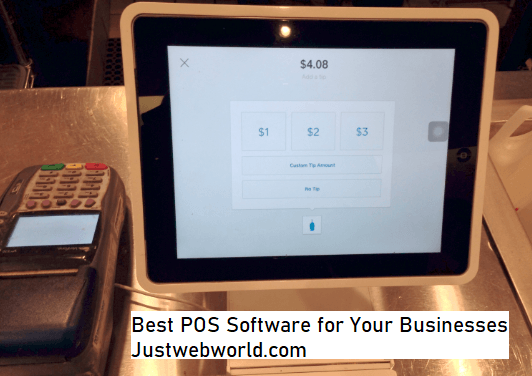 1] Sales Volume
If you're turning over thousands of products per month, generating a ton of cash flow, you'll want a sophisticated system that can not only keep track of your inventory but integrate payments and ensure that your financial records and sales numbers are always accurate.
Accuracy in high-volume businesses is essential for both compliance with the IRS and the growth of the business. Not to mention, incorrect inventory can wreak havoc on a business of any size, and you wouldn't want to halt production for something as simple as an inventory miscount.
2] Customer Base
If you have an equally large customer base, your POS system can help create profiles for each customer, giving you access to their transactions, personal information, and a greater understanding of the items they prefer to purchase at your store. This insight can help you better tailor marketing efforts and get to know your customers better.
Your POS system should be able to handle thousands of customer profiles and navigate through them quickly. This is one of the greatest advantages of using point of sale software for your business.
3] Cloud-Based Software
Cloud-based POS software is more versatile than its iPad driven counterparts, able to be operated on several different types of hardware, instead of specifically on the Apple iPad. Not to mention, cloud-based systems tend to have better software and a greater number of tools available to assist you with day-to-day tasks.
4] Square POS
For smaller businesses, Square POS is the perfect option. The company will provide your business with either a card reader that you can plug into any mobile device or one of their own complete POS systems, loaded with Square POS software and ready to go.
One of the best parts about Square is that the general startup costs are relatively low. Even if you decide to purchase the Square POS hardware, it only runs at around about $1,000 for the complete setup.
If you're not looking to spend quite as much, the Square magstripe reader that plugs into a mobile device is free when you sign up for a free Square account; they'll even mail it to you free of charge! Square's fees are based on a per-transaction system, so you'll only be charged a small fee when you make a transaction. If your sales volume is relatively low, this is your best option.
With an affordable startup, free magstripe reader and Square account sign up, Square POS is the best option for small businesses or those just getting started.
5] Vend HQ
If you're looking for versatility, look no further. Vend's POS software works across any device, whether it be Apple, Android, or even a Windows computer. That's because Vend's POS system is cloud-based, meaning all of your information is secured on the cloud and accessible from anywhere with an internet connection.
We've put Vend in the middle of our list because it's entirely versatile when it comes to revenue level. Whether you're churning out thousands of products per month or only a few dozen, Vend has the ability to accurately process and manage them all; keeping sales and inventory numbers up to date and always accurate.
Vend also works offline, resyncing with the cloud once a connection is reestablished, so you'll never have to worry about an internet outage preventing you from using your software.
Overall, Vend's flexibility, cloud-based services, reasonable pricing, and versatility when it comes to hardware makes it a great option for both large and small businesses alike.
6] Cegid
Cegid POS is specifically tailored for medium to large-scale businesses, mostly retail stores and chains. With over 70,000 stores worldwide under the service of Cegid, the brand is certainly something to be reckoned with, providing practical POS solutions to businesses on the larger end of the spectrum.
Cegid has been around since 1983, and has since moved into the business of modern POS systems, which include tools to help boost sales, better manage your inventory, and better understand your customers' purchasing habits.
The POS system is incredibly versatile, with options for many retail niches including fashion and beauty, sporting goods, and more. To get a customized price, you'll need to head to their website and request a quote for your business.
Cegid is designed for large businesses and chains, so when you find yourself breaking the barrier from medium-sized business to retail giant, Cegid is the right POS for you.
Conclusion
With so many POS systems available out there, we hope this article has provided valuable information to help direct you to the software to best suit your business's needs.
Remember that small businesses have very different needs than larger businesses, and your POS system should reflect those needs by working specifically for your revenue level.
A POS system like Cegid would likely be too expensive and feature-rich for a small business or one that just formed, and a solution like Square wouldn't have all of the features a large chain store would require.
You may also like.