Mexico is a country of 140 million people and it is one of the most populated Spanish-speaking nations in the world. Mexico may be a portion of North America that borders California, Arizona, Texas, and New Mexico, but this also has a unique and rich Latin American identity, and interesting history.
Universities In Mexico – List of Top 10 Universities In Mexico
Mexico is a country that is home to 34 UNESCO Heritage Sites and it also provides you with enough opportunities to investigate and check out the pre-Hispanic civilizations and historical monuments, the Mayan temples of Palenque, and Teotihuacan's pyramids.
The colonial architecture of Mexico is nothing but a remnant of the 300-year rule of Spain, which has been preserved perfectly and the country is filled with galleries and museums that document the creative energy and dynamism of the country.
If you're looking forward to settling down in Mexico, you must be eager to know about the different colleges and universities in this country so that you can shape the future of your teenage child. But where would you find the best universities in the world? While they can be found anywhere, Mexico is also not an exception.
You'll be rather surprised to know that Mexico is home to the top-ranked colleges and universities that have made it big in the rankings of the world. The universities, engineering schools, medical schools, and law schools are the most revered and popular in the academic world. They keep offering Bachelor's, Masters and PhD programs for the smart students of the world.
We will give you a list of the best universities in Mexico. Feel free to help yourself choose the one that suits you and your need in the best possible way.
Monterrey Institute of Technology
The Monterrey Institute of Technology was founded in the year 1943 by a small group of businessmen and they happen to be the biggest non-sectarian and co-educational campus in Latin America.
This institute has more than 90,000 students combined at the high school, undergraduate and postgraduate levels.
Being based in a small state named Monterrey, this institute boasts of having 31 campuses that are spread across 25 Mexican cities. The Monterrey Institute of Technology is well-known for becoming probably the first-ever university in Latin America and the world that speaks Spanish to connect to the web.
This institute also has one of the most prestigious business schools that have paved the way for more and more business management students to pass out from Mexican universities.
National Autonomous University of Mexico
The National Autonomous University of Mexico or the UNAM is possibly the oldest university of Latin America that dates back to 1551. The UNAM has numerous campuses in Mexico city and other locations of the country along with other 4 abroad campuses in Chicago, San Antonio, and Hull.
The UNAM generates numerous strong research publications in several subjects like robotics and human-computer interaction. This institute is also home to many research centers like Centre for Applied Sciences and Technological Development that focus on real-world issues and scientific matters.
The main campus of UNAM has the perfect college architecture and it was designed by the finest architects of Mexico. This is the reason why this place has now become a World Heritage Site. The UNAM also features murals by popular artists of Mexico including David Alfaro Siqueiros and Diego Rivera.
Metropolitan Autonomous University
The Metropolitan Autonomous University was established in the year 1974 by Luis Echeverria Alvarez, the then-president. The UAM spreads over four sprawling campuses around the Mexico City: Iztapalapa, Azcapotzalco, Cuajimalpa, and Xochimilco. The fifth and the latest campus is based in Lerma, which is a city that has popped up just outside the capital of the country.
Since the time it opened, the UAM has been offering a UG degree in environmental engineering, thereby making it the first-ever Mexican university to have done that.
This institute offers 75 undergraduates and 75 postgraduate programs. If you choose this university, you will also be happy to know that UAM offers a wide range of social work projects with the sole goal of resolving the most delicate issues of Mexican society. They also have stomatology clinics and legal services.
Autonomous University of San Luis Potosi
The Autonomous University of San Luis Potosi has got campuses located in Rioverde, Ciudad Valles and Matehuala. The acceptance rate of this university is 45% and it ranks 1045 as per the US News Country Rank.
The Autonomous University of San Luis Potosi was founded in the year 1624 and it is presently divided into 15 facilities, 12 research organizations, and 2 academic units. The student population of this university is around 32,000 and offers 99 undergrad programs along with 88 post-grad programs.
The faculties of this institute include administration, accounting, chemistry, veterinary, communication, agronomy, humanities, economics, medicine, law, nutrition, psychology, and nursing.
Autonomous University of Baja California
The majority of the undergraduate and postgraduate students studying in this educational institute are placed locally while a few (2%) are international. The Autonomous University of Baja California experiences integral education and they also instill social responsibility.
They are committed to students who offer a wide range of growth possibilities, an all-inclusive tutoring system, culture, and sports activities, knowledge dissemination, and several other activities. You can even get an internship in the public or private sector which is great for your career.
University of Guadalajara
The University of Guadalajara has campuses located in Cucosta, Cualtos, Cunorte, Culagos, and Cucsur and has an admission rate of 40%. The Universidad De Guadalajara is situated in the historic city and both the grad and undergrad programs endorse sustainable social improvement and all-inclusivity.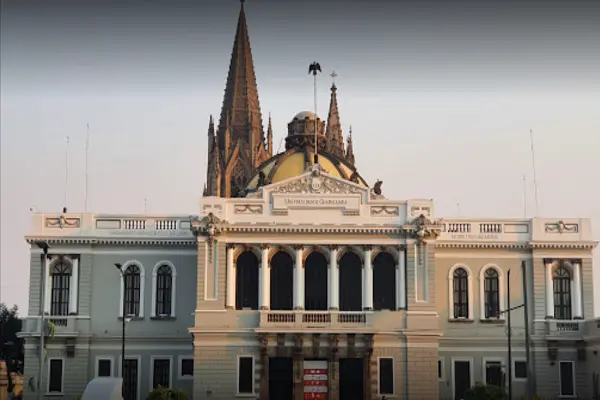 There are 120,000 students who are enrolled in the university of Mexico since it offers different academic areas like engineering, health sciences, architecture, arts, biological science, agricultural science, and design.
Benemerita Universidad Autonoma de Puebla
This institute has several campuses located in Atlixco, Acatzingo, Chignahuapan, Chiautla and has an admission rate of 38%. The Benemerita Universidad ranks 1633 in the US News Country Rank.
Benemerita Universidad Autonoma de Puebla was founded in the form of a college by Jesuits in the year 1578. This later became a university in the year 1938. If you want to admit your child into this college, he will love attending the classes.
Benemerita Universidad Autonoma de Puebla hosts theatrical events, regular dance shows, and different types of musical shows as well. A few of the courses allowed in this university are sociology, sports science, biological sciences, finance and accounting, chemistry, physics, and several other science courses.
Universidad Autonoma de Nuevo Leon
The Universidad Autonoma de Nuevo Leon has its only campus located in Nuevo Leon and has an admission rate of around 35-40%. The rate of graduation from this college is 60% and the positive and flourishing results of the students make it rank 1292 according to US News Country Rank.
This is a public research university that was founded in the year 1933 and is home to 153,000 students. Both international and local students love to stay here due to its incredible hospital and sports stadium that has an awesome engineering and design structure. This well-known university has 84 libraries and 40 research centers. This university is also popular for offering social focus as it incorporates required awareness of national, regional, and global issues.
Instituto Politecnico Nacional
The location of this campus is unknown but the admission rate of this university is around 100%. The results of the students of this university have given it the rank of 1018 as per the US News Country Rank.
The Instituto Politecnico Nacional was founded in the year 1936 and since then it has been known as the biggest public university of Mexico. The university consists of 294 courses, 98 academic units, 76 technical career programs, 138 postgraduate programs, and 80 undergraduate programs. They not only focus on the academic journey of the students but also offer opportunities for sports and recreation activities.
Universidad Michoacana de San Nicolas de Hidalgo
This university has campuses all over Morelia, Apatzingan, and Ciudad Hidalgo and the admission rate was 55% and it ranked 1501 as per the US News Country Rank.
This is an affordable public university that is situated in Mexico and was founded in 1540. The university aims to offer good quality education to contribute to social, economic, scientific, political, technological, artistic, and cultural development.
The school also offers courses in law, health sciences, economic sciences, engineering, metallurgy, and agricultural sciences. In case you're looking for affordable tuition fees, this university is definitely a great option.
So, if you're someone who is looking for the best university in Mexico, the above-listed ones are certainly the best ones for you. You can maintain affordable living costs and also obtain a good quality education. You can't deny the fact that the best universities in Mexico have both grad and undergrad degree programs in communication, psychology, and engineering.
Apart from providing the best academic experience, Mexico also has a perfect academic culture that is most loved by the students. So, choose from any of the names mentioned above, if you're eager to set your career in Mexico.