More and more people turn to online shopping this year because of the COVID-19, from small-size items, such as daily grocery, sports tools, to big-size items, such as light products or even furniture.
When it comes to light products, most people tend to know whether it's safety compliant, UL, ETL, or CSA listed, but always ignore FCC certification. So, can I buy a light product without FCC certification from an online store? The answer is yes, and no.
Then, what's FCC certification? You may already know that FCC is Federal Communications Commission. The FCC office of engineering and technology laboratory division has rules for lighting products to ensure these devices do not cause harmful interference to radiocommunications services. It's mandatory for most lighting products. Most lighting products generate not only light but also radiofrequency.
For example, LED lights need to transfer high-voltage sinewave alternative current to low-voltage stable direct current to turn on the transistors in LED chips. This electric transformation and distortion will inevitably generate radiofrequency.
Suppose it's a traditional light fixture, such as an 18-light chandelier with medium screw bases. In that case, FCC certification is not required because the voltage on each lamp socket is the same as line voltage, with no transformation or distortion. But for the bulbs mounted on the traditional light fixture, FCC certification is mandatory, no matter they are incandescent, halogen, CFL, or LED.
(XD3218C)
LED light must be FCC listed if it is connected directly to line voltage. Some LED lights to adopt FCC certified LED driver, which is good, but not enough if the LED driver is not a detachable part, the whole LED light must be listed as a whole.
Take the LED vanity light as an example, the LED driver is mounted inside the backplate with 3M glue and not allowed to unmount by the customer, and then the LED vanity light must be FCC certified.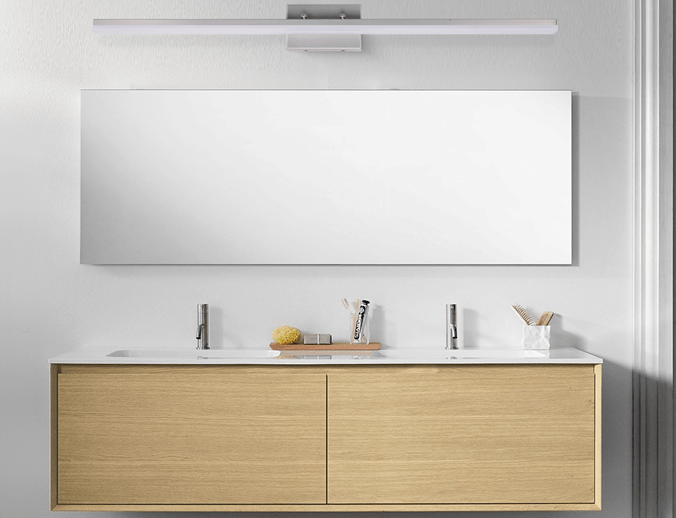 (J1200-46W(CW)MN)
The LED light doesn't need FCC certification if connected to a low-voltage direct current power source, such as a 12V or 24V LED driver.
Take the LED strip light as an example. Its electronic components are pure direct current within the LED strip lights; there is voltage dropdown from the LED driver's outlet, but no transformation or distortion. For sure, the 12V or 24V LED driver must be FCC listed.
(KVG-12060-DWJ)
For lighting products, UL, ETL, or CSA certification is not mandatory, but products with this certification are much safer than those without. We'd better choose products with UL, ETL, or CSA certification, or at least choose products made of UL, ETL, or CSA listed components.