It's vital to ensure the long term success of your contact center to know exactly what's going on there, what happens between consumers and agents, and how effectively your agents follow compliance and quality rules.
Contact center managers can't intervene or take action while a call is still going on, even if they know what happened during the conversation after the call has concluded. In contrast, supervisors and agents can take action instead of reacting when using live call monitoring.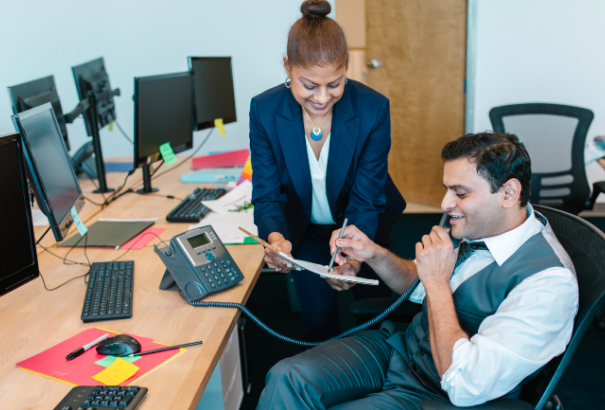 What is Real Time Monitoring?
Managers can keep tabs on the progress of customer service calls in real-time by using call center monitoring tools and software. It is possible to track speech patterns and acoustics in real-time to detect profane language, escalation efforts or other compliance issues, and consumer attitudes using live call monitoring tools.
Speech analytics is used in real-time monitoring to ensure that call centers have complete call coverage. Managers have instant access to a transcript and call playback of every conversation.
This allows them to address any issues that arise swiftly. Using real-time monitoring to track agent performance in a call center is more effective than listening to a limited sample of agent calls every month to analyze performance and monitor compliance.
Importance of Real-Time Monitoring
Here are three reasons why contact centers need real-time call monitoring.
Ensure a Consistent Quality of Service for Your Customers
Managers are alerted to customer service concerns as soon as they occur, rather than after the call has concluded, thanks to real-time call monitoring software.
An automated system will be able to monitor in-progress calls for defined language and audio features such as escalation efforts, harsh language and profanity, and high levels of emotion and inform managers when a risky customer service situation has evolved.
Managers can rapidly identify consumers in danger, allowing them to take proactive steps to remedy the concerns and keep those customers. To ensure that your caller departs as a satisfied client rather than a disgruntled one, you can save calls while still in process.
For example, real-time call quality monitoring allows managers to assess calls as they are made rather than relying on a tiny sample of randomly collected calls.
Assistance
It is also possible to provide agents with actionable assistance or advice based on real-time call monitoring as a bigger speech analytics system component. For example, imagine a cable TV subscriber who is fed up with the service and wants to quit their contract.
Agents are instructed by software to reply to phrases like "cancel" or "termination" by offering a free package upgrade or an additional cable box at no additional price to persuade the consumer to stay.
Everyone has a different set of strengths and weaknesses, therefore it's impossible to generalize.
What distinguishes one agent from another?
How can a few haphazardly collected calls be used to assess the effectiveness of your agents accurately?
When managers have speech analytics in place, they can monitor every call in real time and get a clear picture of how well each agent performs and how much help they need.
Every encounter is scored objectively by real-time monitoring, delivering immediate feedback to both the agent and the management to help enhance training programs.
Comply with the law
Every encounter between an agent and a customer is subject to strict regulatory restrictions. Contact center compliance monitoring is critical for collections organizations, as lawsuits due to non-compliance are on the rise.
Using real-time call monitoring, supervisors can keep track of all calls made by their agents and are immediately notified if any unusual events occur. It is no longer possible for problems with customer service, performance, or compliance to slip through the cracks now that real-time monitoring technologies have been implemented.
Best Practices for Call Monitoring
We have compiled a list of call monitoring best practices to assist you in increasing call center productivity.
Managers tend to focus too much on average handling time or wrapping up time data. Although these indicators are helpful to a certain extent, they do not provide you with a complete picture of agent performance and are therefore restricted in their usefulness.
Ensure the real-time monitoring software you're considering for your call center has complete call coverage.
Retro Meetings
Holding old-fashioned meetings and allowing top-performing agents to share the methods and language they use to settle issues is a great way to spread best practices and win habits throughout the call center.
To get the maximum out of your real-time call monitoring software, you must ensure that these best practices are disseminated throughout the organization.
Competition
As a benchmark, it's essential to keep an eye on external industry data and statistics, such as the average call abandonment rate, queue time, time to answer and service level. By comparing your real-time analytics data with industry benchmarks, you may determine realistic goals for agent performance.
Compliances
Keep an eye on compliance, escalation attempts, and dangerous language by using call monitoring to identify and reward the best performers. But it would help if you did not utilize real-time tracking to monitor your agents. Your employees will lose motivation if you spend all of your time focusing on the negative parts of their performance.
Real Time Monitoring
Document when using real-time monitoring software in your call center, keep your call monitoring and assessment policies up-to-date.
Agents and team managers need to be aware of the assessment criteria in this paper, which should be distributed to the entire business. Your new agent's orientation should include instructions on your call monitoring policy.
10 Tips to Improve Your Call Monitoring
Defining Customer Satisfaction Quality
Contact quality monitoring is the primary objective of identifying and resolving calls that do not meet the predefined requirements of call centers.
A Call Monitoring Form Is Needed
Create monitoring forms to score and train your agents once you've determined what constitutes a quality customer contact.
Agents should be a part of the Quality Control Process
When everyone on your team knows what you're looking for incall quality monitoring, they're more likely to make the necessary adjustments to their behaviour.
Next, you'll need to put together a team to watch call quality. It may be challenging to keep up with all incoming and outgoing calls if you're a manager.
Consider The Outliers More Often
Focusing on outliers rather than the majority is recommended while monitoring phone calls. It comprises both the best and the worst.
Best Practices Should Be Recognized and Rewarded
When quality assurance monitoring is required, it is natural to focus on the flaws and errors found. To give your agents feedback, these are essential. However, if you only think about the wrong things, you'll do more harm than good for your team's performance.
The Good and Bad Calls should be Saved for Future Reference
There is no one-size-fits-all approach to answering phone calls. During the day, your agents may encounter satisfied customers, angry callers, the wrong customer, etc.
Provide Agents With Feedback And Training Based On Their Performance
It's time to give agents feedback and coaching based on their performance once you've listened to many conversations. Agents can participate in group sessions to further the discussion.
Listen to the Agent's Perspective in In-Person Feedback Sessions
Organize one-on-one meetings with the agents to provide feedback once you've done call monitoring, reviewed the call monitoring form, and performed group sessions.
Take Stock of Your Training Programs Results
For the final step, employ call quality monitoring to evaluate the results of your training programs. Check if the things taught in the coaching sessions have been implemented.
Conclusion
Your call center's overall efficiency and performance can be improved by call monitoring in the call center's quality. A call quality monitoring process is only half the battle.
Investing in better monitoring procedures is crucial if you want to get the most out of your time and effort and achieve better results. With the help of the ten above pointers, you can improve your call quality monitoring.
FAQ
When it comes to BPO, what does real-time monitoring entail?
Real-Time Monitoring: What Is It? Managers can keep tabs on the progress of customer service calls in real time by using call center monitoring tools and software.
What is the significance of call monitoring?
Everyone can benefit from call monitoring. Monitoring your team's quality of service on a random basis can be accomplished by random spot checks on recordings of phone calls. For small firms, call monitoring sends the proper message.
What does it mean to monitor the quality of a phone call? 
Call Quality Monitoring (CQM) is the practice of listening to and evaluating phone calls between employees and customers in order to enhance customer service, customer loyalty, and business income.
What exactly is a real-time monitoring?
A queue manager's queues and channels can be monitored in real time using a technique called real-time monitoring. Regardless of when the command was issued, it will always return the most up-to-date information. Queues and channels can be monitored in real time using a variety of commands.
What is the significance of performing a call audit? 
In order to determine whether or not an AI-powered voice agent should be used in the contact center, a call audit is necessary.