Blogger – Start Your Own Blog
You want to Start your Own Blog then you are in a Right Place. Here I Share How to Start your Own Blog with Blogger. Blogger is a Good Platform for Start your Own Blog. Blogger is a blog-publishing service that allows private or multi-user blogs with time-stamped entries. It was developed by Pyra Labs, which was bought by Google in 2003. Generally, the blogs are hosted by Google at a subdomain of blogspot.com. The Blog Free hosted on Google's Server. This is Biggest benefit No Downtime,No Space and Bandwidth Problem.
I think blog is a platform for :-
-To express yourself
-To share the experience you have
-To share the knowledge you have
-To learn from other people
Why Choose Blogger :-
– It's SEO Friendly
– It's Easy and Free Blog
– Use Custom Domains
– No Risk of Hacking
– Hosted On Google's Server
Follow Below Step For Create a Blog with Blogger :-
1 > Go to Blogger.Com Website.
2 > Login On Blogger with your Gmail Account and Password. After a Login that will show you a below page.
3 > Then Click on New Blog.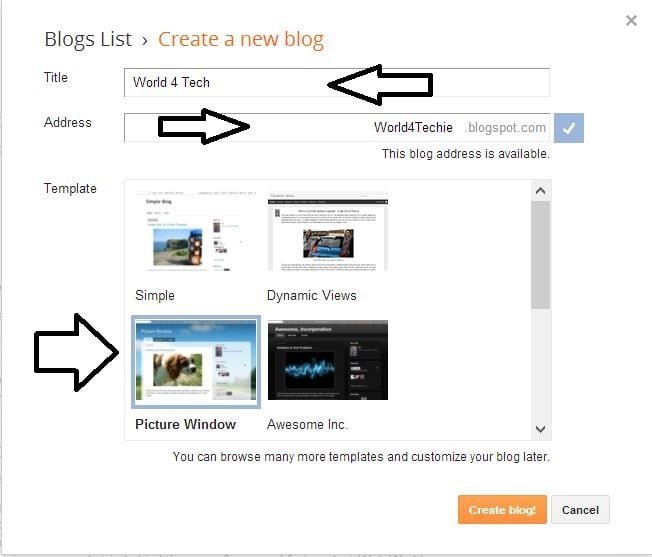 4 > Then Give your Blog's Title,Address means Blog Domain and Choose a Theme for your First Blogger Blog.
5 > Then Make your First Post with Blogger Blog by Clicking on Start Posting.
6 > Then Give a Name of your Blog Post(Title),Add Your Contents,Image,Links and Videos in a Post Body Part,Add a label means you can add a Category of your Post and you can change a Permalink of you blogger blog post and Save and you can publish a Post of your blog.
7 > After you can see your publish blogger blog post. In a Setting page you can change a Some Settings Like a Template,Layout and Google plus Settings. The Built in Tool Google AdSense you can Earn Money with that. The Blog Stats Shows you a Stat of your blog Like a Total Pageviews etc.
8 > you can also Set a Custom Domain For your Blogger Blog. It's will Transfer your Blogspot.Com to .Com Domain.
Conclusion :-
Blog is a Make you as a Better Person. you can Share a Good Things with Others. you can Grow your Business with Blog. Blogs enable the author to write lots of short, informative articles. I can categorize the articles, and they are all easily searchable. This allows my readers and clients to later find the information they need on my blog.
Read also :- Guest Blogging – Get the Power to Boost Your Reputation
So Why are you Waiting Start your Own Blogger Blog Now and Express yourself to the World.
Read also :- Ways to Promote your Blog
If you Like this article then please share it with your Network on Facebook and Google+ and Don't Forget to Comment Below.