Happy 15th Birthday Google
Today Google Celebrating 15th Birthday. I opened my computer today, and just like any ordinary day when I open Google's Home page I know that today's Google's 15th Birthday. we know that Google was founded by Larry Page and Sergey Brin at Stanford University. Together they own about 16 percent of its shares. They incorporated Google as a privately held company on September 4, 1998. Everyday we use the Internet and Found the such Great Informations by use of the Google.
For its 15th birthday, Google has posted an interactive version of the pinata, a popular Mexican birthday party game. The purpose of the game is to hit the pinata and extract as many toffees as possible. A user gets 10 chances to strike the pinata with a stick controlled by the spacebar on a computer keyboard or by the mouse and by swiping on a touchscreen mobile device. In 2012, for its 14th birthday Google celebrated with a chocolate cake animated doodle with 14 candles on it and the Google logo etched on the cake.
Google is Now the Big Internet Company. No any Company become a Good Competitor of Google because Google always come with the Easy and New Features. I Love Google because My Internet Experience with Google is Awesome whenever I Try to found something on Google Search Engine at a time Google Displays lot's of Blogs and Informations related to my topics.
Today, Google runs upwards of one-million servers around the world, and processes more than a billion search results, equating to about 24 PB (petabytes) of user-generated data per day. It is known as the most visited Website in the world, and reportedly earned US$50 billion in revenue in 2012.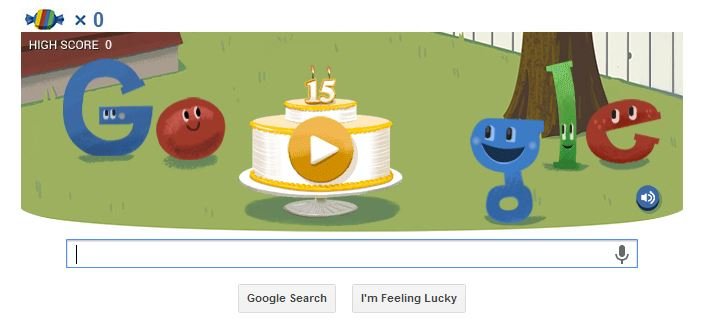 Google has now become more than just a search engine company, with ownership of other popular Web-based services like YouTube and Blogger, along with Motorola Mobility and the Android mobile operating system, Chromebook netbook computers, and the upcoming Google Glasses phenomenon, among others. Now Google Launches More and More Product's with the New Features.
Google was originally called BackRub. The homepage read: "BackRub is a 'web crawler' which is designed to traverse the web." You can use Gmail in more than 50 languages. These include: Welsh, Basque, Tagalog, Malayalam, Telugu and Cherokee. Around 1,000 of Google's employees became millionaires when the company went public in 2004. Google now own only 16% of Google Inc. That percent owner ship is worth about $46 billion dollars. The original founders ofNew Google employees are called Nooglers. Former employees are Xooglers.
I Hope that you Enjoy this Google Post on their 15th birthday.