As a new photographer, you are going to be met with a major decision early on. As soon as you pick up your camera, you are going to need to select a file format to use when shooting. There are two main formats that cameras offer, the first being JPEG and the second being RAW images.
While JPEGS have many advantages, such as being compressed in size and are easily sharable, professionals use the RAW image format as they provide the highest image quality possible and allow you to shoot unhindered by camera settings.
What is the RAW File Format & Why Use Them?
Once you have framed up your shot and hit the shutter button, light is going to flood your camera sensor so that the image can be recorded onto your memory card. When you have your camera set to take RAW images, the file that gets recorded is the from the image sensor of the camera.
A RAW image that you get is exactly what the sensor on your camera sees, with no compression present and minimally processed data. This is why RAW files are much larger than JPEG files and it is why they come out duller and bleaker than JPEG files, because the camera is not being asked to analyze the environments' lighting, as no compression phase is present. This does mean that you must edit raw photos during post-processing, however, to get them to look stunning.
Why Are Raw Images Needed & Used?
1) You Keep All Data.
When you shoot images in JPEG format, a lot of processing occurs prior to the image being compressed by the camera. This makes it hard to go back and correct areas of the image you don't like as the image is as close to the final product as possible.
With RAW images, you keep all of the image data, so you can easily go through the editing raw images process and manipulate it to suit your needs.
2) You Can Make White Balance Adjustments.
With RAW images you are going to get a much more natural and "close to reality" image when you adjust the white balance during post-processing.

3) You Get Finer Control Over Sharpness & Noise.
While your camera is okay in adjusting these, you will want to use an image editing tool to have complete control over how sharp your image is or how much noise you let through. This is especially true for images that are shot at night or where flash cannot be used.

4) You Can Manage Exposure Levels.
Modern cameras can adjust the details of highlights and shadows but you can get a clearer scene when you adjust the exposure levels in post-processing. This is a lot easier to do with RAW images than JPEG.
How to Edit Raw Images As a Beginner Without a Learning Curve
Instead of recommending a complicated program like Adobe Photoshop or Lightroom, which requires extensive knowledge of how to use them, we are going to suggest using PhotoWorks instead.
It is a powerful photo editor that utilizes artificial intelligence algorithms to help you get the image you want without requiring you to learn how to use in-depth tools. Here is how to edit RAW photos in PhotoWorks either with its automatic profile options or through manual manipulation.
1) How to Edit RAW Photos With PhotoWorks Automatic Profile Options.
PhotoWorks has this neat built-in feature that allows you to use special profiles to enhance photographs with a single mouse click. To use one of these profiles, simply launch the program and open up your RAW file. Choose either Default (if you want to manually edit), Auto Enhancement, Landscape, Portrait, Sunny Day, or Black and White. Hit apply.
Once the settings have been applied, you can make further adjustments with the enhancement tab by adjusting color, tone, and sharpness or you can use the auto correction to fix color and light with a single click. If this isn't enough, consider moving over to the effects tab and applying a filter/photo effect.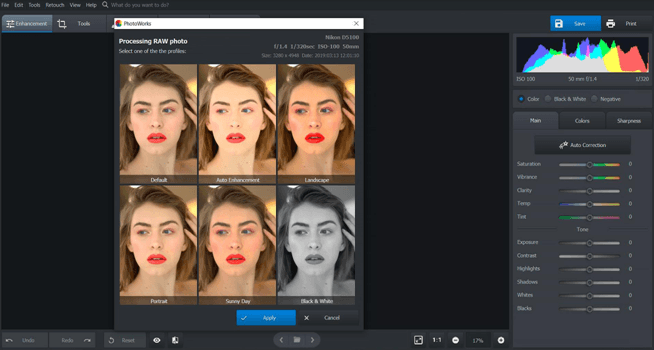 2) How to Process Raw Images Manually With PhotoWorks.
If you find that your RAW image has more than a few minor problems with it, manual correction is the way to go.
In the Enhancement Tab, Adjust Tone & Color.
You can either choose to auto correct the color and lighting, or you can use the sliders to decrease highlights, increase shadows, and change up the clarity, saturation, and white/black levels. Take your time in playing with the sliders here as these can really make your scene come alive.
Remove Undesired Elements With the Composition Tab.
Whether you have geometrical distortions, an uneven horizon, or undesired elements within your scene, these can be fixed in the composition tab. Pick an aspect ratio from the menu and use the cropping tool to remove the unwanted portions.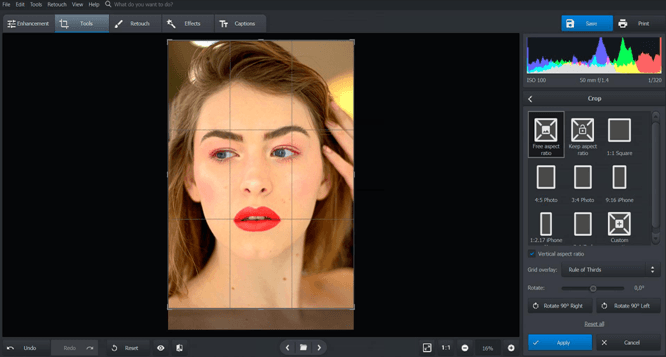 Use Graduated Filters to Retouch Your RAW Image.
In the retouch tab, you can improve your RAW image by using the graduated filters to increase or decrease saturation, whites, shadows, contrast, blacks, exposure, and highlights. You can also play around with the temperature, tint, and color hues as well.
Plus, if you are working with a portrait, you can use remove red eye and remove blemishes with the Portrait Magic option, Healing Brush, and Red Eye Removal tool.
While it is recommend that you use the image editing software that you are familiar with, if you are a beginner at editing raw images, PhotoWorks may work out better for you as it doesn't require hours of learning in-depth tools.
The .360 file is a 360desktop 360-degree Desktop Photo file. Are you having problems opening a 360 file or just wondering what they contain? Here we explain what these files are used for and show you software that we know can open or otherwise handle your files.