Ramayan is one of the most popular mythological television series which was aired on DD National in the year 1987-1988. It was written, created and directed by the ace Ramanand Sagar.
It is needless to mention that it is the adaptation of the Hindu epic with the same name and it is based on Ramayan of Valmiki and Ramcharitmanas of Tulsidas. This epic series generated 82% viewership and thereby created a record for Indian television series.
Doordarshan Hindi TV Serial Ramayan – Full Cast, Real Names and Details
You'll be rather amazed to know that each episode of the Ramayan series generated revenue of 40lakh for Doordarshan. This series has been re-telecast on Star Utsav and Star Plus in 2000 and currently due to the lockdown situation in India, it is again being aired on TV.
1] Summary of the Plot
Prince Rama is the incarnation of Lord Vishnu has been exiled from Ayodhya due to the whim of his stepmother. Lakshmana, his loyal and trustworthy brother along with his beautiful wife, Sita, followed him into his exile in spite of the dangers that they face along the path.
However, later on, due to an unfortunate instance, Ravana, the king of demons, kidnapped Sita. Rama has to indulge deep inside himself to arrange the emotional and physical resources that he requires to rescue Sita.
Ramayana is an idealized tale of heroism regarding the struggle between evil and good and it is also a personal story of relationships, loss and love, honor and duty, jealousies, intrigue and destructive ambitions.
All of this is being played in a whole universe that is replete with larger-than-life human beings, celestial beings, terrific and cruel demons and astonishing animals.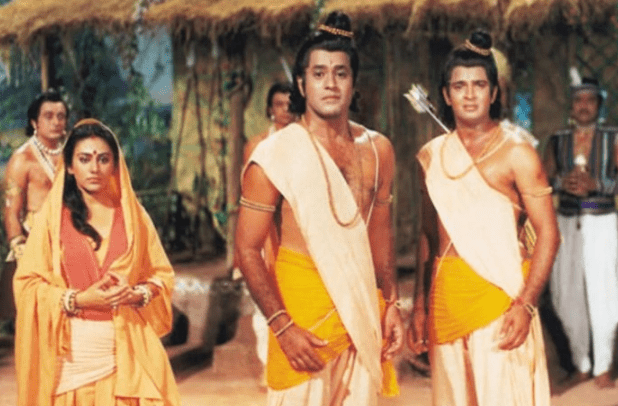 2] Production Details
During 1987-88, Ramayan was touted to be the costliest TV show that was ever produced as they had a budget of approximately 9 lakhs per episode.
On the completion of the telecast of this final episode, S.S Gill, former bureaucrat wrote for the Indian Express where he expressed his wish to work with Ramanand Sagar in this project.
He also added that while writing the letter to Ramanand Sagar, he had mentioned about Ramayan as a key subject for TV series.
Ramayan was going to be ideal as it is the best example of social and moral values and the message that it shared was universal and secular.
Gill even added that Ramanand Sagar's main challenge would be to see the epic through the perspective of a modern man and then relate the spiritual and emotional message with the needs of our generation.
He even wrote a letter similar to this to B.R Chopra about producing the series Mahabharat which is based on another Indian epic with the same name.
The series had 52 episodes of 45 minutes each. However, due to extreme demand, it was extended to 78 episodes. Both Mahabharat and Ramayan were aired at the same time but it was later on decided to start Mahabharat after Ramayan ends.
3] How the series was received by the audience
Consistency was the most unique factor of Ramayan, as mentioned by the media director of Hindustan Thompson Associates, D.K Bose.
The programmes that were aired at the same time like Hum Log and Buniyaad had achieved 80% viewership occasionally. With regards to Ramayan, this figure was constantly maintained from the very beginning.
Though it started off at 50%, gradually, it reached 80% within few months of being aired. The popularity of the show spanned through several religions as it was watched by people belonging to Islam religion.
Media had documented perfectly well the success of the series. A reporter from BBC remembered that when the series started getting aired on television, streets would remain deserted, shops would remain closed and there were even people who bathed their TV sets with garlands.
In another write-up in The Telegraph, it was said that in a village in South Asia, several hundreds of people would surround themselves around one TV set to watch the demons and gods fight each other to shape their own destinies.
In the capital city, all meetings of the government had to be adjourned as the entire cabinet couldn't turn up for a briefing.
4] Impact of Ramayan TV series
The telecast of this epic TV series was seen as a forerunner to the Ayodhya dispute. A writer named Arvind Rajagopal wrote in his book named 'Politics After Television: Hindu Nationalism and the Reshaping of the Public in India' about the impact of the series on people.
He mentioned that the government had breached a taboo on religious bigotry and the Hindu nationalists had taken the best use of the opportunity. This series confirmed to the idea of the rise of BJP (Bharatiya Janta Party) as they capitalized on Hindu awakening.
As far as the initial doubts about the airing of the series by a broadcaster owned by the government, its producer reported that several people within the office of the channel were not supportive of the idea.
He was of the opinion that the execution of the story was not up to the mark and he questioned Ramanand Sagar about whether he portrayed Ramayan or Ram-Leela.
The series tool a political turn as Arun Govil (the person who played Rama) and Sagar were constantly coaxed to court the BJP and Congress for campaigning. Later on, Arvind Trivedi (Ravana) and Deepika Chikhalia (Sita) ended up being members of parliament.
5] Ratings
Among several other Indian television series of that era, Ramayan broke all records. It was shown in 55 nations and achieved a total viewership of 650 million, thereby becoming the most-watched television series of India.
Moreover, it was even included in the Limca Book of Records as the highest-watched mythological series. With its initial telecast, it gained a viewership of 40 million and brought in 23 crore revenue for the channel.
6] Ramayan Cast, Crew and Characters
| Real Name | Role Name |
| --- | --- |
| Arun Govil | Ram/Vishnu |
| Deepika Chikhalia | Sita/Lakshmi |
| Sunil Lahri | Lakshman |
| Arvind Trivedi | Ravana / Sage Vishrava |
| Sanjay Jog | Bharat |
| Sameer Rajda | Shatrughna |
| Dara Singh | Hanuman |
| Bal Dhuri | Dashratha |
| Jayshree Gadkar | Kaushalya |
| Rajni Bala | Sumitra |
| Padma Khanna | Kaikeyi |
| Lalita Pawar | Manthara |
| Anjali Vyas | Urmila |
| Sulakshana Khatri | Mandavi |
| Poonam Shetty | Shrutakirti |
| Vijay Arora | Indrajit |
| Nalin Dave | Kumbhakarna |
| Mukesh Rawal | Vibhishana |
| Aparajita Bhooshan (Prabha Mishra) | Mandodari |
| Mulraj Rajda | Janak, king of Mithila |
| Urmila Bhatt | Sunaina, Janak's wife, queen of Mithila |
| Chandrashekhar (actor) | Sumanta |
| Shyamsundar Kaalaani | Sugriva / Vali |
| Vijay Kavish | Shiva / Valmiki / Mayasura |
| Murari Lal Gupta | Akampana |
| Ramesh Goyal | Maricha |
| Rajshekhar | Jambavan |
| Bashir Khan | Angada |
| Amit Tomar | Arjuna |
| Bandini Mishra | Parvati |
| Sudhir Dalvi | Vasishta |
| Anita Kashyap | Trijata |
| Shrikant Soni | Vishwamitra |
| Giriraj Shukla | Neel / Prahasta |
| Girish Seth | Nal / Gandhrva Putra |
| Renu Dhariwal | Shurpanakha |
| Radha Yadav | Tara |
Channel: Doordarshan
Produced By: Sagar Art Enterprises.
Genre: Mythological
Created by: Ramanand Sagar
Based on: Ramayana
Directed by: Ramanand Sagar
Starring: Arun Govil, Deepika Chikhalia, Sunil Lahri, Arvind Trivedi, Dara Singh.
Composer: Ravinder Jain.
Country of origin: India
Original language: Hindi
No. of seasons: 1
No. of episodes: 78
Executive producer: Subhash Sagar
Producers: Ramanand Sagar, Anand Sagar, Moti Sagar.
Cinematography: Ajit Naik.
Editor: Subhash Sehgal
Camera setup: Digital movie camera
Running time: 35 minutes
Original network: DD National
Picture format: 480i
Original release: 25 January 1987 – 31 July 1988.
Followed by: Luv Kush.
Related shows: Ramayan (2008).
Certificate: U.
सुबह 9 बजे देखना ना भूलें रामानंद सागर की 'रामायण' सिर्फ @DDNational पर।#Ramayan pic.twitter.com/nGoRJTkMD8

— Doordarshan National (@DDNational) April 13, 2020

So, if you still didn't manage to watch this epic mythological series, don't miss it now. During the state of lockdown in India, it is again being aired on television for its viewers.