Have you bought a new condo? Are you wondering about how to transform this box apartment into your dream living space? Keep reading!
Everyone agrees that decorating a condo from scratch is not an easy task. It requires a lot of time, effort, and financial resources. If you start decorating without a clear plan, the process can be stressful.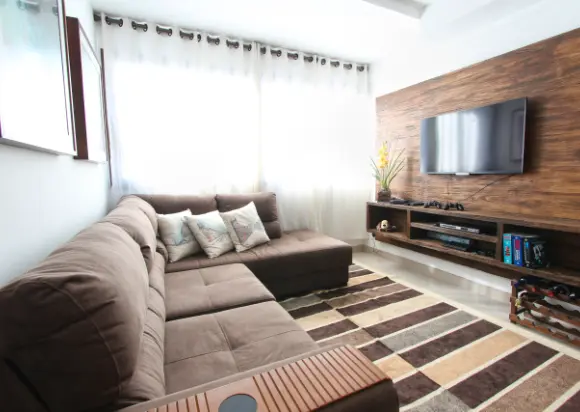 Why not make this process more enjoyable and easier? Here are the four steps with great tips for decorating your condo from scratch.
STEP 1: DETERMINE A DESIGN STYLE
Firstly, decide what type of design you want. Your apartment is the place where you spent most of the time together with your family. Therefore, it must reflect your soul and be in good taste.
Let your imagination work at this point. You can visit social media pages like Instagram and Pinterest to investigate different styles and get inspiration for your condo interior design. Here are the most popular condo decorating styles to consider:
Traditional interior design is inspired by 19th-century European styles. This design mostly uses neutral colors and wood for the furniture. Also, armchairs, table-lamp, and hand-made rugs are key elements of the traditional style.
Modern interior design is inspired by modern design patterns. It is well known for natural light coming from large windows. White and grey are widely used colors in modern condos. The modern style uses steel elements and plain fabric in the furniture. If you choose this interior design, you can use shelves for books, souvenirs, and flowers.
Transitional interior design is a mixture of traditional and modern styles. This design mostly uses neutral tones and metallic elements. The transitional style allows you to decorate your home like a five-star hotel room. It requires modern lighting, comfort, and colorful accessories.
Before you decide on the colors, wallpapers, or furniture, you have to consider other interior design styles as well and choose everything accordingly to one specific style to have a balance. It is always better to do research and then make a decision. So, go ahead and determine your design style!
STEP 2: PLAN IT OUT
Now you have a clear idea about which type of interior design you want. Wondering what is next? Everyone wants to use every corner of the home in the most effective way.
Therefore, the next step is planning. You have to create to-do lists with clear deadlines, take measurements of your rooms, and choose colors. Answer the following questions while making a plan:
What are the purposes of this room? Most condos have limited space in general. So, you can use one space for multiple purposes and make creative decisions.
How many people will be living in your condo? It is essential, to have enough space for each family member.
What is the must-have furniture you have to purchase? Make a list according to priority and usage purpose of required furniture.
What is your lighting preference? Do your rooms have enough natural light?
Which colors do you want to see around your home?
To sum up, when planning it is important to understand the functionality, modification, and lighting of your condo. After finding answers to the above-mentioned questions, finalize your plan by taking measurements of your rooms. After you completed planning, virtually decorate your condo.
STEP 3: START IN SECTIONS
Yes, until now we did a great job and we have a clear vision of our condo now. So, the next question is where and how to start decorating? Well, the most efficient way of decorating an empty condo is by prioritizing rooms and decorating one room at one time.
It is not important to have a perfect match and identical colors in all rooms. You have to just concentrate on one room and decorate it. After finishing the first room, you can start decorating the next room.
Recommended and generally accepted order of rooms are as follows: bedrooms, living room, bathroom, and kitchen. While buying furniture and other decors, it is important to have a separate budget for these rooms which will be discussed more in-depth in the next section.
STEP 4: PURCHASE DÉCOR ELEMENTS
Until now searching, planning, and illustrating interior design was an enjoyable activity. Now is a great time to spend extra effort and money! Yes, we are talking about the shopping process. Here are the great tips about shopping for your home decoration.
The very first tip in this step is never to buy everything at once.
Narrow down your shopping list as much as possible.
Ensure you can get everything that you have purchased easily from door openings.
Familiarize with return policies while shopping.
Buy furniture from the shop where delivery services are free.
Prepare the budget according to sections and stick to it.
Once all the plan is in place and you have all the required home decor elements, it is a great time to transform your empty condo into the sweet home of your dreams. Good luck!