Smart TVs may have already hit a plateau in terms of the improvements added to them. They couldn't be made smarter than they already are. However, this does not mean all the smart TVs you find in the market have already reached their optimum potential. Some are just better than others.
There are still many that have not even been equipped with all the features expected of a TV manufactured in the last couple of years.
Smart TV Buying Guide: Top Things You Need to Know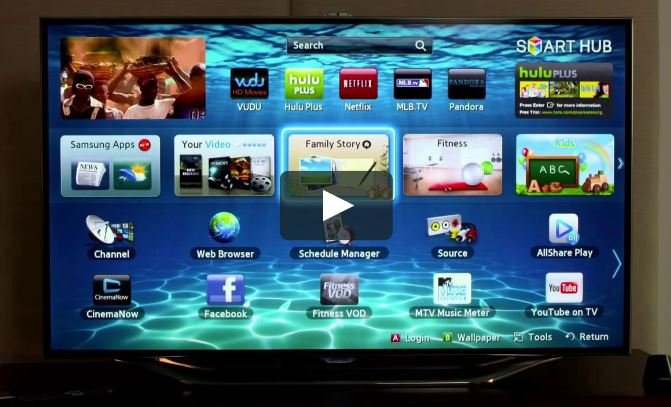 If you are shopping for a smart TV, there are things you need to watch out for. Consider the following pointers as you go over your options.
1) Size and Resolution
The size of the TV you buy is obviously a choice you have to make based on your own needs and preferences. Just remember that bigger isn't always better. If your space isn't wide enough to accommodate a 65" panel, maybe you should settle with a 40" model.
Also, bear in mind that you are buying a smart TV and not just a TV for watching shows or movies. You will usually want to use your smart TV at a closer distance especially when you browse the Internet.
For smart TVs, it's preferable to choose those with high resolutions. If you can afford it, go for a 4K TV. Some may say 4K is unnecessary but it's the future-proof option.
1080p screens are not bad, though, especially if you can't afford to spend more to buy 4K content. The best 40" TV is not necessarily a 4K or UHD model. There are many great options out there. You just have to find the one that best suits your space and preferences.
2) Picture Quality
Smart TVs are still TVs and one of the most important things you should be evaluating in a TV is its picture quality. This is something you can't properly scrutinize just by looking at technical specifications and promo images or videos. You really need to see the TV itself in person.
The ideal TV picture quality should have a good contrast ratio, which makes it possible to have a punchy and crisp picture, with deep blacks. The higher the contrast ratio is, the better the resulting picture would be. Also, higher refresh rates (120 Hz or higher) are preferable for the TV to display smooth images.
If you can find a TV model that has wide color gamut, then go for it. A wide color gamut supposedly makes images look realistic. It's something everyone supposedly appreciates but not many can easily distinguish wide color gamut pictures from standard ones.
Again, it's better if you personally examine the picture quality instead of looking at marketing materials, which usually contain a lot of jargon and technical details that don't mean anything much.
On the other hand, you also have to check the viewing angles. Observe the panel you consider buying from various angles. There should be no color and contrast shifting. Most TVs nowadays already come with wide viewing angles but there are still those that suffer from viewing angle problems.
Moreover, if you find a TV with HDR feature and a great price deal, get it. HDR means high dynamic range, which is a relatively new TV technology that entails the automatic adjustment of brightness on screen to achieve the most accurate colors possible. It enhances the range of brightness, darkness, colors, and details you see on your TV.
3) Dongle to Make Your Idiot Box Smart
Suppose you already have a reliable TV with stunning picture quality, but it is dumb. It's a mere TV that can only show TV programs and connect to your Blu-Ray player and gaming console. It does not have the qualities of a smart TV such as the ability to connect to the Internet and have apps installed. Should have it replaced with a smart TV?
No, that may not be unnecessary. There are HDMI sticks or dongles nowadays that can make your idiot box smart. Good examples are Google Chromecast and various Android sticks.
These dongles can let your old but still good TV gain the functions of a smart TV. The user experience may not be as great as having a full-fledged smart TV but it should be an excellent compromise if you are tight on your budget.
4) Connectivity
A smart TV isn't smart if it does not come with the connectivity options expected of it, especially those that make it connect with other smart devices. It should have Bluetooth, Wi-Fi, USB ports, and an HDMI port. Having an ethernet port would also be advantageous. It's not enough to simply have these connectivity features, though. You should have the latest versions of these.
Bluetooth should be 4.0 or newer. Wi-Fi should be 802.11ac to ensure the fastest and most responsive connections. The USB port should at least be a version 3.0. It doesn't have to be a USB Type-C if your other devices are not using Type-C yet.
5) Hardware
Smart TVs are essentially like computers. They come with internal hardware or components similar to what you will find in other computing devices. To make sure that your smart TV operates smoothly and responsively, it should have a fast processor.
Most top of the line smart TVs come with quad-core processors, 2-4 GB RAM or higher, as well as ample storage for the apps. As I've reviewed on my blog Techi Signals, it's not only the display that matters. The internal components of a TV also mean something.
6) Software
Smart TVs come with operating systems or software platforms. It could be Android TV, My Home Screen, Tizen, webOS, Roku TV, or tvOS. In 2019, choosing among these is not really the major concern when choosing a smart TV. They already have comparable features so the choice ultimately boils down to preference.
Some platforms don't have as much content and features as others, but this is not a significant factor in choosing a smart TV platform. Unless you spend a lot of your time with your smart TV, the OS does not impact the overall user experience.
7) The Best Prices
If you want your smart TV options to be available at the best prices, you may want to wait for the holidays. In the US, for example, prices start dropping as Black Friday draws near. The prices tend to remain low throughout the holiday season, until the New Year. You can buy smart TVs and gadgets at discounted prices.
Before buying a smart TV or other consumer electronics, be sure to carefully sort and evaluate your options. Make an informed purchase decision by doing your research and using a reliable tech review and information sources. Find useful information and insights on various tech products, tech news, as well as reviews of appliances, gadgets, and other consumer electronics. 🙂