We all have those moments when we want to capture video footage from inside our vehicles. While smartphones and cameras can do the job, they don't always produce a high-end video that you want to share. Whether you're capturing footage inside the car or outside, the right video equipment can create magic in the moment. If you're a novice with video gear, then below are five tips from Improve Traffic School to help get you started.
Car Video Equipment Buying Guide
Go with Dashboard Cameras
There is a stigma associated with attaching cameras to your car. It is assumed that the cameras will be shaky due to the movement of the vehicle and the occasional bumps in the road. Modern gadgetry, however, accounts for this. Dashboard video cameras have built-in stabilizers that keep the camera still when everything around it is moving.
When considering what type of stabilizer to buy, don't go cheap, especially if you are finding out how to sell a car in Texas. You will regret it. A good camera mount should keep the camera still and level regardless of how rugged the terrain is that you're driving on or how fast you're driving. Although there are many theories about what makes a good stabilizer, a good rule of thumb is to buy one that keeps the camera near to the surface.
High-Definition Cameras
The whole point of purchasing onboard video equipment is to capture quality footage. Otherwise, you're just as likely to get mediocre quality with your smartphone. Your best bet is to go with high-definition gear (1080p or higher) that will produce amazing videos you can post anywhere online.
High-def cameras will allow you to create solid videos both inside and outside the car. We also recommend considering cameras with wide-angle lenses so that you can take in a broader area. For instance, if you want to create a video of the entire family in the car without everyone leaning in, then a wide-angle camera will help you achieve this objective.
Dual-Lens Cameras
Face it; these devices put the fun meter in the red. Dual-lens cameras allow you to shoot video from two different angles. If you place the camera on the dash then you will get footage from the front of the vehicle as well as the back. DL cameras usually contain zoom lenses so that you can pinpoint exactly what it is you want to shoot.
When you download the files to your editing software you will be able to create a split screen video. You'll also have the option of separating the footage into two different videos. The greatest benefit of a dual-lens video is that you don't have purchase two different cameras. You'll save time and money in the long run.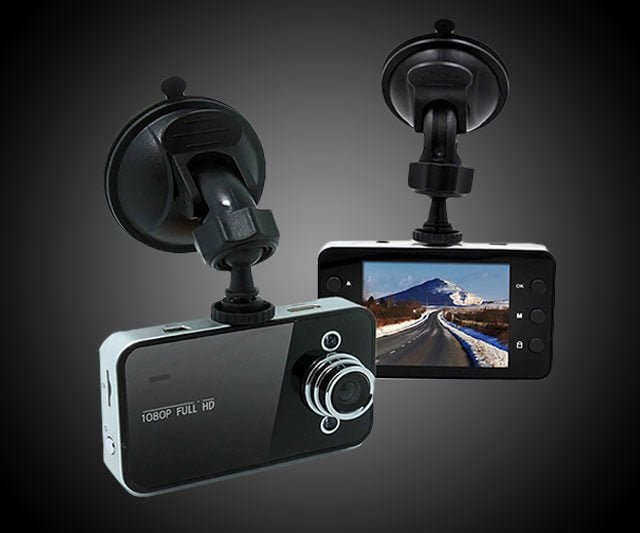 Cool Video Camera Features
If you want to take your camera to the next level, then here are some cool add-ons to heighten your experience.
• Auto Start / Auto Stop. If you don't want to fool with pushing power buttons, then invest in an auto start/stop camera that is triggered when you plug the camera into the car's power adaptor. If you want it to stop, then simply unplug it.
• Looping. High-def cameras take up a lot of memory. Therefore, if you are re-shooting the same scene multiple times, then purchase a camera that has the option to delete the oldest file or 'take' when the memory card fills up.
• Parking Mode. If security could be a problem where you park your car, then you can activate parking mode and the camera will run continuously until you start your car or put it into drive.
• GPS. Another handy feature that you can purchase with your camera is GPS. With GPS, your camera will tell your smartphone or another device where your car is located at all times. 🙂