Someone might have told you that a quality video editing is a time-consuming process which requires high skills for using complex software. It might be possible that the person has already filled you up with lots of misconceptions which somehow might also discourage you from within that even you feel afraid for trying your hands on with some basic edits as well.
What if I tell you people about software which helps in quick and easy video editing with the same efficiency?
Filmora Wondershare Video Editing Software
YES!
Software about which I am talking is Filmora. It is effective professional video editor software by Wondershare. To be honest, I have reviewed a number of products by Wondershare and found them quite exceptional in one or the other terms. Each of the software by Wondershare is well-crafted, smooth and stylish. And believe me guys. It would be a pleasure to use such remarkable piece of software at an affordable price.
One thing which makes Filmora stands out against its competitors is its Extreme Simplicity. YES! Filmora video editing software by Wondershare is an extremely easy and simple to use software.
There is a number of softwares available in the market which serves you with best applications. But the smartest option we have is Filmora for both professional and personal use. So, today I am here with an in-depth review of Filmora video editing software by Wondershare.
Features or Highlights of Filmora
When you download and install the software, it will greet you with two distinct options to choose from, one is Easy Mode and another one is Full Feature Mode. The Basic Mode offers the basic and the most important features while the Full Feature Mode offers everything to the users.
Music Flow
Before accessing the features of Filmora, you need to import a video by browsing using the software and it will take few seconds to get ready. You will see music editor as the first option in the tray which allows you to add the music to the video. It even offers few music files to try on with them which you need to download. Also, it allows the user to import the music files from the system.
Torment with a Text
Filmora offers the users with a huge collection of text. Trying the word art in Filmora is easy and simple. It looks professional as well as beautiful. You just have to choose the text format from the options, add the text and add it anywhere in the video.
You people might think that I am again and again praising Filmora. But believe me guys, the text collection offered by Filmora is incomparable to other video editing software including Canva (though it is a completely a different field, but still).
Fine Filters
It is quite a mandatory option for the designers and video editors to use the filters. And even the filters are not just limited to the photo editors now as it has entered into the videos too. Filmora offers the users with a fine and huge collection of filters which are appealing and do a fine job in beautifying the video as well as hiding the minor glitches.
Thus, it is better to use the filters for the videos.
Natural looking Overlays
I hope that you are aware of the overlays. But if not, then an overlay is a coating which significantly covers everything. In this case, overlays significantly help in making the videos look more natural. Do you ever noticed those bubbles on the screen while watching movies which you think are the result of the sun rays falling on camera, but in actual, they are the overlays. Using overlays in your videos will help you in giving a video a perfectly professional look which adds a beauty to it.
300+ Elements
Though the elements look childish at times, but they are crucial as well. You can use the elements to make your video shine and creative. Filmora video editor offers 300+ elements including a simple arrow, balloon, airplane, flag and much more. You must use the elements at a specific time period and make them swoop or swirl around the video for a specific duration.
Transitions and Screen Splitter
Filmora video editor offers the inbuilt transitions which can make your video look better. You will find the similar transitions like the one you find in the Microsoft PowerPoint and the only difference is the variety. It even offers an option for screen splitter which actually helps us in using the multiple screens in a video. The screen splitter of Filmora helps in dividing the video screen beautifully and perfectly.
Easily Video Export
When you are done with your video editing in Filmora, it allows you to export the finished video directly to Vimeo, Facebook or YouTube. Even it does allow burning the video to a DVD. You can even send the video to your smartphone as well.
Filmora is one of that video editing software available in the market which does perform perfectly with its basic as well as advanced editing. It does allow us to do anything with the videos.
Filmora offers a frame by frame editor for modifying all the little moments in the video easily as well as allow controlling the speed and quality of the videos. It provides the audio enhancer as well as a separator. Also, it can easily help in saturation, trim, brightness, crop, contrast, aspect ratio, fade, volume control, fade and much more.
I just loved one of its advanced features, Green Screen which helps in removing a particular color from the video. What I actually mean to say that if you want to change the background in the video, then this feature comes in handy.
Apart from this, it offers a Picture-in-Picture feature which helps in adding a particular video into another. YES! You can add maximum 10 videos in one. This feature comes in handy when you have to explain multiple things at once.
Pricing
The pricing of Filmora is not a complex one because it costs $29.99 for a 1-year license and $49.99 for a lifetime license per PC. You can even get $120 license for 5 PCs. This pricing is just for the personal use and if you want to use Filmora for other purposes, then you can contact them for the same.
Filmora 7.8 Latest Version Features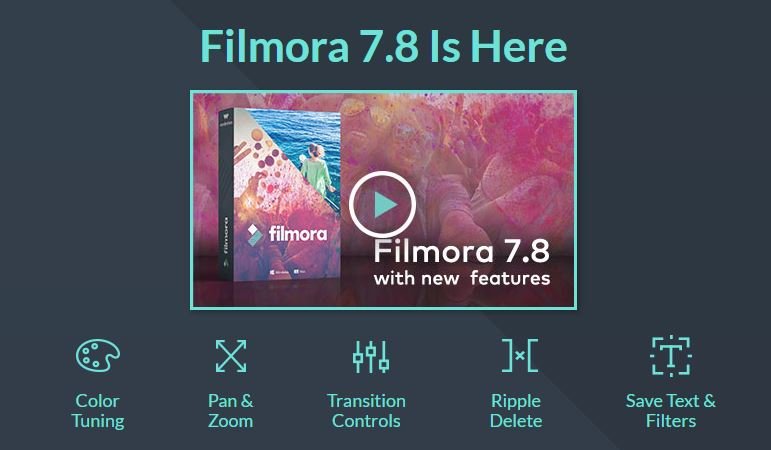 1) Advanced Color Editing
New advanced color tuning features (Temperature, Tint, Lights, HSL, Vignette and more).
45 color presets and supports loading 3D LUTs (Lookup table files) for tuning color of videos and images.
2) Pan and Zoom
New Pan and Zoom feature for adding and customizing animation for still images!
3) Save Customized Text
Supports customize animation, font, size or color of Text effects and save as new presets.
4) New Transition Controls
New transition modes without affecting total duration of the two clips.
5) Ripple Delete
New Magnetic Timeline to make texts, effects and overlays bound up with clips on main video track.
6) Supports adjusting frame rate and resolution when recording from WebCam.
7) UI modification for some popup windows.
8) Adds Arabic Localization.
Verdict
Filmora video editing software by Wondershare is a complete package which can do literally everything to your videos. It is extremely intuitive video editing software. Filmora is a no-frills, basic and an elegant editor which is the best option available in the market at the moment. It does provide all the essential functions which are needed in video editing software.
I did this review just to break all the myths associated with video editing. I do hope that you all will appreciate Wondershare after reading this review and using Filmora. 🙂