Choosing the right flooring for your dining room can be a daunting task. There are so many options to choose from, and each one has its pros and cons.
If you want to make an educated decision, we recommend reading our Dining Room Flooring Buying Guide. Our guide will provide information on different types of materials, installation methods, and more so that you know what to look for in whatever kind of flooring material you decide on.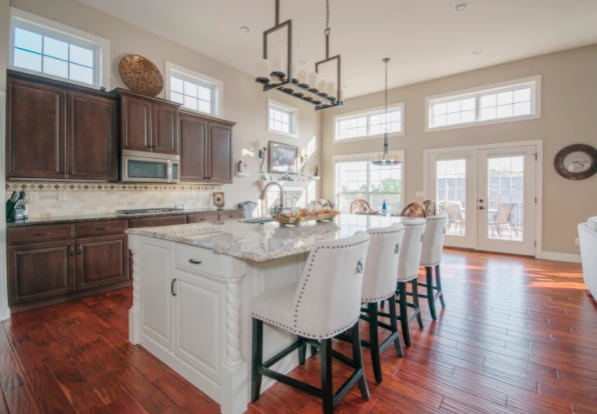 Let's take a look at these flooring options.
Oak flooring
A classic choice with a rustic look, oak flooring is found in traditional dining rooms. It can be sanded down and stained darker or lighter to achieve the perfect tone for your space.
Several varieties of oak are available, including European red, white, American White Oak, English Brown Oak, and Quarter Sawn Oak. Oak flooring is durable and easy to clean once you have finished installing oak flooring in your dining room.
It can be sanded down when necessary, but many people prefer not to because it takes off a layer of the wood every time they do so. This may result in slight variation over time which could create an uneven look if done too often or without caution.
Vinyl Flooring
Vinyl flooring is one of the most popular choices for dining room floors today. Its water-resistant properties make it more durable than other types of flooring so that you can spill on it without worry.
Vinyl comes in a variety of styles and colors, which makes decorating easy since there are many options to choose from.
Laminate Flooring
An Overview Laminate flooring is somewhat similar in look and appearance to many hardwood floors but at a much more affordable price.
It usually comes with the added benefit of being waterproof, making it ideal for kitchens or bathrooms that are frequently exposed to water; however, laminate does not offer the same durability as solid wood since its surface is made from small planks glued together to make one sheet.
Engineered Wood Flooring
Engineered wood flooring has a thick top layer of hardwood, with the bottom consisting of plywood. It is less expensive than solid wood but can last as long as other types thanks to its sturdiness and ability to resist dents, scratches, or warping from moisture damage.
This type may also come prefinished or unfinished, allowing you to easily install it yourself should you choose this option over professional installation.
Carpet Flooring
Carpeting is one of the most popular flooring options on the market for many homes. There are different styles available to find something that works best in your home, and with the decorating style you want to go for.
Carpet tends to be softer than other types of floor covering, but it does not provide much traction when wet, which makes it a poor choice if there is high traffic or young children who might fall due to slipping; however; carpets do look great, and they come in several colors and patterns.
We hope you're now aware of the flooring options that can go best in your dining room.