India boasts of a pool of talented youngsters who are skilled in different fields. The same can very well be judged by the number of YouTube channels that have been created lately. Budding artists create their channels to showcase their talent and make a career out of it.
Best Comedy Channels On YouTube India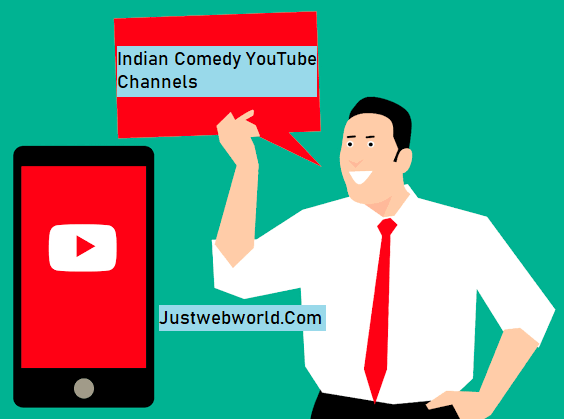 Comedy is one genre that everyone looks forward to. Many Indian comedians have created their comedy YouTube channels that are garnering huge attention.
Here is a look at the top 10 Indian comedy YouTube channels (in no particular order).
Amit Bhadana
One of the best Indian comedians, Amit Bhadana makes videos that every Indian can relate to. He comes up with unique ideas and presents them amazingly well on screen. He is popular for his dubbing videos and pranks.
Amit started his YouTube channel in October, 2012 and has reached a whopping 16 million subscribers. The popularity of his channel is increasing with time. He creates videos in Hindi and Haryanvi languages.
Ashish Chanchalani Vines
Ashish Chanchalani is yet another brilliant Indian comedian. His videos are a sure dose of laughter. He started his YouTube channel back in July 2009 and there has been no looking back ever since.
Ashish studied engineering but his heart always went out for acting. He had a knack in comedy and decided to turn it into his profession. His channel is getting an overwhelming response.
He has over 13 million subscribers. His subscribers eagerly wait for his videos and he never disappoints them. He posts hilarious videos regularly.
Vir Das
Vir Das is known for his witty yet humorous jokes on the society, culture and various other aspects of life. He is loved for his spontaneity and unique content. Vir Das created his YouTube channel in September 2013 and has been uploading videos regularly.
He has as many as 174K subscribers. His videos are funny and thought-provoking at the same time. He has played comic characters in numerous plays and has done more than 100 stand-up comedy shows. Today, he has become a comedian of international acclaim.
His Netflix special show, Abroad Understanding released in April, 2017 made him the first Indian comedian to have a comedy special on such a big platform. His second comedy special, Losing It was released on Netflix in December 2018. Das has also worked in few Bollywood movies and that has added to his popularity.
CarryMinati
Ajay Nagar's YouTube channel, Carry Minati is yet another popular comedy YouTube channel. The channel was created in October 2014. However, its popularity rose as Nagar began posting roasting videos. He has been doing so since June 2015. His videos are viewed by millions of people around the world.
He particularly fetched attention for the video in which he roasted his competitor, BB Ki Vines. This video became viral and gave him the much needed break.
CarryMinati currently has over 7.8 million subscribers.
The Screen Patti
This YouTube channel is known for spinning videos that display Desi humour that we can very well relate to. Their content has the ability to make you laugh effortlessly. Comedy videos are uploaded regularly under different sections on this channel.
Their work is impeccable and thus many of their videos trend on YouTube. No wonder, they have more than 4.1 million subscribers. The channel is owned and managed by Contagious Online Media Network Private Limited. It was created in April, 2015.
The team of young professionals here believe in looking at the brighter side of things and inspire their viewers to do the same.
BB ki Vines
Bhuvan Bam started the YouTube channel, BB ki Vines in June, 2015. He has been able to keep the audience's interest alive till date. In fact, his popularity increases with every new video he uploads. He has been posting regular content on his channel. His content usually revolves around Indian families.
He creates videos on common situations our families are faced with. The characters of his videos seem real and relatable. Titu Mama is among the most loved characters on his channel.
He has as many as 14 million subscribers.
Harsh Beniwal
Harsh Beniwal has managed to fetch more than 6.5 million subscribers with his perfectly timed comedy. His videos are particularly loved by Indian males as they can very well relate with them. His videos get millions of views. Many of them trend on YouTube.
Beniwal created his YouTube channel in May, 2015 and his popularity has seen an upward trend ever since. He received the award for Top Indian comedian 2018.
Being Indian
This channel has been active since September 2013. The team at Being Indian is working hard to provide humorous videos to the subscribers regularly. The content mostly revolves around different situations Indians are faced with. These are portrayed in a hilarious manner.
The channel has 2.5 million subscribers.
Khandeshi Movies
This channel is known for spinning amusing short films and gags. They have been creating these pieces since November 2013. Their audience seems to be increasing year after year owing to their brilliant work. They have reached a whopping 11 million subscribers.
They also give chance to young talented singers, actors and dancers to showcase their talent. Many of their videos have gained popularity but none as much as the humorous, Chotu ke Golgappe. It got as many as 242 million views.
Abish Mathew
Abish Mathew rose to fame with his stint in All India Bakchod. He was loved as a stand up comedian. His YouTube channel received an overwhelming response as soon as it went live in June 2007. He posts content regularly and has managed to draw as many as 898K subscribers.
Do you follow any of these? If you do not, then subscribe them today to get your daily dose of laughter.