Do you have a health insurance policy for yourself or your entire family? If yes, it is good that you have basic financial security against medical emergencies. However, there could be situations where the total medical cost may exceed your expectations.
This is where having a super top-up plan, in addition to your existing health care policy, can help in covering the gap between your medical bills and the amount that your insurer would pay. Read on to know why it is worth having super top-up health insurance.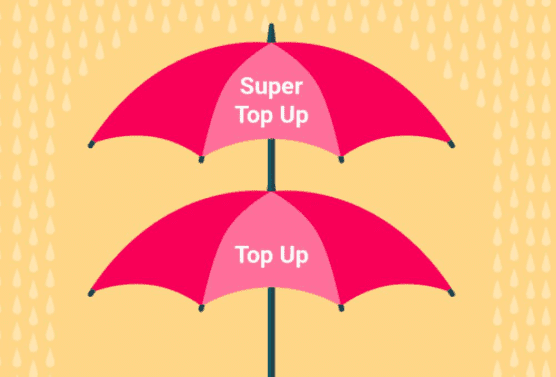 Here are somereasons why you should buy a super top-up plan.
Healthcare cost
With increasing healthcare costs, you need to plan for funds for emergencies so that you have a highersum insured than what your regular health insurance plan provides. A super top-up planwould be beneficial if you exhaust your existing sum insured amount in case of a medical emergency.
Higher sum insured at low premium
Insurers introduced super top-up plans forpolicyholders who may require a higher sum insuredamount during hospitalisation or treatment.
Even if your employer provides health insurance coverage or you have an existing plan, go for an additional super top-up.These top-up plans usually have a lower premium compared to regular policies.
Greater coverage for senior citizens
If your parents are senior citizens then having a higher coverage amount becomes important. Being over 60 years of age means that there could be various issues related to health such as risks related tobone decay, critical illnesses etc. All these can lead to high expenses for treatment which your regular health policy may not be able to cover.
Additional tax savings
The health insurance premium that you are paying for yourself and/or for othermembers of your family will be deducted from your taxable income. You can claim adeduction for the health insurance premium under the conditions mentioned in Section 80D of the Income Tax Act, 1961.
Similar to these regular health policies, super top-up plans also come with tax-saving benefits. If the parents are aged above 60 years, the deduction amount is Rs 50,000. You can claim a total deduction of Rs 75,000 consisting of Rs 25,000 on the premium paid forself, spouse and dependent children and Rs 50,000 on the premium paid for the senior citizen parents.
If both you and your parents are senior citizens, the maximum deduction that you canclaim would be Rs1,00,000 = Rs 50,000+Rs 50,000.
Buy standalone super top-up plan
You do not need to have an existing health policy to buy a super top-up policy. You can get it as a separate plan as well. But, in this case, you will have to pay the entire amount ofdeductibles first.
After the deductibles or the amount that you have to pay from your pocket gets usedup, your insurer would release the sum insured amount.
Advantages over a top-up plan
A top-up plan may lapse after the insurer settles one claim during a policy term. A super top-up plan willbe valid until you exhaust the entire amount. So, you can raise multiple claims during a policy term.
Also, this plan will not ask you to pay for or the deductibles each time you raise a claim. You will have to pay the totaldeductible amount one time only.
Buy as a single or deductibles floater plan
You can buy a super top-up plan as an individual policy or as a family floater. This depends on the number of members in your family, your budget etc.
This means that with a single plan, you can cover your entire family.The best super top-up health insurance would be a plan that would cover your additional fund requirements during treatment but should not be too expensive.
Compare between super top-up policies offering different sum insured and deductibles. Choose the one that meets your needs.
The extent of coverage of a super top-up health insurance
Super top-up health insurance would generally cover hospitalisation expenses, daycaretreatment and the cost of pre-hospitalisation and post-hospitalisation treatment. These include diagnosticcharges, doctor's fees etc.
Remember to go through the policy document regarding the extent of coverage and exclusions so that there is no problem duringclaim settlement.
Be prepared to get quality medical treatment for your family in case of anunforeseen event. Your regular health policy may not be able to provide sufficient cover during medical emergencies. Buy a super top-up plan to cover the gap in sum insured and keep you stress-free regarding healthcare expenses.