Privacy, cybersecurity, and open and safe Internet have become a challenging goal many Internet users strive to achieve. And NordVPN – one of the leading Virtual Private Network service providers – aims to do just that.
Here's our review of NordVPN service in 2021.
NordVPN (Fastest and Reliable VPN)
In short, we found NordVPN speeds to be second to none, and the continuous audits and security upgrades make it worthy of your trust.
The fastest VPN in the industry
When it comes to VPNs, good server speeds are of utmost importance. Whether you're downloading, streaming, or bypassing online restrictions, connection speed is what makes your experience comfortable.
NordVPN have been announcing upgrades to their server speed for quite some time, and we decided to check.
Ookla speed-test didn't show any significant speed drop, and we dug deeper to understand this was due to the new NordLynx protocol, which is way faster than OpenVPN or L2TP/IPSec. Below is an Ookla speed-test results connected to a server 1500 kilometers away on a 100mbps Internet plan.
Get NordVPN with an amazing discount
AV-TEST, an independent organization which rates security products, compared different VPN speeds back in September 2020, and found NordVPN was ahead of the competition.
Advanced NordLynx protocol
Security is just as important as server speeds, if not more. NordVPN uses Advanced Encryption Standard (AES) with 256-bit keys, a security standard used by governments and military industries worldwide.
Moreover, to improve safety and speeds, they implemented WireGuard protocol, which uses advanced ChaCha ciphers. NordVPN team developed a double Network Address Translation (NAT) system to upgrade WireGuard protocol with sufficient user privacy features.
That's how NordLynx protocol was born, which guarantees both speed and online safety.
An elaborate network of servers
NordVPN offers 5500+ high-speed servers in 59+ countries. Those looking to unlock full streaming service libraries will be happy to know that many of those are located in the US with the biggest streaming services libraries. Global coverage is also taken care of for it to be a solid choice for countries with tight Internet censorship.
Server variety
Different servers have specific configurations, and users looking for streaming options will want a different server than users looking for anonymity in tight-censorship countries.
NordVPN provides five different servers to choose from.
Double VPN servers of extra anonymity;
P2P servers for peer-to-peer trafficking;
Onion over VPN will benefit from the Onion Network and VPN protection;
Obfuscated servers for countries where the government limits VPN usage;
Dedicated IP address servers provide a static IP address.
You can additionally customize DNS and turn on Invisibility on LAN features.
User-friendly interface
Cybersecurity services may get a bit tricky, and the comfortable App interface is a must-have if you're planning to use VPN a lot.
NordVPN follows the one-click-away design, so after you turn it on, you can click on quick connect for it to choose the best server for you. There's a map with all server locations and a neat list of countries and servers on the left side.
You can select different protocols on the options menu, enable additional security features, and configure auto-connect, among other functions. There are brief explanations of various options to help you navigate.
No-logs service
VPNs ensure your privacy by encrypting data-traffic and sending it through no-logs servers. No-logging means that users' online activities are not stored on servers and whatever they do online is their business only.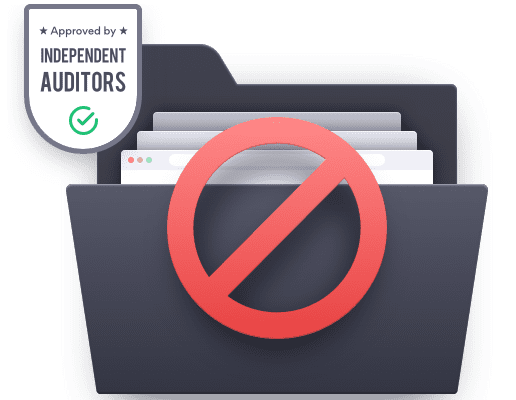 Here's where NordVPN truly shines because all of their servers run on RAM-only structure, which cannot store any data by design. Moreover, NordVPN went through two independent security audits to verify that they are indeed not logging anything, and both audits proved this to be the case.
Device support and simultaneous connections
NordVPN has a native App for all major operating systems. You can use it on: Windows, macOS, iOS (iPhone, iPad), Linux, Android, Android TV. It also has browser extensions for Chrome and Firefox.
This service allows you to secure up to six devices simultaneously, so you can have one account and secure your SmartPhone, laptop, or even Android TV for no additional cost.
Plans, pricing, and refunds
There are three plans to choose from.
The two-year deal costs $3.71/month or $89.00 in total.
One year plan costs $4.92/month or $59.00 in total.
One month plan costs $11.95.
And you can choose multiple payment options for that, including crypto currency.
The service is priced very moderately, and considering it is continuously upgraded with each new update committing for a two-year relationship is a good choice. On the other hand, one month plan is above the industry standards.
You will also get a 30-day money back guarantee. If you don't like the service for any reason, you can cancel it within 30 days and get your money back.
What's our final verdict?
NordVPN has secured a top position in the VPN market and the facts back it up. NordLynx protocol release has been a crucial milestone in improving the service's user experience and security features.
It's an easy-to-use cybersecurity software with numerous functionalities, which makes it more than just a VPN, but an integral part of Internet security, openness and comfort.
At the very end, it's every buyer's right to choose, and we hope that this review will help you make your mind.