Education today has a newfound and unconventional face of virtual education. Gone are the days when teaching models rested upon traditional blackboard learning. Educational institutions worldwide are transforming into a wholly new model of teaching with distance and online learning.
Virtual education gained excessive prominence recently owing to the forced shutdown of schools with the COVID 19 pandemic.
As schools and colleges adjusted to this new way of learning, academicians globally searched for novel ways to teach. Thus, PowerPoint presentations have evolved as the best companions in this pandemic to teach online.
But, merely creating a simple slide deck is not enough. You must make your presentations awe-inspiring that engages your audience.
Students in online classes are more likely to get distracted than in-person teachings. Thus, it becomes imperative for the teachers to construct such slideshows that retain and reinforce the ideas in their student's minds.
Why PowerPoint Design Templates have Emerged as the Next Big Medium For Online Classes?
For decades, our education system has rested upon the classroom and blackboard teaching. But just as the other sectors did not foresee the global shutdown, similarly the education sector too got hit by the Coronavirus wave.
Schools and colleges shut. Universities closed. Even today, countries worldwide are facing closures of educational institutes.
Enter, online teaching. Students and teachers adapted themselves to remote learning in the wake of necessity. But it isn't here to stop. Online education is walking on the path of growth.
PowerPoint slides make online teaching and learning hassle-free. Its audio-visual command assists both the learner and the teacher to share ideas.
Presentations made with top-notch and wow-worthy PowerPoint design templates can prove beneficial for teachers to explain graphics, definitions, facts, and examples. Professionally tailored templates render creativity to the slides and also save your time making it from scratch.
Here are Six templates from SlideModel to leverage for creating beautiful presentations.
5-Step Petal Mind Map Concept for PowerPoint
When it comes to learning the visual way, there is nothing better than Mindmaps. This template explains the concepts lucidly with a focus on each imperative component. The mindmap in this one slide works as a perfect graphic organizer that also aids in breaking down the topic.
What's more interesting is that its background comes in two colors- dark and light. The specialized infographic clipart icons in it let users demonstrate their ideas through vivid graphics.
Mid maps prove classic to each all subjects be it Maths, Science or English. For example, craft a graphical mind map for the Organ Systems of our body in Biology.
Solar System PowerPoint Template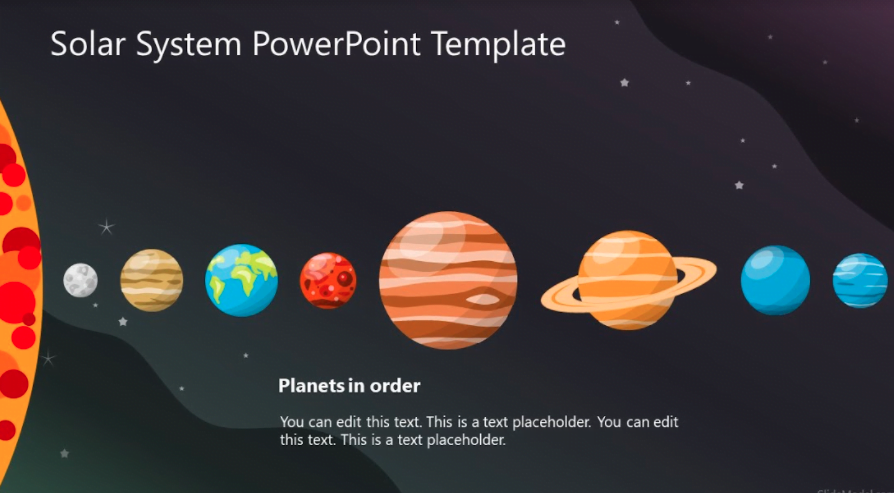 This presentation template is ideal for teaching everything about the planets in your Science and Social Science subjects. This 11-slide package consists of fully editable slides and planets. Customize the colors and resize as desires. Teaching Solar systems with these slides will make your children grasp the concept in no time.
Further, utilize the moon-star icons in the background of the galaxy for astronomy and astrology presentations.
Encourage your students to learn better by presenting our galaxy in a fun-to-watch way. Your children will get an in-depth comprehension of every planet.
Merrill's Principles of Instruction PowerPoint
Merrill's Principles of Instruction PowerPoint consist of one slide for flawless task-based learning. Educators can define and exhibit the core principles of a subject swiftly with this template. Utilize this PowerPoint template design strategically to highlight parts of any topic in four parts.
This template is ideal for virtual eLearning institutes for actively engaging learners in the course content. For example, the educator can highlight the four core skills of learning English like reading, writing, listening, and speaking. Personalize colors, shapes, text as required.
Global Education PowerPoint Template
This 8-slide full-fledged with contrasting and amazing color scheme is one of the best templates for having an interactive online class. Use this template to make your Maths and Science class come alive. Creative illustrations with a dark background render it favorable to teach topics like geometry, chemistry, and physics.
Online education demands the class environment to be practical and creative. Students can learn better with the help of this visual aid. Every topic forms an essential stepping stone towards success. Thus, employing this template for your presentations can level up your online education game.
Five Steps Pencil Banner PowerPoint Infographics
Infographics are the key to imprint the subject matter in your student's minds for their whole life. This 5-step template design for PowerPoint slides is a stunning design with a pencil model having several levels. Leverage it to show hierarchy in any topic. For example, use it to teach historical dates or even explain the biography of someone.
Customize the placeholders and edit the colors to add any personal touches. Adopt this pencil infographic to teach growth concepts. For example, economic and marketing strategies. Switch icons, choose slide themes and give one-in-a-lifetime teaching to your students.
The 1-Slide Lesson Plan PowerPoint Template
This 1-slide lesson plan template is perfect for teachers to design and give a brief overview of the lesson to the students. Teachers can adapt it to plan their lessons in a concise manner. Whereas, students will get to know their course structure in a simplified one slide.
List your learning objectives step-by-step in this one slide. This layout for lesson plans has a threefold use where you can plan daily, fortnightly and monthly syllabus. Make your online academic year smooth and easygoing with this slide template. Achieve your learning objectives seamlessly by harnessing this template.
How to Conduct These PowerPoint Presentations in Online Classes?
Virtual education is soon to become the new normal as the COVID restrictions remain intact in most countries. Online lectures are here to stay even after it gets over as more and more students prefer to learn from home.
Now that you know why PowerPoint presentations and templates go hand in hand, you must know how to deliver your lectures effectively.
Here are some tips for you to lookout while teaching online with these striking templates.
One topic on one slide – Make a rule to place minimal content in a slide to avoid overcrowding.
Slide Hierarchy – Keep the placement of your slide content in a way that grabs the attention first.
Color Palette – Choose vibrant colors to design your PPTs as they make them more impressive. Ensure to color-contrast well for clear visibility.
Typography – Select functional fonts over fancy ones. Set the font size to at least 30pts even for your online audience.
Data Visuals – Utilize charts, graphs, trend lines, diagrams, infographics for a statistical representation.
Vector Graphics – Pick relatable HD graphics to reinforce your ideas.
There is no better alternative to PowerPoint presentations when it comes to online teaching and learning. Its visual and graphical appeal can infuse life in any topic. Make your online study sessions lively and interesting by using these templates and wow your students with your presentation skills.