Just imagine a scene:
You just wake up, unlock your mobile, and check your emails to read received mails and the one of them is, "You've Been Issued a Payment."
Dumbfounded, right! Overnight, you've made thousands of dollars. Your payment just gets credited in your bank account while you nap. And what's the secret to this? It's "Affiliate Marketing".
The Best CPA Affiliate Network (admitad)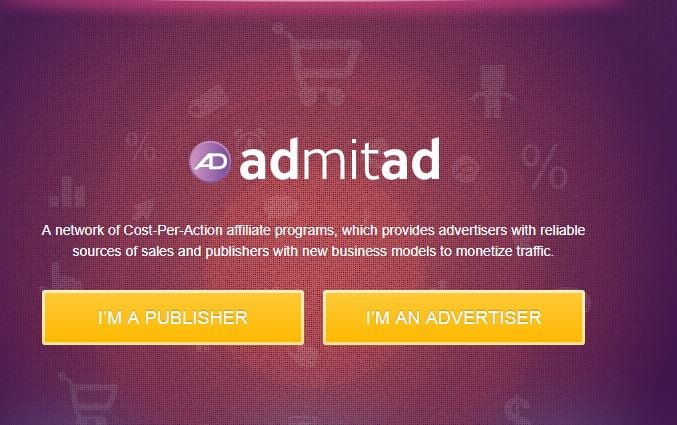 Recently I heard many rumors stating that running affiliate marketing is not a great revenue generator and it is a waste of time!
Don't believe them!
But the literal meaning of what they are going to convey is right! Yes…Without proper affiliate marketing tool, and needed effort, it's really tough to get more revenue!
Many companies are now using affiliate network to generate more sales and revenue. Here are the few interesting yet shocking facts,
In 2015, Amazon.com revenue surpassed $100B. Likely, its affiliates generated at least $10B of it.
Over 80% of brands utilize affiliate marketing.
15% of all digital media industry's revenue comes from affiliate marketing.
30% of affiliate-generated sales initiated from a mobile device.
80 percent of advertisers allotted over 10 percent of their marketing budget to affiliate marketing.
From the above facts, it has been proven that when affiliate marketing is used correctly, 10-15 percent of total sales revenue is affiliate driven.
Leveraging affiliate marketing also brings numerous benefits such as:
Brings more traffic to your web site.
Helps your company to reach customers all over the country.
Helps to build relationships with other affiliates.
By offering all these benefits, affiliate marketing brings unique opportunities for your business that results in more customers and most importantly more revenue.
1) Looking to Start Affiliate Marketing? Join admitad
admitad, the best affiliate network supports over 1100 affiliate programs with over 459 000 publishers. This helps advertisers with reliable sources of sales and publishers with new business plans to increase web traffic.
For Advertisers: admitad publishes affiliate program ads and help you earn every time a user enters your website and performs a specific action, such as a purchase, application or sign-up.
For Publishers: admitad, the affiliate program promotes your products and services to your target audience and pay only for specific actions such as sales, leads and sign-ups.
2) Why to Join admitad?
Today admitad has more than 1000 affiliate programs featured specifically for: online shops, mobile offers, financing options etc. Do you know what make admitad unique from other affiliate networks? Read on the below features:
Over Thousands of Publishers: With over 540,000 publishers in admitad, you will be advertising on one of the world's largest affiliate networks, where over 400K click-throughs are made every 24 hours! They also give you the option to choose which partners and platforms you will work with.
Transparent Reports: The reports provided by admitad are transparent! All you need to do is login to your admitad Account to get access to all the statistics on total clicks, number of click-through and specific actions performed by users on your website.
No Risk: There is no need to pay extra costs or upfront! You can pay only if some specific actions such as filling loan application form, contact us form, etc.
User Interface: In admitad, the user signing up process is straightforward and the necessary options are customized in an easy to pick manner on the navigation bar; admitad assure that it doesn't seem to intimidate you with tons of colossal terms and features, arranged in a clumsy manner.
3) What Kind of Payment System is focused?
Most of the affiliates follow the monthly payment schedule, whereas admitad follows weekly payment pattern. As a user, you can opt for a variety of payment modes such as PayPal, e-payments, and Wire Transfer in all major currencies.
Exclusive & HOT Offer by admitad
Publishers and advertisers who are joining admitad can take participate in Aliexpress Hot Summer Rally 2017! This is a great chance to earn and win the Jackpot $30000. This rally has started from June 15, 2017 and ends on September 2017.
The Grand Prix of the 3rd final stage is $5000! And, yes, the total prize fund is $ 30000! According to admitad, this year there are three stages of Rally and each one lasts for one month. Join the Hot Rally from AliExpress to enjoy exclusive deals and get higher rates in a win-win competition.
"Affiliate Marketing Has Made Businesses Millions and Ordinary People Millionaires"
Final View
Admitad working very effectively on their global expansion and improving the technology to provide maximum benefits to their advertisers and publishers (both). The platform is not only limited to provide different offers for publishers rather they well known for their support and payout system.
They weekly and small threshold ($10) payout policy can attract your interest to get started with admitad. They proven their competence by offering revenue driven technology for transparent reporting which makes admitad as favorite network for more than thousand advertisers.
So, this is all about admitad and I think, it's good join admitad CPA network if you thinking to make some good profits everyday. 🙂