In India, comedy films are said to be 'family films' and it is needless to mention that they do incredibly well at the box office. Both comedy and romantic films are always included in the popularity charts.
Top Hindi Comedy Movies of All Time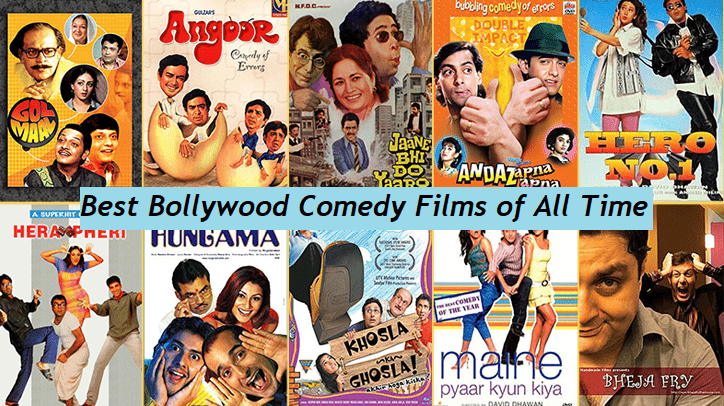 The comedy films that are made in Bollywood are usually 'escapist' in nature but at the present moment, there are few gems from the golden era that also had an impeccable storyline. Let's check out the 15 best comedy films made in Bollywood that'll make you laugh for sure.
1] Golmaal (1979)
Directed by Hrishikesh Mukherjee, this is an Amol , Utpal Dutt and Bindiya GOswami starrer comedy film that dates back to 1979. Other noteworthy actors are Shubha Khote, Deven Verma, Ratna Sharma, Buaji Kalindi, Manju Singh and Dina Pathak.
Golmaal is touted tobe one of the funniest films that has been ever made in Bollywood and the critics too agrees to this claim. Utpal Dutt's raucous laughter is still considered as legendary.
2] Andaz Apna Apna (1994)
This film was directed by Rajkumar Santoshi and is an Aamir Khan, Salman Khan, Karisma Kapoor and Raveena Tandon starrer film.
Both Salman and Aamir are loafers compete with each other in wooing an heiress and later end up safeguarding her from all sorts of crimes. This is a cult classic and the dialogues of this film have been quoted and re-quoted many times by many celebrities.
3] Munna Bhai Movies
The Munna Bhai movies have been directed by the supremely talented Rajkumar Hirani and Munna Bhai is one of his iconic characters of recent times.
The first film, Munnabhai MBBS, dealt with the underworld and the second one, Lageraho Munnabhai was about Gandhigiri. The second one was relevant in modern society. Audiences are desperately waiting for the third film from this house.
4] Chupke Chupke (1975)
This was again directed by Hrishikesh Mukherjee and it had stars like Sharmila Tagore, Dharmendra, Jaya Bachchan and Amitabh Bachchan in it.
Chupke Chupke is still remembered for the dazzling chemistry of Amitabh Bachchan and Dharmendra soon after Sholay. This is a situational comedy and definitely one of the best films of this director.
5] Khubsoorat (1980)
Hrishikesh Mukherjee directed Khubsoorat which had Ashok Kumar, Rakesh Roshan, Rekha and Dina Pathak in it. The story shows a strict family where everything goes for a toss when a bubbly and headstrong girl comes to stay for a few days.
This adds fuel to the fire in the already strict household. This is considered as a rom-com and Rekha's comic best.
6] Hera Pheri (2000)
Priyadarshan directed this Paresh Rawal, Akshay Kumar, Suniel Shetty and Tabu starrer comedy film. This is based on Ramji Rao, a Malayalam film in 1989.
Hera Pheri is touted to be a cult classic in the comic genre. It deals with a troubled trio, Akshay Kumar, Suniel Shetty and Paresh Rawal and how they unknowingly gets involved in kidnapping.
7] Padosan (1968)
Though it is the 7th in this list of comedy movies, this is a top contender in all comedy films that have been ever made.
An extremely simple guy is in love with his beautiful neighbor and seeks help of his friends to get closer to the girl's music teacher. Music and fun are replete in this cult comedy. The singing duets between Mehmood and Sunil Dutt are still said to be legendary.
8] Total Dhamaal (2019)
Directed by Indra Kumar, this comedy film is produced by Fox Star Studios and Ajay Devgn Ffilms. This is yet another Dhamaal franchise and is said to be another favorite of the audiences who prefer comedy films.
The antics of Adi, Lallan and Manav will keep you rolling on the floor in laughter. This movie scored huge numbers in the box office.
9] Luka Chuppi (2019)
This film was directed by Laxman Utekar and produced by Dinesh Vijan. It had Kriti Sanon, Kartik Aaryan, Vinay Pathak, Pankaj Tripathi and several other ace actors.
This movie has a funny take on live-in relations and how the lifestyle lead by the present generation is in stark conflict with the older generation.
10] Chalti Ka Naam Gaadi (1958)
Directed by Satyen Bose, this is a Madhubala, Kishore Kumar, Ashok Kumar, Snoop Kumar starrer. Critics and film experts are of the opinion that the romantic comedy genre officially entered Bollywood through this movie.
This is a story of 3 brothers who try to avoid women by all means. As the songs are great, the fun of this movie is never-ending.
11] Jaane Bhi Do Yaaro (1983)
Kundan Shah is the director of this movie and it stars Ravi Baswani, Naseeruddin Shah, Satish Shah, Bhakti Barve, Satish Kaushik, among several others. This is a gross satire on corruption in India and the politics associated with it. The characters of Ravi Baswani and Naseeruddin Shah are hilarious and will send you into fits of laughter.
12] 3 Idiots
Rajkumar Hirani has directed this awesome movie and has included Aamir Khan, Kareena Kapoor Khan, Sharman Joshi, R. Madhavan and Boman Irani as the main star cast.
This movie was inspired by Five Point Someone of Chetan Bhagat and is said to be a highest grossing film of this time. It was also a rage in China.
13] Chachi 420 (1997)
Kamal Hassan played the main role of Chachi and he also directed this movie. Tabu, Paresh Rawal and Amrish Puri were the other talented actors in this movie. It has a messy plot where the father-in-law is in love with son-in-law who is disguised as a woman. It is a lovable comedy.
14] Bawarchi (1972)
This was again directed by Hrishikesh Mukherjee and had Rajesh Khanna and Jaya Bhaduri in it. Rajesh Khanna is the quirky yet lovable servant with a golden heart. Bawarchi is touted to be a family entertainer in Bollywood.
15] Namak Halal (1982)
Directed by Prakash Mehra, Namak Halal has Amitabh Bachchan, Shashi Kapoor and Waheeda Rehman in it. Amitabh Bachchan could talk, walk and also laugh in English and he will take you through a journey of laughter throughout the movie. Namak Halal is considered an intense comedy.
You might like.