If you thought Netflix only streams international shows and movies, you're wrong! This online streaming platform also has a wide array of Indian movies and shows for its Indian viewers.
In fact, there's no wrong in claiming that the list of Indian movies is second to none as they offer the best of the best movies that has ever been produced in Bollywood.
Best Indian Bollywood Movies On Netflix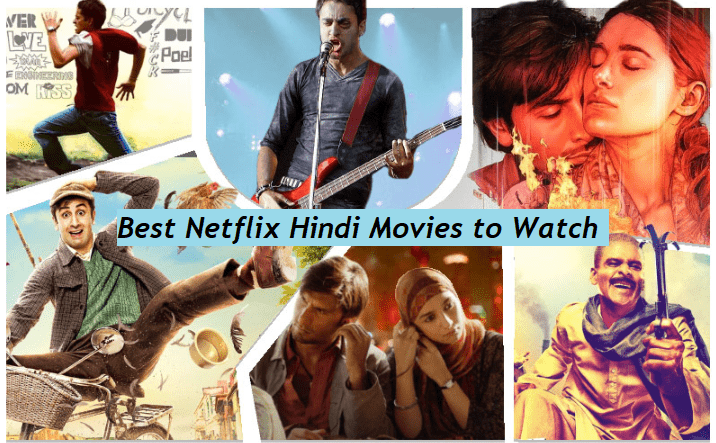 If you're a Bollywood freak and you wish to watch any of your selected regardless of the time, Netflix is the answer! Here's a list of the best Hindi movies to watch on Netflix.
1] Lunchbox (2013)
This is undoubtedly one of the most underrated gems of Bollywood and hence a must-watch! The story is about an Indian housewife along with an older man. The movie begins with a normal thought about what would happen if a Mumbai dabbawala misplaces a lunchbox someday.
The story of Lunchbox is replete with family values, emotions and love. The storyline embarks you on a journey that you'll never forget. This makes it one of the best Hindi movies to watch on Netflix.
2] Special 26 (2013)
Though Hollywood has the best con movies but once you take to Bollywood, you would never find a storyline that can live up to the stories of Hollywood until Special 26.
An Akshay Kumar starrer, this film tells a story about a con man along with his entire team that poses to be Income tax officers and CBI. They do this with a motive of robbing politicians and wealthy businessmen who dodge their taxes. If you prefer con movies, this is a must-watch!
3] Queen (2014)
This is an all-time favorite of most Bollywood freaks. The story is about a small town girl belonging to a traditional family, who has never stepped out of her comfort zone and who decides to tour Europe all alone.
What is the reason behind such a drastic decision? That is what you have to find out by watching this hilarious movie which also has an emotional side to it. The lead character is played by Kangana Ranawat.
4] Manto (2018)
Sadat Hussain Manto, an Indo-Pakistani writer is the protagonist of this story and the movie revolves around the troubled and contentious life of this writer. While creating his works, the writer faces lots of censorship and artistic obstacles and all these challenges make the story of Manto.
The supremely talented Nawazuddin Siddiqui plays the role of Manto and the plot is gripping enough to let you stay put till the last minute. This one is one of the highly recommended movies on Netflix.
5] Article 15 (2019)
Ayushmann Khurrana plays the lead role of a cop where he moves on to explore religious differences, casteism and the present socio-political condition of India.
While doing this, he triggers the case of a missing person which includes three teenage girls as well belonging to a rural area in India. Though the movie is well-made and also hard-hitting, yet it has been claimed that the movie is casteist in itself.
6] No One Killed Jessica (2011)
Being released in 2011, it can be deemed as pretty old but the storyline is still relevant in today's society. In this movie, there's a girl who is striving hard to attain justice for the murder of her younger sibling.
Corruption, betrayal and several other things will be seen to be expected from the criminal justice system of India. People who love thriller movies shouldn't miss this.
7] Bareilly ki Barfi (2017)
Bareilly ki Barfi was released in 2017 and it is a humorous movie that'll make you laugh your hearts out. The star cast of this movie is worth mentioning as it has Ayushmann Khurrana, Rajkummar Rao, Kriti Sanon and Pankaj Tripathi.
Bitti, is shown to be a free-spirited girl who loves to live life on her own. The events that follow after she meets the hero Chirag Dubey and Pritam Vidrohi are what make the storyline of the entire movie. It is certainly an entertainment packed movie.
8] Mom (2017)
The late Bollywood superstar's last movie was Mom after doing which she passed away. Sridevi will be fondly remembered for her awesome role in Mom. She plays the mom who is taking revenge on a gang of guys who had attacked her daughter but were not caught red-handed.
The revenge plot of the movie is extremely well-woven and you'll be surprised to see the heart-wrenching performance of Sridevi. If you've loved Sridevi, don't miss this movie of hers.
9] Pad Man (2018)
This story too is relevant in today's society as it tells you the lifestory of Arunachalam Muruganantham who finds out a cheap solution for producing sanitary pads. Living in a society where hygiene is of utmost importance, there are many rural women who are still not aware of sanitary hygiene.
In his attempt to make affordable sanitary pads, he ends up helping millions of uneducated women in learning about hygiene. The story includes all the trials that Arunachalam had to face while doing this noble job. Akshay Kumar uses his humor to tickle your funny bones in his own special way.
10] Drishyam (2015)
Drishyam is a remake of a superhit Malayalam movie with the same name. The story revolves around a man (played by Ajay Devgan) who can go to any extent to save his family that comprised his wife, and two daughters.
Ajay Devgan has done utmost justice to the role by giving an exceptional performance. If we go on speaking about the movie, we'll end up giving you too many spoilers. This is undoubtedly one of the best thriller movies ever made in Bollywood. Hence, it is a must-watch!

So, now that you're locked down and confined within your homes, instead of getting bored, subscribe to Netflix and start streaming your best Bollywood movies. There's lot that you can learn from every movie that is mentioned in the above list. Also let us know about which one is your favorite movie.
You may like.