Tractors revolutionized the agricultural business as a whole and enhanced the lives of farmers when they were originally developed in the 19th century.
Best Farm Tractors – List of World's Best Farming Tractors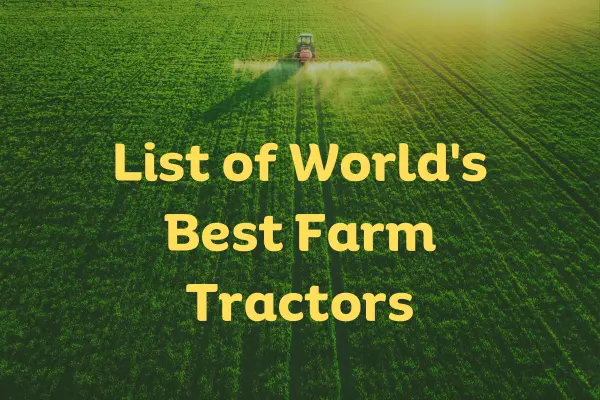 Numerous technological advancements have been made since these farm equipment's early days. All sizes of farms may now function more effectively thanks to modern tractors. These machines are produced by a number of renowned businesses and are utilized all over the world.
Tractors are the most prized possession for farmers. Without a tractor, farming in the twenty-first century would be impossible. A tractor is a versatile tool that excels in the fields. Farmers all throughout the world depend on tractors for a variety of purposes. Here is a list of the best farm tractors in the world.
Mahindra & Mahindra
With its headquarters in Mumbai, Maharashtra, India, Mahindra & Mahindra is a sizable multinational Indian automobile manufacturing company. It is one of India's top vehicle producers by volume and the biggest tractor maker worldwide. The business is a unit of the Indian conglomerate Mahindra Group. They are renowned for producing a variety of automobile parts as well as a wide range of vehicles, including tractors, trucks, buses, and cars.
When Mahindra & Mahindra started making tractors in 1963, it was already a well-known maker of jeeps. The Mahindra B-275 was the first tractor the firm produced.
The business has increased its range from this original equipment. In actuality, Mahindra & Mahindra is currently the world's top tractor manufacturer.
Massey Ferguson
Strong tractors are offered by the top tractor manufacturer, Massey Ferguson Limited, to its clients. The Massey Ferguson tractor's flexibility is highly sought after all around the world. A range of multipurpose tractors from Massey Ferguson is now produced, with engines and transmissions ranging in horsepower from 20 to 400. Because of these exceptional tractors, Massey Ferguson will rank among the top 10 tractor manufacturers worldwide in 2022. These tractors have an HP range of 18 to 75 HP. These tractors are priced starting at Rs 3.50 lakhs.
Here is a list of the numerous agricultural equipment options that Massey Ferguson provides globally:
Balers
Tractors
Material Handlers
Planters
Hay and Forage
Combine Harvesters
John Deere
One of the most well-known brands of tractors in the world is John Deere. The US brand is renowned for its high amount of integrity, dedication to innovation, and commitment to quality. The John Deere 5310, John Deere 5050 D, John Deere 3028 EN, and John Deere 5105 are a few of the company's well-known equipment.
The John Deere heritage has endured for a very long time and is still present today. The tractors are quite well-liked throughout the world.
A John Deere tractor can be purchased for as little as Rs 4.70 Lakhs. The livelihoods of farmers are being improved constantly. John Deere strives to achieve these objectives by offering high-quality goods that satisfy the needs of its customers.
Sonalika
The most well-known brand on earth is Sonalika International. Since its founding in 1969, they haven't turned back. To meet the demands of farmers and the market globally, they provide a wide range of tractors. The most successful producer of next-generation tractors in the world is Sonalika. Currently, Sonalika Group is one of India's top three tractor producers. They produce and supply to meet farmer demand. These tractors start at a price of Rs 3.20 lakhs. The HP range is between 20 and 120 HP.
The several tractors that Sonalika has provided around the world are listed here.
Sonalika WT 90
Tiger Sonalika DI 75
Mileage Master Sonalika
Escorts
Escorts Group is a tractor manufacturer with operations in 62 different nations. They supply the best tractors and the best customer service. Their main objective is to arm farmers and give them access to goods that genuinely appeal to them. Escorts has been providing farmers with consistent, high-quality products at competitive prices for more than 60 years, earning their trust in the process. The first tractor manufacturer in India to export its goods is Escort. Tractor horsepower starts at 18 HP, and costs range from 2.75 to 5.20 lakh rupees.
New Holland
A well-known tractor manufacturer with uses in both agriculture and construction is New Holland. The catalog of this company includes tractors of 35 to 90 horsepower.
Since its inception, New Holland has benefited farmers by providing them with tractors that combine efficiency, power, comfort, and a variety of high-tech features. The price for this tractor starts at Rs 3.20 lakhs.
The company sells a variety of tractors, including models from the New Holland T5, T6, and T7 series. Because of its exceptional quality and longevity, New Holland tractors are well-liked.
Fendt
Some of the best farm machinery in the world is produced by Fendt. By giving farmers high-quality products, they help farmers meet their goals more rapidly. They produce a wide range of items with strong engines. Tractors made by Fendt have the capacity to boost output while using less fuel. The main objective of Fendt is to provide total client satisfaction by addressing all of its demands through its product portfolio.
They offer a wide variety of goods, such as the following.
1100 MT
1000 Vario
Vario MT 900
900 Vario
Fendt (MY 2021) 900 Vario
Case IH
Case IH is the market leader for farm equipment on a global scale and has its headquarters in the United States. It came in 1923 pulling in an agricultural tractor. They consistently succeeded in winning the farmers' affection. Case IH manufactures unique, fuel-efficient products. Since they cover significant global markets, farmers trust them. Customers can always count on them to deliver high-quality goods. Below is a list of Case IH's product offerings.
Series Magnum
Series Maxxum
Series by Farmall
Case IH divides its line of tractors into various "families," including the Magnum, Steiger, Farmall, Maxxum, and Puma. These brands are well-known in the tractor industry at large.
The US is where the company is headquartered. It is a huge operation and the second-largest producer of farm equipment in North America.
Kubota
The most cutting-edge tractor manufacturer in the world is Kubota, also referred to as KAI. Since 1890, Kubota has provided tractors to customers all around the world and has earned their everlasting faith. They give their all to their work and deliver excellent results. The tractors' horsepower ranges from 21 to 55 HP. These tractors have a starting price range of Rs 4.15 lakhs.
There are several tractor series made by Kubota that are sold worldwide:
Series B
Series L
Series MU
The tractor market is led by Kubota, a Japanese company that was founded in 1890. Their tractors are well-liked by farmers because of their dependability and toughness. The Kubota BX, M, and L series are a few models that are in demand.
Same Deutz Fahr
A renowned German tractor manufacturer named Same Deutz Fahr has secured its place in the global tractor rankings, which, based on trends and needs, offers tractors to consumers all around the world. They constantly have their customers' best interests in mind when supplying them with the most modern and high-quality tractor needs.
Same Deutz Fahr was established in 1968. They are trying to make farmers' lives better. The starting price is Rs 5.10 Lakhs. 36 to 80 HP make up the HP range. Deutz-Fahr has a distinctive product line with a wide range of characteristics. All of the goods have a trendy appeal that will draw farmers in no time. Deutz-Fahr aims to provide farmers with innovative and cutting-edge tractors so they can boost agricultural output.