Indian society has long embraced cartoons, and the cartoon business has only gotten bigger in recent years. Today, dozens of animation studios create material for television, movies, and the Internet.
Top 10 Cartoons in India – List of the Best Cartoons in India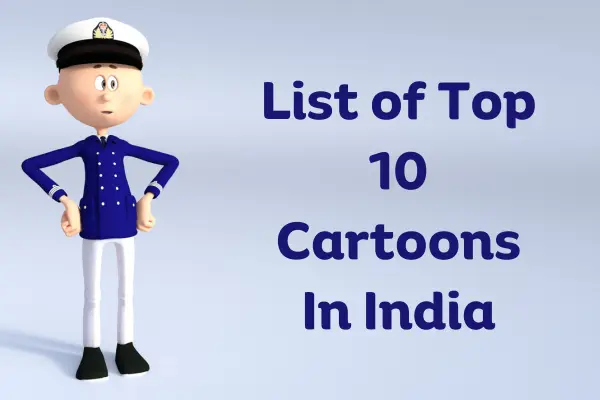 Gopal from "Doraemon" and Chhota Bheem from "Chhota Bheem" are two of the most well-known cartoon characters in the world, and both are from India. Numerous animation studios are currently working with computer-generated graphics and 3D animation apart from traditional animation. It is conceivable that as the market expands, India will produce even more cutting-edge and interesting cartoons.
Can you picture what your childhood would have been like without Mickey Mouse or Tom & Jerry? It's a resounding NO. Cartoons are the best when it comes to bringing forth laughter in the family, whether it be decades ago or today. There are some animated characters that we will always remember. Whether it is Donald Duck or Tom & Jerry, kids still adore them.
Chhota Bheem
Cartoons are highly well-liked in India, where both kids and adults enjoy watching them. Chhota Bheem, one of the most well-known cartoon characters, made his television debut in 2008. The program has a sizable fan following and excellent viewership ratings. It is one of the most-watched cartoons in India and is being broadcast in more than 50 nations.
Nine-year-old Chhota Bheem is a mischievous and fun-loving child who gets into all kinds of misadventures. His pals, including Krishna, Jaggu, Raju, and Chutki, frequently lend a hand. They go on several excursions together and pick some important lessons along the way. Along with being amusing, the program instructs viewers on significant issues like responsibility, teamwork, and friendship.
Doraemon
Around the world, cartoons are a fixture of childhood, and India is no exception. The blue robot cat from the future known as Doraemon is one of the most well-known cartoon characters in India. One of the most adored television characters, Doraemon was first established in Japan in 1969 and has subsequently been adapted for an Indian audience. When the program debuted in India in 2006, it instantly gained popularity among viewers, irrespective of their age. One of the most watched cartoons on TV, Doraemon is still broadcast in India today in a variety of languages.
The Japanese manga series Doraemon was created by Fujiko F. Fujio. Both an anime series and an adaptation in Indian Hindi language have been produced. This story is about a robotic cat called Doraemon, which often travels back in time to assist another character named Nobita Nobi.
Tom and Jerry
A well-known American cartoon series is Tom and Jerry. None of the Indians had never heard of Tom and Jerry. Numerous children, parents, and even grandparents like watching the show. Every adult and child has benefited from this series over the past 50 years. One of the most well-known and astonishing animated series in India is Tom and Jerry.  An endearing Brown-colored mouse named Jerry and a Grey-colored house cat named Tom are featured in this timeless Indian animation as they engage in constant conflict. Tom's life's main objective is to catch Jerry, which results in funny scenarios.
The plot centers on Tom, a cat, and Jerry, a lovely mouse, who constantly fight and seek retribution. The best cartoon in India is now being discussed among adults as well as children.
Shiva
Shiva is a UTV Motion Pictures and Graphic India-produced 3D computer-animated action comedy movie. The story of the movie centers on the exploits of a young boy named Shiva, who has to defend his family from a demon king's malicious schemes.
Shiva, a cartoon figure modeled by the Hindu god Shiva, may be seen on the well-known website Cartoons From India. Cartoons, games, and products are among the many types of Shiva-related content on the website. One of the most well-known cartoon websites in India is Cartoons From India, which has been mentioned in a number of news stories and television programs.
Motu Patlu
One of the most well-known cartoon characters in India is Motu Patlu. The endearing team has been delighting viewers of all ages since their 2012 broadcast debut. The two frequently find themselves in absurd circumstances, frequently involving their archenemy Dr. Jhatka. One of the most-watched animated series on Indian television, Motu Patlu is shown in more than 15 nations.
The program chronicles the exploits of two pals named Motu and Patlu as they get into all kinds of trouble. Being fully in Hindi makes it accessible to a wide spectrum of viewers, which is one factor in the show's popularity.
The program is also renowned for its adult and kid-friendly slapstick humor. The show not only keeps viewers entertained, but it also imparts important lessons on cooperation and camaraderie. As a result, it is understandable why Motu Patlu has grown to be one of India's most adored cartoons.
Gopal Bhar
Gopal Bhar was a Bengali poet and court jester in Murshidabad's royal court during the eighteenth century. He was admired in Bengal till now and was well-recognized for his wit and humor. His works have been turned into a number of television shows, including one that airs on Sony Entertainment Television in the Indian Bengali language.
India produced the well-known cartoon character Gopal Bhar. Sukumar Ray created him, and he appeared in numerous Bengali novels and publications. Gopal Bhar was well renowned for his humorous antics and his problem-solving skills.
Hanuman
Hanuman is one of the most well-known cartoon characters in Indian culture. Hindu deity Hanuman is revered all over India. He is regarded as an avatar of the god Vishnu and is frequently portrayed as a monkey god. Children love Hanuman's tales, and both movies and cartoons frequently feature him. He is renowned for his fortitude, devotion, and knowledge, and he frequently appears as assisting Lord Rama in his conflict with the demon king Ravana.
Hanuman has recently gained popularity in Bollywood movies as well, where he frequently appears to use his superhuman abilities to aid the protagonists in their battle against evil.
SpongeBob SquarePants
Indian culture is fundamentally reliant on cartoons. People of all ages can appreciate them and they offer entertainment for both kids and adults. The SpongeBob SquarePants animated series is one of the most watched in India.
When the program debuted in 1999, it instantly gained popularity among viewers. Stephen Hillenburg, an animator and marine biologist, is the creator of the popular American animated television program SpongeBob SquarePants. The program centers on the exploits of SpongeBob, a sea sponge who resides in the underwater settlement of Bikini Bottom.
The Powerpuff Girls
For many children worldwide, cartoons were an important part of their youth. They may provide amusement, knowledge, or even inspiration. Children can watch a wide range of cartoons in India. The Powerpuff Girls are among the most well-liked.
The Powerpuff Girls is a Craig McCracken-created American animated series that chronicles the exploits of three sisters with special abilities. Blossom, Bubbles, and Buttercup, three girls with superpowers, are followed in the show as they battle crime in Townsville, their hometown.
Pokemon
In India, cartoons are hugely popular, and among kids, one of the most well-liked franchises is Pokémon. When the anime series debuted in 1997, it spread swiftly throughout the world. The plot revolves around Ash Ketchum, a young boy with aspirations of becoming a Pokémon Master. Ash embarks on a quest to find and train Pokémon with his Pikachu.
Children will find the show to be very enjoyable because it is packed with action, humor, and suspense.