Creating a perfect sales strategy and gaining high returns through it is the most pivotal business activity for any company. After all, acquiring new customers to purchase your products isn't an easy feat.
It doesn't matter if a company goes for an inbound, outbound, B2B, or small to mid-size enterprise sales approach, income is indispensable to make headway. However, before delving into which steps constitutes a successful and effective sales strategy, let's clarify its concept first.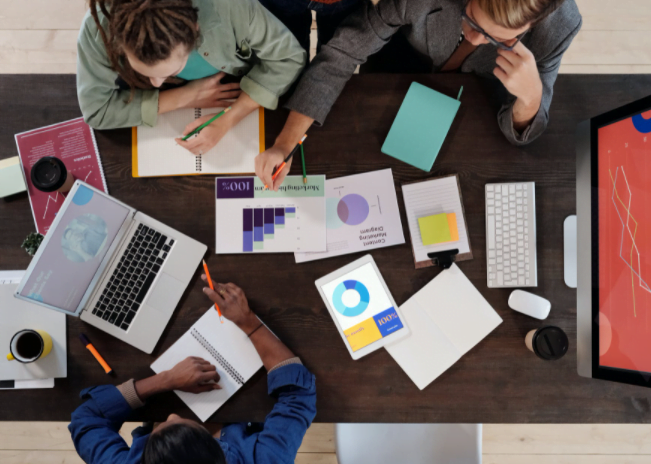 A sales strategy is a well-documented plan of a company to sell its product or service. The primary aim of devising a strategy is to make your product stand out and appealing to the target audience. It is a work process through which companies can reach qualified buyers, broaden the existing customer base, and outperform the industry's rivals.
Notably, an effective strategy mainly focuses on the key performance indicators (KPIs), sales methodologies, team structure, buyer profiles, and competitive analysis. The roadmap enables the organizations to meet the revenue goals by synchronizing the overall business processes towards their set objectives.
Given the increasing competition in the business market, many organizations encourage their employees to opt for advanced education programs such as an online MBA. Some of these programs are flexible and do not require Graduate Management Admissions Test (GMAT) requirements specifically for working professionals.
An online MBA no GMAT degree helps professionals in understanding the current sales and marketing trends and dynamics. These programs also assist individuals in learning and understanding different customer behaviors in making informed decisions.
Read on below to find out the steps involved to build a unique sales strategy that leads businesses to unmatched growth.
Create A Customer-Centered Profile
It is next to impossible to develop a sales strategy without keeping the customer's needs in the loop. Therefore, sales managers and executives should fully understand the nature of the ideal audience and sales channels to reach them. Besides, sales representatives should explore the tools and platforms that are popular among their target audience.
That way, the team can dedicate most of its time to engage its audience through the right mediums. It would further help you to attract prospects who are more likely to convert into loyal customers.
Apart from this, companies should reach out to the existing loyal customers and determine their preferences and expectations with the products. They should also ask about the customer experience with their products. However, the following questions can help in building a customer-centered profile.
What are the main pain points of the customers?
Which solutions help the customers deal with these pain points?
What is the average budget of the target audience?
Map Out SMART Goals
Businesses must set sales goals and objectives to determine whether or not they are on the right track. Setting sales goals can ensure that the entire sales team is on the same page to achieve the right objectives.
Business professionals enrolled in advanced education programs such as a Master business online degree are specifically taught about points that are essential to consider when setting S-M-A-R-T goals. Some of these include.
Specific – Companies must be clear about how much revenue they wish to achieve.
Measurable – Companies must set measurable goals to track sales progress.
Achievable – Although business owners like to see the bigger picture. However, they must not overlook reality and set goals that the sales team can achieve.
Relevant – Companies must ensure the goals they set are realistic.
Time-bound – the goals set by the company should be achievable within a defined time.
Developing SMART goals helps sales leaders and their teams in getting a clear direction. Since SMART goals include all the relevant information, it is easier to communicate them to the team.
Focus on Your Marketing Strategies
Once you've set your SMART goals, the next step is to plan a marketing strategy that may help in creating strong brand awareness among your target audience. An excellent way to keep your audience engaged is to provide them the right content that answers their queries regarding your products or services.
The content might also include details regarding the effectiveness of your product in solving customer issues or ways it can benefit your potential customers.
Storytelling is another excellent way to evoke emotions and leave a memorable impression on the customers. Most successful marketers prefer to add visual graphics, metaphors, or analogies to their content to attract target consumers.
Furthermore, businesses can use storytelling to help people understand and remember their sales pitch more easily.
Keep Track Of Operations
How do companies expect a successful sales strategy if they do not analyze the performance of each operation? One best way is to set some KPIs based on your sales goals and objectives. Keeping track of these indicators can help organizations identify areas of improvement.
Companies must evaluate the whole process, starting from identifying their target customers to the effectiveness of their marketing strategies to achieve the desired goal. They can start by asking the following question.
Which products or services are making the most sales?
Is the sales team making profits?
What are the major barriers to achieving the target goals? Etc.
KPI management software helps you manage your metrics with dashboards, reports, and alerts. Additionally, it makes it easy to set goals, track them over time, and visualize your team's performance.
Keeping a constant check on the business operations will help you in identifying the gaps in each process at the right time. It would further assist in making prompt decisions to improve the overall sales processes. Businesses that keep a frequent check of their operations increase their chances of achieving business goals.
Final Words
In a nutshell, a sales strategy is a monthly prediction plan for the companies to achieve the preset sales quota. Through a scalable sales plan, businesses can find potential opportunities and prepare to tackle sales challenges head-on. It may sound like a lot of work at this phase.
However, with a sound sales strategy in place, organizations can pave the way to success and meet long-term business goals. Above, we've mentioned a few essential points that you can consider to develop a perfect sales strategy for your business.