A demat account is a type of account used to store securities electronically. The term "demat" is derived from the word "dematerialized," which means that the securities are no longer held physically but rather electronically. This type of account is required for anyone interested in investing in the Indian stock market. A Demat Account, also known as a Dematerialized Account, allows you to store shares and assets electronically.
How to Open A Demat Account Online On Groww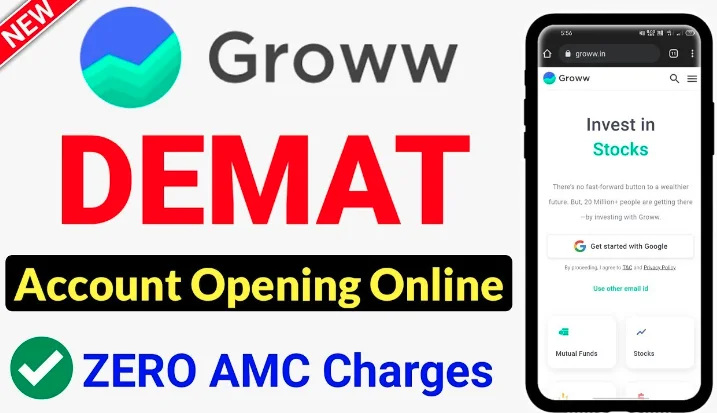 Shares are purchased and stored in a Demat Account during online trading, making it easier for consumers to trade. A Demat Account consolidates a person's stock, government securities, exchange-traded funds, bonds, and mutual fund holdings.
Savings accounts, fixed accounts, NRI accounts, and Demat accounts are just a few of the numerous account options available today. But, what is a Demat Account? Let us investigate.
An investor must open a Demat account with a Depository Participant in order to conduct online trading (DP). This blog has described how to set up a Demat account. Stocks, mutual funds, and other investment choices are available to Groww members through its online investment platform. Groww has swiftly gained popularity among both novice and seasoned investors due to its user-friendly platform and affordable price. In this article, we'll examine Groww in more detail and discuss its features and offerings.
Effortless Use
Groww's user-friendly platform is one of its most notable qualities. Groww is simple to use, whether you are new to trading or have been doing it for a while. The platform has a clear and straightforward design that makes it simple to locate the information you require and execute trades. Furthermore, the platform is available from any internet-connected device, making it simple to keep tabs on your assets when you're on the road.
Financial Options
Groww's extensive selection of investing alternatives is another fantastic feature. You can find everything you need on the site whether you want to invest in stocks, mutual funds, or other products. Groww also offers comprehensive details about each investment option, such as risk level, previous performance, etc. You may diversify your portfolio and make educated investing selections with this knowledge.
Pricing
Pricing is one of the main issues that many investors have. You may be confident that Groww offers excellent value for your money. The platform charges reasonably for its services, with cheap trading brokerage fees and no price for opening a demat account. Groww does not impose any additional fees, so you are fully aware of your costs.
Consumer Assistance
Having access to high-quality customer service is crucial while investing. You can count on timely and friendly customer support from Groww. The platform provides a number of tools, including a FAQ section, email assistance, and a help center. In addition, whether you are a novice or a seasoned investor, the Groww staff is available to address any queries you may have.
Security
Finally, any online investment platform's primary priority is security. You can have peace of mind knowing that your assets are safe with Groww. Your personal and financial information is protected by the platform's cutting-edge encryption and security features. Groww is also a SEBI-registered platform, which means it is under close regulatory scrutiny.
A Demat Account: What Is It?
A demat account is a particular kind of account that enables you to electronically store securities. Stocks, bonds, mutual funds, and other investment tools fall under this category. Instead of being held physically when you buy a security, it is credited to your demat account. As a result, managing your investments is made simpler because you may examine your portfolio and execute transactions from the convenience of your home or place of business.
How to Create an Online Demat Account in Groww?
Stocks, mutual funds, and other investment alternatives are available through Groww, a well-known online investment site. Here is a step-by-step guide to getting started if you want to open a demat account with Groww.
Gather the necessary documents
A few crucial documents must be gathered before you can register a demat account with Groww. These consist of:
PAN card Address verification (Aadhar card, passport, driving license, etc.)
Paycheck stub or passbook.
Passport-sized images.
Visit the Groww website
Once you have all the necessary paperwork, you may go to the Groww website and begin the demat account opening process. You can choose to create an account on the homepage. Just click the link and proceed as directed.
Fill out the application form
You must then complete the application form. Your name, address, and bank information are among the personal data requested on this form. Make sure to carefully and accurately complete the form.
Submit the Necessary Documents
You must upload the necessary documents after completing the application form. This consists of your PAN card, a bank statement, a proof of address, and passport-size pictures. For easy processing, make sure your scans of these papers are of good quality.
The verification process.
Groww will validate your information once you have uploaded the necessary papers. This procedure normally takes a few days, and Groww may contact you by phone or email during this time. You will get a confirmation from Groww once your data has been confirmed.
Fund Your Account
You can begin funding your account as soon as it has been approved. You accomplish this by making a financial transfer from your bank account to your Groww demat account. This can be done either online or in person at a Groww location.
Begin trading
You can begin trading as soon as your account has been funded. Just sign into your Groww account to get trading. Stocks, mutual funds, and other securities can all be bought and sold.
Documents required to Open a Demat Account in Groww
Proof of Identity: You need to submit a government-issued photo ID, such as a PAN card,

Aadhaar card

, passport, or voter ID card.
Proof of Address: You also need to submit a document that verifies your current address, such as a utility bill, bank statement, or Aadhaar card.
Passport-sized Photograph: You need to provide a recent passport-sized photograph of yourself.
PAN Card: PAN (Permanent Account Number) is mandatory for opening a demat account, and you need to provide a photocopy of your

PAN card

.
Bank Details: You need to provide your bank account details, including your account number and MICR code, to link your demat account to your bank account.
Income Proof: You may be required to provide proof of your income, such as salary slips or Form 16, if you are applying for a margin trading account.
Conclusion
It is a quick and easy process to open a demat account with Groww. Groww is a fantastic option for anyone looking to begin stock market investing because to its user-friendly interface and affordable pricing. Why not sign up for an account with Groww today and begin trading?