Aadhar card is an identification method, which has established by the government of India. UIDAI full form is Unique Identification Authority of India who have been appointed to develop the infrastructure and ensure that every Indian citizen will get a unique number.
The Aadhaar card has become mandatory and can be used to get a LPG connection to mobile network connection, by every year, the government is making other identification card ineffective. So, getting an Aadhaar card is mandatory for every Indian citizen.
How to Apply for Aadhaar Card Online Procedure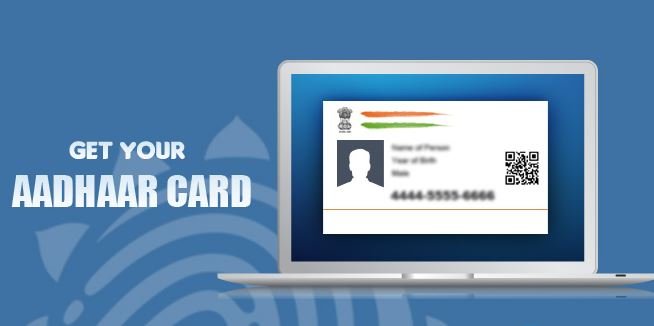 The UIDAI is using the latest technology to make the process easy for the citizens who have technical knowledge but there has no structure that enables us to apply Aadhaar card online.
The technology that involves in creation of identification card is not possible in India due to the limitations and there is no way to stop illegal practices.
You need to give your biometric / fingerprint data.
Retina identification is also needed here.
Your current photo.
When it comes applying for fresh Aadhaar card, you have to do the manual work. We are going to show you exactly, how you can apply a fresh Aadhaar card manually.
1) Find Aadhaar Center Near You
Finding the center nearest them is the difficult part for those who don't have knowledge in this area. We are going to show you how you can find the Aadhaar center online.
1 – You need visit the official site of the UIDAI.
2 – The next page will look something like the snapshot we have taken.
3 – You have three options, you can use pincode to find out the nearest location, you can find out by state and the third one will help you find a Aadhaar center using searing for your city.
4 – Let's begin with the state, you have to select your state first.
5 – You have to select your district.
6 – Sub-district is always a city that is near to you.
7 – If you have selected the right options, you will have your Town or City listed in the section.
8 – Enter the captcha and search for it.
9 – If everything goes right, you will find one near to you.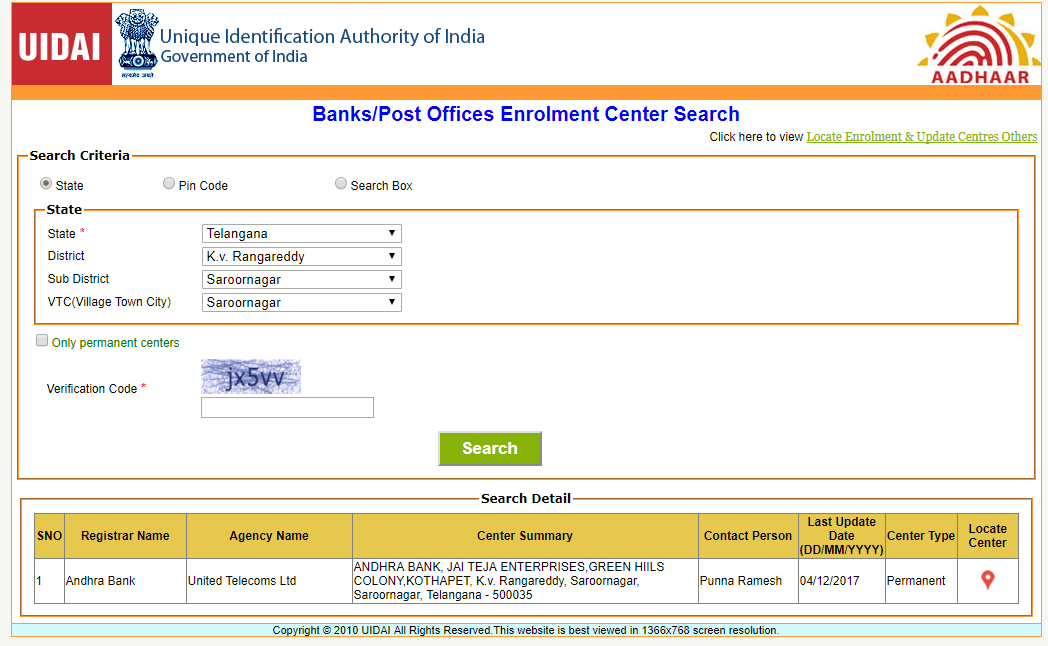 Or
10 – You can also use the pincode process, enter your pincode.
11 – Enter the captcha, and click on "Search."
12 – You will have the same results here.
Or
13 – Select search box from the top and enter your city name, for example "Banjara Hills."
14 – Read the code and enter the captcha in the empty field, then hit on "Search."
15 – You will have the list of Aadhaar center near by.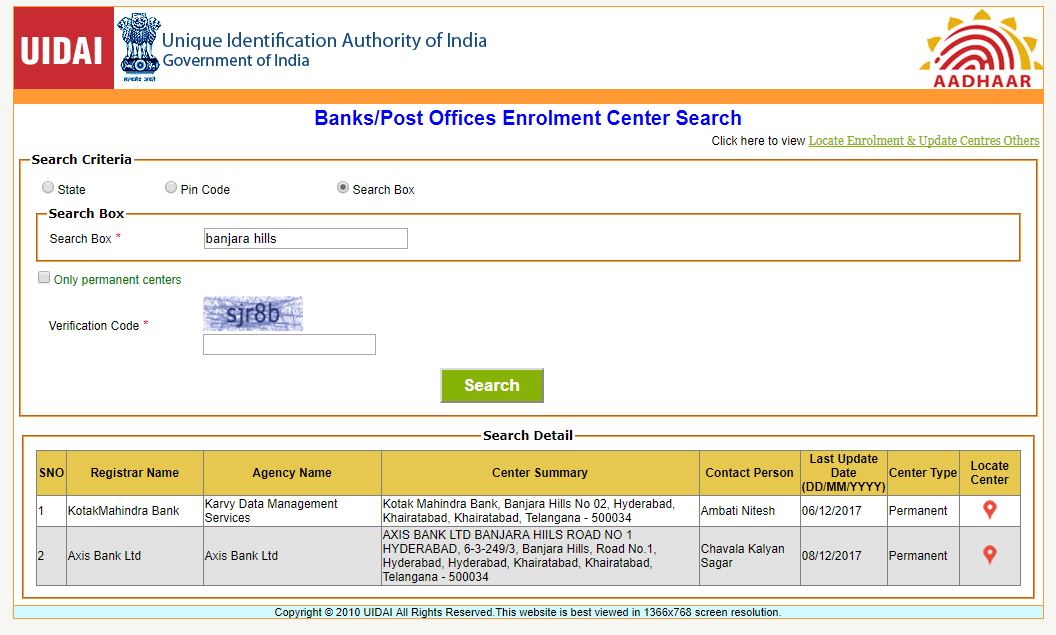 What's next?
2) Documents
You don't need anything special to prove that you are eligible for the unique number. You need to have three things, to be specific, you need to have.
Address proof.
Date of birth.
And name.
You need to have documents ready when you want to apply for it. The most common documents you need is,
Address – Electricity bill, Telephone bill, Water bill, Bank statement delivered to your current address. None of the bills should be older than two months.
DOB – You can use birth certificate, 10th markssheet, Intermediate marksheet, if you don't have any of it, then a letter signed by the gazette officer.
Name – You can use your marksheet, pan card, voter id card or anything approved by the government that has your full name and photo on it.
In case, if you don't have any of the mentioned proof's, then contact the customer care for detailed information on the documents.
Customer care – 1800-300-1947
2) Aadhaar Center
What do you have to do when you reach the Aadhaar card center? The authorized person will help you with the details and also guides you a little.
However, most of authorized person will try to avoid the form filling, so you have to be prepared because that is where people mess things up.
More than 42,000 Aadhaar centers have been blacklisted to this day because of the unfair practices and illegal activites.
They avoid it so you can make mistake and make money next time you visit the place.
1 – You will be asked to fill up a form and read them carefully because whatever you are going to write there will be printed on your Aadhaar card. If you make any mistake, then start over or you have to comeback for correction.
2 – You have to provide the one copy each of every document you are submitting.
3 – When the authorized person has filled your information online.
4 – Your photo will be taken from the web cam of the computer.
5 – A fingerprint scanner will be present there and you have to wipe your fingers for impressions. (Carry a handkerchief or tissue paper to wipe your fingers.)
6 – Once your thumb and fingers impressions have been taken, you will be asked to look into a VR headset looking device, which will take your retina details.
7 – When all details are collected from you, you will be getting 14-digit enrolment number with the receipt.
Note: You don't have to pay a single rupee at the time of registration or fresh apply. You can call the customer care when the authorized person is demanding for a fee to register the complain.
3) What's Next?
You will receive a message from the UIDAI regarding the application and you will be notified when your Aadhaar card is available.
You can also check the status of it – Usually it takes more than 15 days to process and 15 days for the card to be delivered.
Also download the Aadhaar card digitally from here.
Conclusion
Aadhaar card is mandatory and the first initial stages are always the difficult ones, rest will go smooth as knife on butter. Let us know what do you think about it in the comment section. 🙂