Bandhan Bank was started as a micro finance company in the year 2001 and after 13 years, this company received the banking license from Reserve Bank of India in 2014. It was founded by Chandra Shekhar Ghosh who is also the current CEO of Bandhan Bank. The main headquarter of the bank is situated in Kolkata, India.
How To Register For Bandhan Bank Net Banking Online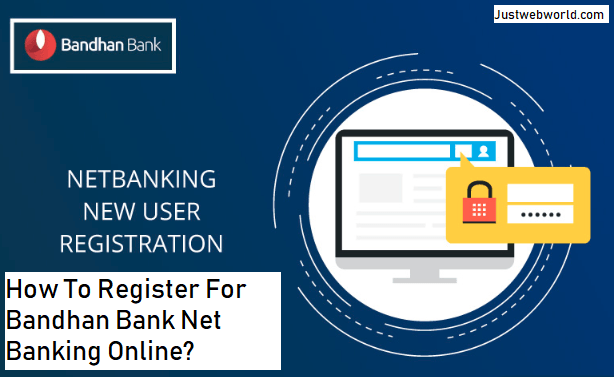 With its remarkable banking services and great customer support, Bandhan Bank now became the 8th largest bank of India according to market capital.
Currently, Bandhan Bank having around 980 bank branches and close to 500 ATMs in different cities of India. Approximate 15 million people are using the banking services of Bandhan Bank all over in India. The bank also well-established its name in private sectors as well as in corporate sectors too.
Bandhan Bank Internet Banking
Internet banking is one of the vital features in the banking sector provided by the bank to their users. In the past few years, the demand of internet banking is increasing at a very rapid speed by the customers. Nowadays, each and every user wants the internet banking feature from their respective banks.
Bandhan Bank also provides the internet banking to their users as well as the bank also offers mobile banking, personal banking, corporate banking, loans, credit cards, and many more other services. You can take banking guide from financesmarti to register for Bandhan Bank net banking service.
Features of Bandhan Bank Net Banking
There are a number of features of net banking Bandhan Bank through which you can manage all your banking transactions with ease. Here are some of the main features of Bandhan Bank net banking.
All your banking transactions can be done with a single click only.
You can access and manage your bank account at any time and at any place around the world.
The internet banking service provided by the bank is totally free.
You can transfer funds to your friends, relatives, colleagues, clients, or anyone online without any hassle.
It is totally safe and secure.
You can pay your monthly utility bills and credit card bills with this service.
You can do online shopping at any online merchant and can book movie tickets via internet banking service.
How to Activate Bandhan Bank Net Banking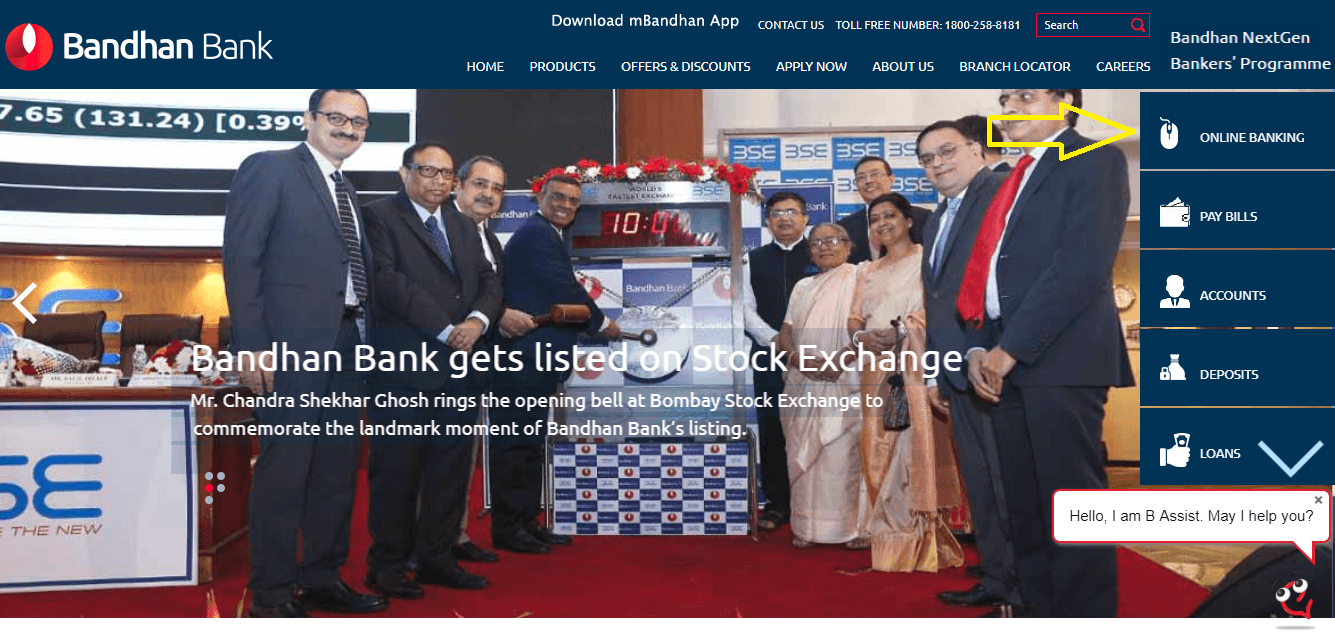 There will be 2 options – Personal and Corporate. You have to select 'Personal' option and proceed.
Now, accept the 'Terms and Conditions' option and click on 'Continue to Login'. It will redirect you to official Bandhan Bank net banking login page.
Then, click on 'New User' option.
Now, tick both the fields of Debit Card and Mobile Number.
Accept 'Terms and Conditions' page and click on 'Continue'.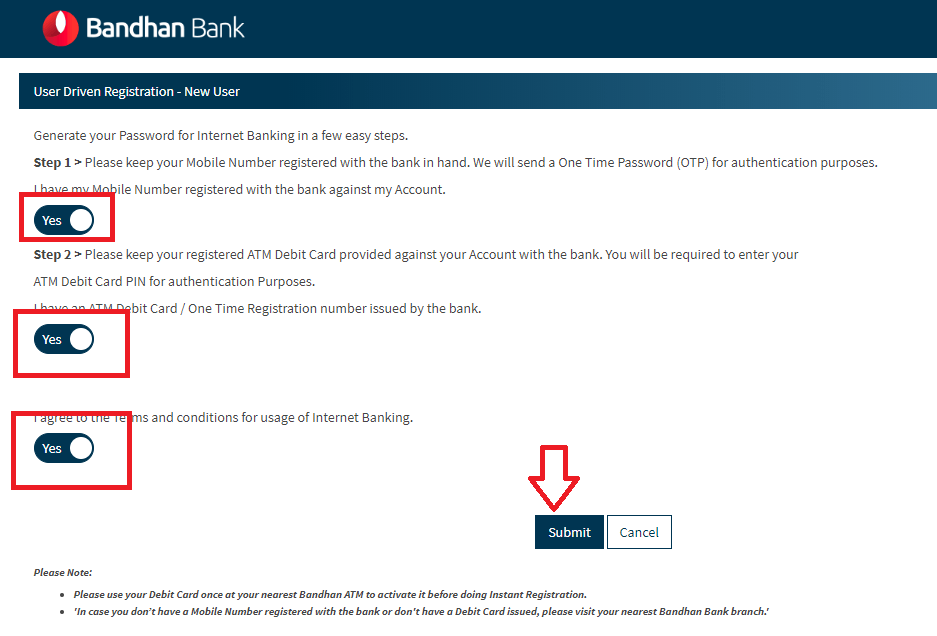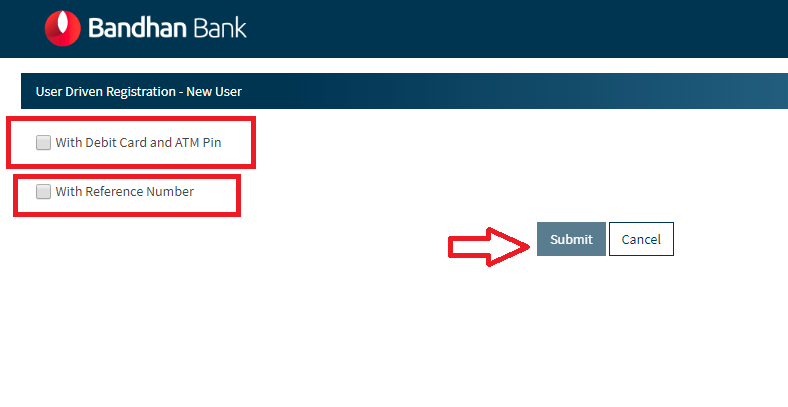 Now enter your CIF Number in the required field. You will get your CIF Number from your bank passbook.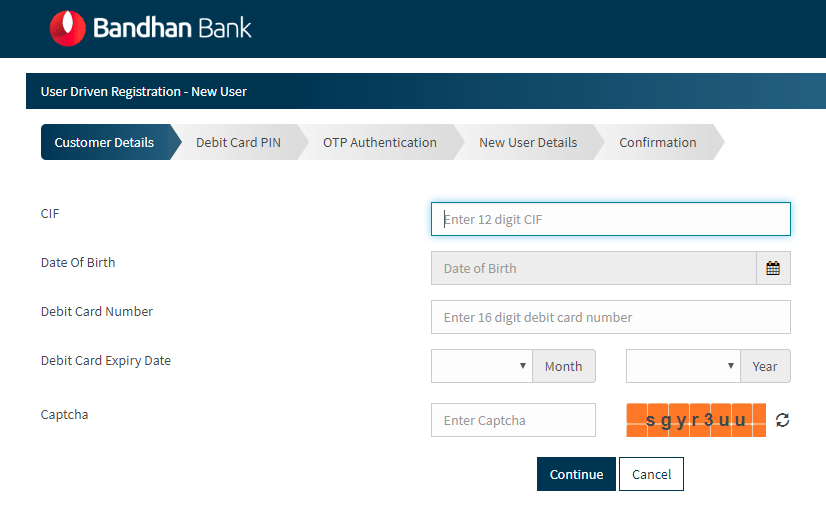 Then, click on 'Next' to continue the procedure. It will redirect you to a new page.
Now, enter your 16-digit Debit / ATM Card Number, Expiry Dates (printed on your Debit Card), and Debit/ ATM PIN in the required fields.
Click on 'Submit' button to start the OTP verification process.
An OTP will be sent by the bank to your registered mobile number.
Enter the OTP correctly and click on 'Continue'.
Wait for few seconds until the bank verifies the OTP.
Now, enter your 'User ID' and set a 'New Password' for your Bandhan Bank net banking.
Click on 'Continue' to successfully finish the registration process.