There is nothing like sitting in front of a warm crackling fireplace as the sound of crickets chirping fills the cool evening air. The draw of an evening around a fireplace has created a surge in the popularity and the value of outdoor fireplaces.
Nationwide, 65% of agents say buyer interest in outdoor fireplaces has increased in March 2020. But what type of outdoor fireplace is the most popular and will recoup the largest return on investment?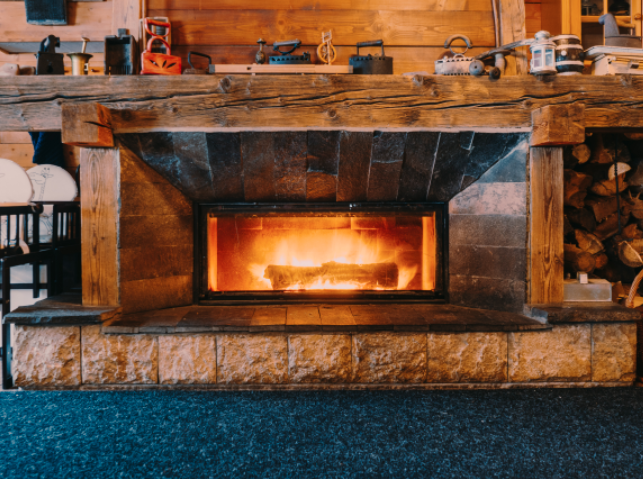 Outdoor fireplaces should not be confused with a backyard fire pit. Unlike the small ground structure of a fire pit, an outdoor fireplace is a towering stone structure. Most are permanent structures that you should assume will be in your backyard for a very long time. You will want to find the best place for your fireplace and then build around it.
Types of Outdoor Fireplaces
Before you begin the construction of your outdoor fireplace, you need to decide what type is right for you. Consider what your fireplace will be used for. Cooking, warmth, or just a beautiful addition to your backyard. Next decide what source of heating you will be using.
Natural Gas-Burning Outdoor Fireplace
Gas burning fireplaces add the most value to a home and are preferred by the majority of homebuyers according to 48% of real estate agents. Gas burning fireplaces are easier to maintain and burn cleaner than other types of outdoor fireplaces. However, they require a natural gas line to be run to them which can be expensive.
Natural gas-burning fireplaces need to be permanent structures since they have a gas line run to them, which means you will need to plot out the location and build around it.
Wood-Burning Outdoor Fireplace
Wood-burning outdoor fireplaces are the best option if you want an authentic crackling and roaring fire. A wood-burning unit will create a natural atmosphere and does not require installation of a gas line. However, a wood-burning fireplace is not nearly as clean as other units.
Wood-burning creates large amounts of leftover ash which means extra maintenance. Some areas may have local air-quality ordinances so you should check to see if the smoke from a wood-burning fireplace will violate those rules.
Propane-Burning Outdoor Fireplace
If you are concerned about heating a large area a propane-burning outdoor fireplace may be your best option. While propane may create the largest amount of heat, it does not create the same natural effect as a wood-burning unit and propane is not a renewable energy source that can be expensive.
Propane-burning fireplaces do not create ashes or embers so there is very little maintenance and it can also be turned on with a switch.
What is the Cost of an Outdoor Fireplace?
Two main factors will determine the cost of your outdoor fireplace: size and material. On average, an outdoor fireplace will cost approximately $3,000, though the price could come closer to $20,000 if you are interested in custom work.
Pre-made fireplace kits are the least expensive, coming in at around $1,500 on the low end and closer to $9,000 on the more expensive end. Custom projects generally begin at $8,000 but could be closer to $20,000.
Prices will also vary based upon what type of fireplace you choose. If you are installing a gas or propane fireplace you will need a gas line installed and possibly electric lines for fans and outlets.
Will an Outdoor Fireplace Add Value?
So you want to enjoy the luxury of sitting around a warm fireplace in the comfort of your own backyard, but you also want to make sure the outdoor fireplace is an investment that will add value to your home. According to the real estate experts at HomeLight, an outdoor fireplace will add $5,753 to your home's value.
However, if you live in the Pacific region, an outdoor fireplace will add closer to $9,500 to your home's value. Other regions of the country have slightly lower increases in home value than the Pacific region, with the lowest increase in home value occurring in the South Atlantic with a value of $4,519.
Additional concerns about how an outdoor fireplace will change your home's value can be addressed with a trusted real estate agent. If you decide to add an outdoor fireplace to your backyard, you should also consider adding a seating area around it.
This can be as simple as an area with stone pavers and comfortable outdoor chairs or a more elegant area with a built in hearth and large paved area. When you are deciding on the arrangement around your fireplace, consider what you will use the area for.
While you are upgrading your backyard with a fireplace you can add a water feature, an outdoor kitchen, and a shade area.