The most expensive stamps are not the only tiny items with high value. Maybe one day the change in your pocket will be. Maybe it's already that way.
Most Expensive Coins – List of Most Expensive Coins in The World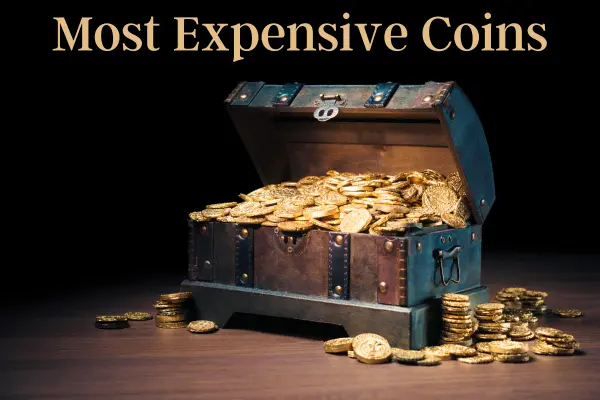 What distinguishes a common penny from a unique 1943 coin that could be worth over $2 million? Let's examine the most expensive coins in the world in depth so you can be sure your piggy bank is accurate before you make a deposit.
Since they were produced centuries ago, you probably wouldn't have noticed some of the most priceless coins in existence. Other coins on this list of the most expensive rare coins sought after by collectors, however, might be concealed among us and used in regular transactions.
One of these coins was discovered using a metal detector on a beach, which is how a rare coin worth at over $6 million ended up on the auction floor.
You've come to the right place if you want to learn about the coins that are worth millions. The top 10 most valuable coins in the world are shown below.
Flowing Hair Silver/Copper Dollar (1794/5)
The 1794/5 Flowing Hair Silver/Copper Dollar is the priciest currency in existence and it costs $10 million.
Renowned numismatic researchers concur that this was the U.S. Federal Government's first silver coin to be minted and distributed.
In 2013, it sold for a little over $10 million dollars, breaking the previous global record for the most expensive single coin sale.
When the United States Mint first began operations in 1792, it exclusively minted copper and patterned coins for a period of two years before switching to silver coinage.
This historic and extremely precious coin has been preserved by coin collectors for more than 200 years, which increases the worth of the coin's history and price.
Double Eagle (1933)
Due to Theodore Roosevelt's prohibition against gold ownership at the time, the mint had to remove the 1933 Double Eagles from circulation and melt them.
He did this because he believed it would alleviate the current banking crisis, however, a tiny number of 1993 Double Eagle coins managed to escape from the mint's vaults.
It's noteworthy to note that owning one of these coins is still prohibited, and if you are discovered with one, it will be seized right away.
One private owner did, however, manage to obtain a coin that had once belonged to King Farouk of Egypt. He was compelled to sell the piece and divide the revenues with the U.S. Mint. The value of this coin is $7.6 million.
Saint Gaudens Double Eagle (1907)
It turned out to be harder than anticipated to make huge quantities of the Saint-Gaudens Double Eagle 1907.
Due to its complex design, production suffered, necessitating a revision.
Chief engraver at the US Mint "Charles Barber" made the choice to remove the phrase "In God, We Trust" from the coin.
Congress did not respond well to this, but despite this, the coin was produced and is now worth an enormous fortune—more specifically, $7.6 million dollars!
Brasher Doubloon (1787)
One man's effort to persuade New York State to adopt copper coins rather than gold led to the 1787 Brasher Doubloon.
The State, on the other hand, declared that they opposed Ephriam Brasher's proposal and did not want any new coins to be made of copper.
Being the skilled goldsmith that he was, Mr. Brasher disregarded the government and opted to continue minting new coins, primarily in bronze but also a few 22-carat gold pieces on the side.
These coins are said to be exceedingly precious and much sought after because they are so uncommon and have such an intriguing history.
One coin was purchased at auction in 2011 by a Wall Street investment firm for $7.4 million.
Edward III Florin (1343)
Our oldest coin, which dates back about 670 years, is presently valued at well under $7 million.
It is believed that just three of the same coins have so far survived the centuries, which gives the coin's worth, which is mostly derived from its age.
This coin is not only among the most valuable in the world, but it is also extremely unlikely that another one exactly like it will ever be discovered.
Liberty Head Nickel – Morton-Smith-Eliaspberg (1913)
At an auction in 2018, the Liberty Head Nickel by Morton-Smith-Eliaspberg brought in $4,560,000.
This variant, one of only five known examples, is regarded as the best-known specimen anywhere in the world.
Its lovely mirror-like surface is one of the factors that contribute to its value and rarity.
Because it is the only one of the five that is polished in this way, collectors and coin lovers value it much more.
However, there is significant debate regarding this currency because the mint has not released any official records of its manufacture.
Silver Dollar Class 1 – 1804
The Silver Dollar Class 1, 1804 ranks seventh on our list of the costliest coins in existence.
The "King of U.S. Coins" specimen, which sold for $4.1 million in August 1999, is the most well-known 1804 Silver dollar in existence.
It was the most expensive coin in the world in 1999, surpassing the previous record by a factor of more than two, and has been graded by the Professional Coin Grading Service as proof-68.
The Sultan of Muscat, Henry Chapman, Virgil Brand, and the Poque family are just a few of the coin's impressive past owners.
The coin was put up for auction once more in 2016, and the highest bid received was an eye-watering $10,575,000.
$1 Million Gold Canadian Maple Leaf (2007)
One of the most expensive coins in the world, the Gold Maple Leaf coin sold for an eye-popping $4,020,000 in June 2010 at the Dorotheum Auction House in Vienna, Austria.
The Canadian Mint created the first million-dollar coin in history in 2007.
The coin weighs an astonishing 100 kilos and is made of 99.999% pure gold.
To promote the Royal Canadian Mint's new series of 99.999% pure one Troy ounce Gold Maple leaf bullion coins, the concept for such a coin was born.
As of right now, just five of these coins have been bought by international coin collectors.
Bust Dollar – Class 1 – Dexter-Poque Specimen (1804)
The next coin is a Class 1 1804 Bust Collar coin, valued at $3.8 million.
Due to its lengthy history and the little "D" printed on the reverse of the coin, which indicated that it belonged to a highly wealthy numismatist named James V. Dexter, this particular piece is incredibly rare and precious.
Due to the fact that there are only eight known class 1 coin that have ever been produced, the coin was first found in Germany in 1804 and is highly sought after by coin collectors.
The Bust Dollar Class 1 was created around 183 years ago and sold by Stack's Bowers Galleries & Sotheby's on March 31st, 2017, for $3,865,750.
Liberty Head Nickel (1913) – Hawai Five-O Star
A 1913 Liberty head nickel that was featured in the 1970s TV show Hawai Five-O is the first coin on the list.
In the series, the coin was mostly used for any close-up work, and coins of lower value were used for anything riskier that may potentially depreciate the coin.
One of five original Liberty Head Nickels that were allegedly taken by an ex-employee from the mint and later found their way into private auctions and coin collections is thought to be the coin in question.