Divorces have become quite common these days. Most couples do not drag difficult relationship these days. They prefer ending it to move on for the better. Some divorces happen amicably while others turn ugly.
The Most Expensive Divorce Settlements in History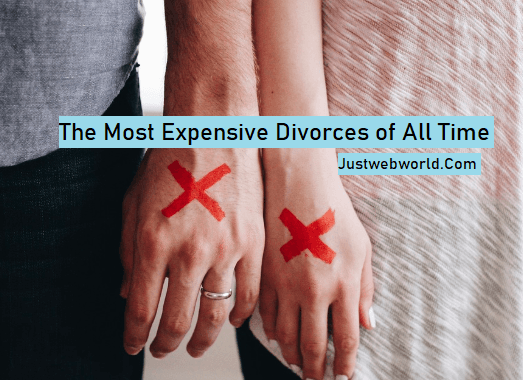 Here, we have compiled a list of the most expensive divorces in history. The settlement amount of these divorces is jaw dropping. Read on to find out!
Jeff Bezos and MacKenzie Bezos – 35 Billion Dollars
Jeff Bezos is the founder, president and CEO of Amazon.com, Inc. He became the wealthiest person in the world with a net worth of $112 billion in March 2018. McKenzie S. Bezos is an American novelist and philanthropist. The two got married in the year 1993.
They moved to Seattle, Washington in 1994 where Bezos founded Amazon. Jeff and MacKenzie have four children together. They filed for divorce 25 years after their wedding. The divorce was finalised in April 2019.  MacKenzie Bezos got $35 billion as alimony.
This has been the most expensive divorce in the history of the world.
Alec Wildenstein and Jocelyn Wildenstein – 3.8 Billion Dollars
Alec Nathan was an American billionaire. He was an art dealer, racehorse owner and breeder. Jocelyn Perisset Wildenstein is an American socialite. The two got married in April 1978. They have two kids – a daughter and a son. Their divorce proceedings began in 1997 and were settled in 1999.
The high profile divorce case became the talk of the town. Jocelyn's lifestyle especially fetched attention. She came to be known for her cosmetic surgeries. The divorce was finally settled. Jocelyn got $2.5 billion and $100 million each year for the next 13 years. The clause was that she couldn't use it for cosmetic surgery.
Keith Rupert Murdoch and Anna Maria Tory – 1.7 Billion Dollars
Rupert Murdoch was born on 11th March 1931. He is the founder of News Corp. He married Anna Maria Tory in 1967. At that time she worked as a cadet journalist in The Daily Telegraph.
The two have three children – Elisabeth Murdoch, Lachlan Mudroch and James Murdoch. They divorced in June 1999. Anna received a settlement amount of $1.2 billion in assets.
Merely 17 days after divorcing Anna, Murdoch married Wendi Deng. She is around half his age.
Bernard Charles Ecclestone and Slavica Ecclestone – 1.2 Billion Dollars
Bernard Ecclestone is the former Chief Executive of Formula One Group. He was popularly known as F1 Supremo. He married thrice. Bernard has two daughters with Slavica. They are Tamara and Petra. The reports of Slavica moving out of Ecclestone's family house surfaced in November 2008. She filed for divorce right away.
The two got divorced 23 years after their marriage. The divorce was finalised in March 2009. Slavica got $ 1.2 billion as settlement amount.
Steve Alan Wynn and Elaine Farrell Pascal – 1.1 Billion Dollars
Stephen Wynn is a known name in the American luxury casino and hotel industry. He is a successful real estate businessman. Wynn married Elaine in the year 1963. They divorced in 1986. They remarried in 1991.
Their marriage ended in a divorce yet again. After living with each other for almost 19 more years they called off the wedding in 2010. Elaine got $1.1 billion as settlement amount.
Harold Hamm and Sue Ann Arnall – 974.8 Million Dollars
Harold Hamm is a successful American entrepreneur. He deals in the oil and gas business. He has managed to make a place in the list of 100 richest people in United States. Ann is an economist and lawyer.
The two got married in April 1988 and have two daughters – Jane and Hillary. They reportedly separated in 2005 but filed for divorce years later, in May 2012. The settlement was done for $974.8 million.
Adnan Khashoggi and Soraya Khashoggi – 874 Million Dollars
Adnan Khashoggi was a Saudi Arabian businessman. He was known for his successful business deals and lavish lifestyle. He married Sandra Daly in the year 1960. Sandra converted to Islam. She was renamed Soraya Khashoggi. They have a daughter and four sons together.
The two got divorced in the year 1974. Soraya got a divorce amount of $874 million. 
Dmitry Rybolovlev and Elena Rybolovlev – 604 Million Dollars
Dmitry Rybolovlev is a Russian businessman and investor. His net worth was $6.8 billion as of April 2019. He became the President of the football club, AS Monaco in 2011.
He married Elena in the year 1987. They have two daughters – Anna and Ekaterina Rybolovleva. Elena filed for divorce in December 2008. She alleged Dmitry of serial infidelity. The divorce was settled for $604 million in October 2015.
Craig McCaw and Wendy McCaw – 460 Million Dollars
Craig McCaw is the founder of McCaw Cellular and Clearwire Corporation. He married Wendy in 1974. They worked hard to grow McCaw Communications. They turned it into McCaw Cellular. The company was sold to telecommunication giant, AT&T in 1994.
They divorced in the year 1997. Wendy received an amount of $460 million as divorce settlement.
Mel Gibson and Robyn Moore Gibson – 425 Million Dollars
Mel Gibson is a famous American actor and filmmaker. He has delivered several blockbuster movies. He is particularly known for his action scenes. Mel met Robyn Denise in the late 1970s.
She worked as a dental nurse at that time. The two married in June 1980 in New South Wales. They have six sons and a daughter. They separated in July 2006. Robyn filed for divorce in April 2009. The divorce was settled for $425 million.