The Prime Minister of India is announcing many welfare schemes for the welfare of the people. And their recent scheme is "Pradhan Mantri Jan Dhan Yojana". Do you know what it is? And how you will be get benefited in this scheme? Don't know, right!
You will be aware of all the things from A to Z regarding Pradhan Mantri Jan Dhan Yojana within 2 minutes, if you spend your precious time in reading this blog.
What is Pradhan Mantri Jan Dhan Yojana (PMJDY)?
This scheme is a National Mission for Financial Inclusion to ensure access to financial services namely banking services like Savings & Deposit Accounts, Remittance, Credit, Insurance, and Pension in an affordable manner. Now you may think, "What is Financial Inclusion?" Let me explain.
Financial Inclusion is the delivery of financial services at affordable costs to sections of disadvantaged and low-income segments of society, in contrast to financial exclusion where those services are not available or affordable. In short, financial inclusion no other the way of making financial services being accessible to all citizens.
1) Why You Must Consider Pradhan Mantri Jan Dhan Yojana (PMJDY) Scheme?
There is no minimum balance required for opening a Jan Dhan Yojana account.
Account holders can avail a FREE accidental coverage insurance of up to Rs. 1 Lakh along with RuPay Debit card.
Account holders of PMJDY Scheme would also get access to pension and other insurance related products.
Individuals enjoying various benefits offered under various government schemes like LPG subsidy and Health Welfare can now receive the amount directly into their PMJDY accounts.
PMJDY account holders can avail the benefit of life Insurance cover up to Rs.30, 000.
Jan Dhan account holders who completes 6 months are eligible to obtain loans up to Rs. 5000.
2) Eligibility Criteria to Open PMJDY Account
An individual should be the Citizen of India.
A minor who is aged above 10 years is also eligible to open the account in any bank under this PMJDY scheme. But he/she needs to have a guardian to manage his/her account.
Doesn't have the proper proof to prove yourself as the Citizen of India? Don't worry; you can also be able to open the bank account under this scheme. For that, the bank needs to perform the back ground research and categorize the person into "Low Risk" to open the account under Pradhan Mantri Jan Dhan Yojana (PMJDY) Scheme.
Individuals should have a proper identify proof authorized by any gazette officer is eligible to open the bank account.
3) Documents Required to Open PMJDY Account
If you've Aadhar Card, you do not need to produce any other document at the time of opening the account. In case, if Aadhar Card is not available, you need to submit the copy of any one of the valid documents listed below:
Voter ID Card
Driving License
PAN Card
Passport
Now You're Ready With all The Document Handy, So the next step is
4) How to Open Pradhan Mantri Jan Dhan Yojana (PMJDY) Account
1) Visit the bank or institution authorized by the Government. The banks authorized to open PMJDY Schemes are:
HDFC Bank Ltd.
ICICI Bank Ltd.
YES Bank Ltd.
Karnataka Bank Ltd.
Kotak Mahindra Bank Ltd.
Axis Bank Ltd.
Dhanlaxmi Bank Ltd.
Federal Bank Ltd.
IndusInd Bank Ltd.
ING Vysya Bank Ltd.
Bank Of Maharashtra
Canara Bank
Oriental Bank of Commerce
Punjab & Sind Bank
Bhartiya Mahila Bank
Dena Bank
State Bank of India (SBI) and all its 5 affiliated banks which include – State Bank of Hyderabad, State Bank of Mysore, State Bank of Bikaner & Jaipur, State Bank of Travancore and State Bank of Patiala.
2) Contact the bank staff for getting account opening form. You will fill the account registration form and submit the copy of valid ID proof.
5) The Details Included in the PMJDY Application Form: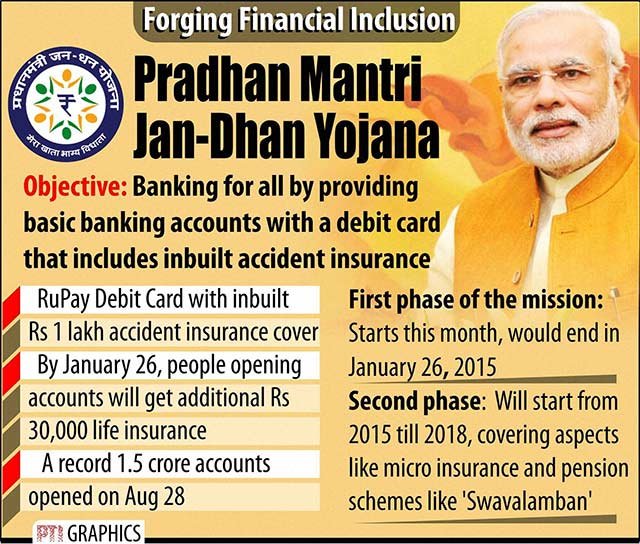 In the first section of the application form, you need to fill the details of your name, residential address with PIN Code.
The second part would include the applicant's full name, date of birth, occupation, contact numbers, MNREGA job card number, Aadhaar Card number, father's name, marital status, annual income etc.
You also need to include your nominee details including: Your nominee name, Nominee address, and your relationship with the nominee etc.
Recent photograph of yours should be attached along with the application form.
That's it! Hope the information provided here is helpful for you! 🙂