Did you know that every time Amazon slows down by even one second, it loses on a potential business of a whopping $1.6 Billion? Gives you something to think about, doesn't it?
You might not be as big as Amazon but your online business is just as important. How well you perform in the cut-throat world of internet depends largely on your website's loading speed and performance.
Both these factors are governed by your hosting company.
Slow web hosting service means a slow website and a slow website translates to slow business.
Wondering how?
Take a look!
1) Bad user-experience
People don't just surf the internet. They also collect experiences in the process. A fast loading website with intuitive navigation adds to their stock of positive experiences and vice versa. With that said, it's good to remember that people don't forget their browsing experiences – both pleasant and frustrating.
With a frustrating experience in their memory, people are likely to avoid that website even in the future. So, basically you're losing on a potential long-term customer every time your site loads slowly.
We don't need any statistics to prove that. Surely we can all relate to this scenario.
If you don't want your users to accumulate bad experiences, make sure to invest in quality hosting services.
2) Low sales and conversions
Your website speed is in direct proportion with conversation rate.
People are getting increasingly impatient and don't stick around long for a website to load. Statically speaking, if a webpage today takes more than 6 seconds, that websites stands to lose 50% conversion loss.
The longer people stick around, the more likely they are to make a purchase. But, if a website takes forever to load, they are not going to wait around for long which should explain higher bounce rate and low conversion.
Again, Amazon is the classic example that testifies this theory. But, let's not forget that it's a huge brand name so people would hold out for a popular name. But, for new businesses that are yet to secure a strong footing in the market, slow loading websites is a big no.
3) Negative SEO implications
As someone who is onboard the online marketing bandwagon, you need your website to rank higher in the search engines. One of the factors that control higher rankings is how fast a website loads.
Google favours fast loading websites while looks down upon those take forever to load.
Of course, speed and performance are not 'the most important' factors, but yes, Google has clearly mentioned them as 'one of the factors' that support good SEO.
A second here and there won't make much of a difference but a super-slow speed will definitely not be favoured.
Your choice of hosting plan also governs the SEO aspect.
4) Higher bounce rate adds to user-frustration
In simple terms bounce rate refers to the number of visitors who left your website without clicking on any of the links on the website. They did not read much content or explore the site. They simply X'ed out within a couple of seconds after landing on the site.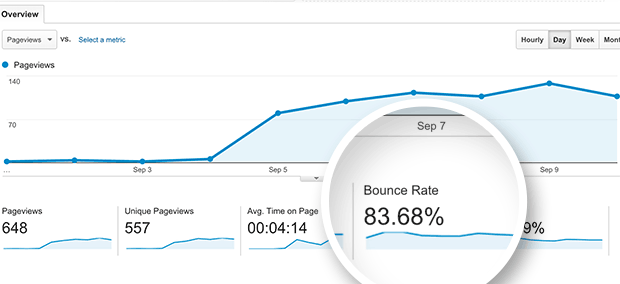 If you know anything about how Google gives rankings, then you must also know that higher bounce rate is a negative implication for any website.
If people are not even sticking long enough on your website, they won't be able to fully explore what all you have to offer.
5) People expect websites to load fast
Here are some statistics to prove this  –
47% of consumers expect a web page to load in 2 seconds or less.
40% of people abandon a website that takes more than 3 seconds to load
Source – https://blog.kissmetrics.com/loading-time/
Don't be scared by these stats but use them as a way to leverage maximum user attention. Customers readily want to buy from websites that load quickly.
Opt for a hosting plan that doesn't hinder your website's performance. Always go with a good plan if you're big on increasing user-retention and want to enjoy repeat customers.
Conclusions
All these facts and statistics should make it abundantly clear just how important website performance and load speed is for your business. If you want to take your online business seriously, then do not compromise on the quality of hosting services. Spend some time reading web hosting reviews and check what each hosting provider has to offer. They all have their own strong and weak points but in terms of speed, A2 Hosting is a good option to consider.
Always go with a hosting provider that promises lightning-fast speed but also don't forget that speed is nothing without great stability.