When it comes to investing in commercial property, making the choice between building new or buying an existing space can be tricky. There is much to consider, from how much you can afford to how many people will be working in the space.
As you weigh up the pros and cons of the two options, you may find yourself coming up with more questions than answers. If you're still trying to make your mind up, here are some ideas to help you decide on how you invest.
What's the Budget?
The financing of the project is a significant starting point. If you want to build your own commercial space from scratch, the money you spend will be literally covering everything from the ground up.
The costs involved with a renovation project, on the other hand, are very much dependent upon how much the space costs and how much work needs to be done.
Whichever route you take, it's always important to make sure that you have the finances to cover every eventuality. Budgeting for all scenarios can help in the long run.
Why Build a New Space?
Constructing a new commercial space opens up many possibilities. If you are thinking of taking the plunge and building something fresh, you can enjoy the freedom of taking charge of the property.
You can choose how many offices there are, plot where the kitchen will go and plan for when the SME grows in employee numbers. It also gives you the opportunity to build a green space, therefore saving on utility bills.
In terms of spending, a new-build will need require everything from the cost of the land and quotes for the contractors, to estimates for every fixture and fitting. Remember to build within your budget and plan for every eventuality.
Why Renovate an Existing Building?
Choosing to renovate a building for commercial use can be a savvy way to spend your budget. Taking what's already there and updating it can offer the perfect space for the right business. Plus, you get the opportunity to reimagine a space in a way that allows the building to become modernised.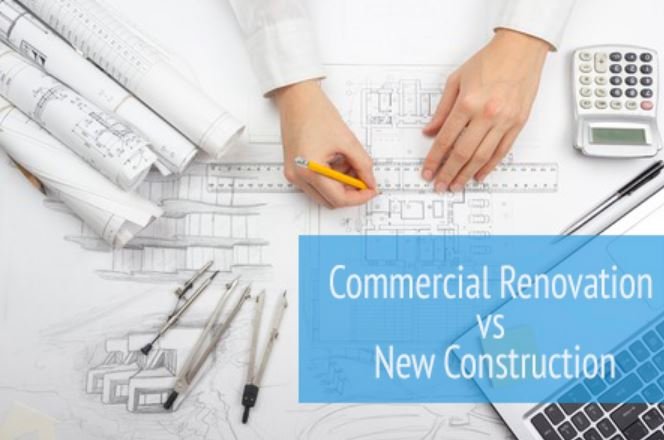 You will need to think carefully about its location and take into account how much work is involved before you commit. If you just need to remove a stud wall or two, you may find the project to be straightforward.
However, if there has been a damp problem in the past, then a lot more consideration will be required in order to get it to the high standard it needs to be at. Also, is speed important to you? Depending upon the updates that need to be done, this could hold up the process.
The ultimate decision comes down to your main goal. Do you want a quick turnaround time, or do you want to make an investment for the future of the commercial space? Think carefully about what you want from your financial investment and go for it.