Starting your own business can be both exciting and overwhelming at the same time. After you've finally decided on your location, the daunting task of filling it up with furniture and equipment comes next. But before you get caught up in spending your precious capital, take a step back to evaluate what your business really needs.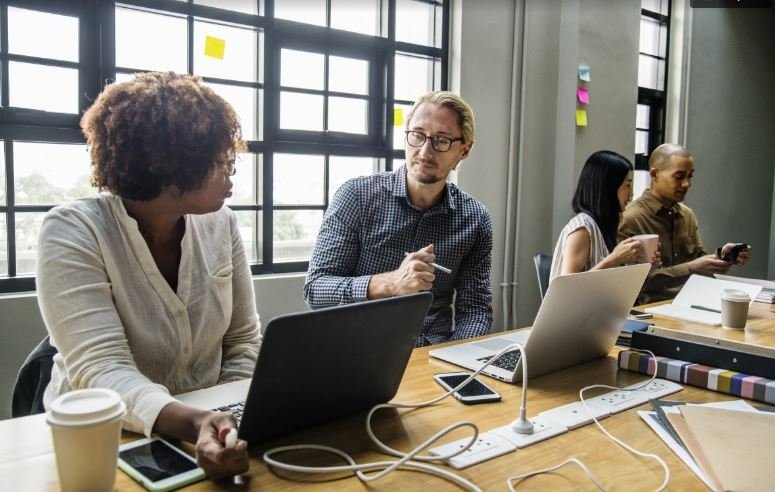 Consider the size of your business operations, how many employees you're hiring and which of them will need a specialised equipment. Think about how much you'll be using the equipment for and whether you really need to buy it or if there is an option to rent it instead.
Buying entitles you to ownership while leasing office equipment can offer you the flexibility to instantly use the machine without shelling out an immense amount of cash. There are different pros and cons of buying versus leasing office equipment and you need to assess these to know what is right for you.
If you plan carefully, you can take control of your budget by only buying or renting what's necessary. Here are some of the essential equipment every business needs to invest in at the onset.
1] Computers and Laptops
A computer is one of the first things you need when you open your business. Whether it's a laptop or a desktop computer, what's important is to choose a robust model that can handle all your business communications.
Many start-up business owners use their own personal laptops in the beginning, however, it is actually better to purchase a separate workstation solely for your work.
This is because when your business starts running, you will most likely handle confidential files and sensitive client information which you also wouldn't want mixing with your family photos, travel clips or guacamole recipes.
In purchasing workstations for your employees, do not get into the trap of buying similar machines for aesthetic or discount reasons because chances are, you'll end up with machines that are either too expensive or not high-performance enough for your staff's specific needs.
For example, an office receptionist and a graphic designer would have completely different computer requirements. Your graphic designer will not be able to work on a basic laptop, but at the same time, you do not need to spend for a powerful workstation for your receptionist either.
Only buy computers for your permanent staff. You could always opt for laptop rental if you need additional machines during business events and conferences.
The cost of software is often overlooked as most people are used to having pre-loaded software on their personal laptops. In opening a business, however, you need to invest in licensed software to ensure that your business activities will run smoothly.
The types will depend on the nature of your business and can include software for office applications, accounting, data management, back-up, project management, and sales tracking.
One of the most important software every business needs to invest in is a sophisticated anti-malware application that can protect the company's data and information. It has been found that 58% of malware victims are categorised as small businesses and this is largely due to most business owners not recognising that they are vulnerable to cyber-attacks.
When you're just starting out, you may feel that you don't need this extra layer of security, however, you are actually an ideal target because most hackers know that you are at your most vulnerable. As the cliché goes, it's better to be safe rather than sorry as you can't afford to immediately lose all the work you've built up.
3] High-Speed Internet
In order to be linked to the rest of the world, you would need to invest in a high-speed internet connection which includes routers, modems and other network accessories. More and more business tasks are becoming heavily dependent on the internet such as emails and digital marketing.
You would also need the internet if you want to access cloud storage on your laptop or desktop and other web-based applications your business uses such as WordPress, MailChimp or LinkedIn. Making sure that your wireless network is fast and secure will create a more efficient work environment for you and all of your staff.
4] Printers
Even with most things going digital, the office printer is still an indispensable device that cannot be disregarded. Whether you're printing a supplier contract, client invoices, flyers or coloured posters – you'll need a reliable printer for your business.
Selecting a printer is not an easy task. There are different types of models and the more advanced the printer model is, the higher the cost. Also take into account the cost of the printer ink, toner, accessories and maintenance involved to avoid any surprises.
However, not every business needs to have the most expensive, feature-packed model. This is the time to really think about if you're going to use the printer every single day and what types of materials you'll be needing to print.
If you cannot make a decision, it's a good idea to lease first and buy later when you feel you're ready and you have enough capital. This allows you to avoid steep upfront costs and you can instead pay a manageable monthly fee which can already include all maintenance and support.
5] Telephone System and Smartphones
Communication is one of the key factors in making a new business successful. Having a reliable telephone system is important to ensure that you're not missing any important calls.
If you have multiple departments, make sure to set up a professional voice recording to greet your customers and prompt them to the correct department. This is also useful even if you have a receptionist as it shortens the waiting time for callers to get a response.
If you run a mobile workforce, getting dedicated smartphones for yourself and your staff will make it easier for you to communicate with one another and with clients. Speak to your local phone company and ask for a business discount if you're planning to acquire multiple smartphones.
Obtaining a phone plan for your staff will be more cost-efficient and will also save you a lot of time compared to reimbursing individual employees on their mobile bills.
6] Shredder
Just as you need to secure your digital data, it is also very important to secure information printed on paper. Just crumpling an unsigned purchase order will not erase your financial information or your client's order details.
You have the responsibility to ensure that this information does not fall into the wrong hands as it can be very damaging to your business.
7] Coffee Machine
One sure-fire way to get your employees happy and productive is to provide them a supply of good coffee. This may seem like an unnecessary expense but having an office coffee machine can save at least 60 hours of lost productivity time per employee?
You cannot stop everyone from running to their favourite coffee joint but having wonderful, free coffee is definitely an appealing incentive.
Your Equipment Impacts Your Productivity
Investing in the right office equipment can save your business a lot of effort, time and money. This is what will help you jumpstart your business operations and ensure that you can run your activities smoothly and complete projects on deadline and on budget.