If you forget your iPhone's password or you buy a second-hand iOS device that is iCloud locked, you may find yourself needing a solution to unlock the device. In this situation, a passcode unlocking tool like FoneGeek iPhone Passcode Unlocker can come in handy.
In this review, we will look at this versatile tool to help you determine if it is the right solution for you.
What is FoneGeek iPhone Passcode Unlocker?
As the name suggests, FoneGeek iPhone Passcode Unlocker is a powerful tool that can unlock iPhone, iPad, iPod touch without password.
The program is available for both Windows and Mac operating systems. Now let's explore more features about the FoneGeek iPhone Passcode Unlocker.
It can remove the

Apple ID

/iCloud lock without having a password, an ideal solution for locked second-hand devices.
It can also unlock all kinds of screen locks on iPhone/iPad/iPod touch, including 4-digit/6-digit passcode, Face ID, Touch ID.
And It is compatible with all iPhone models and iOS versions, including the latest iPhone 12/12 mini/12 Pro (Max) and iOS 14.
It offers a user-friendly interface. Anyone who doesn't have any technical knowledge can do the unlocking task without any hassle.
Is FoneGeek iPhone Passcode Unlocker Legit and Safe?
FoneGeek iPhone Passcode Unlocker is a legitimate and safe program developed by a company that has good reputation for developing software solutions. The company and this tool, in particular, have numerous great reviews online, with users expressing their satisfaction with its functionality.
It is also completely safe. In our tests, the program was not flagged by any anti-virus programs installed on the numerous computers we used.
No viruses or malware was detected during the installation process or even during use, and the program didn't affect any of the data on the devices we used in the tests.
How Much Does FoneGeek iPhone Passcode Unlocker Cost?
FoneGeek iPhone Passcode Unlocker is not a free program. You will need to purchase a license to gain access to all its premium features. There are various tiers that you can choose from, including.
The 1-month plan cost at $29.95.
The 1-year plan cost at $35.95.
Lifetime Plan cost at $49.95.
Each plan supports up to 5 devices and is exclusive to a single PC. You get the license immediately upon purchase, as well as free technical support and free lifetime updates. Each plan also comes with a 30-day money-back guarantee.
How Does FoneGeek iPhone Passcode Unlocker Work?
FoneGeek iPhone Passcode Unlocker is straightforward to use. Here's how you can use it to unlock the Apple ID and the screen passcode.
Option 1. Unlock Apple ID
Step 1: Download and install FoneGeek iPhone Passcode Unlocker on your computer. Launch the program and then click "Unlock Apple ID" in the main window.
Step 2: Connect your iPhone to the computer using its original USB cable and when prompted, tap "Trust" to allow the program to detect the device.
Step 3: Now, click on "Start Unlock" to begin removing the Apple ID and iCloud account associated with the device.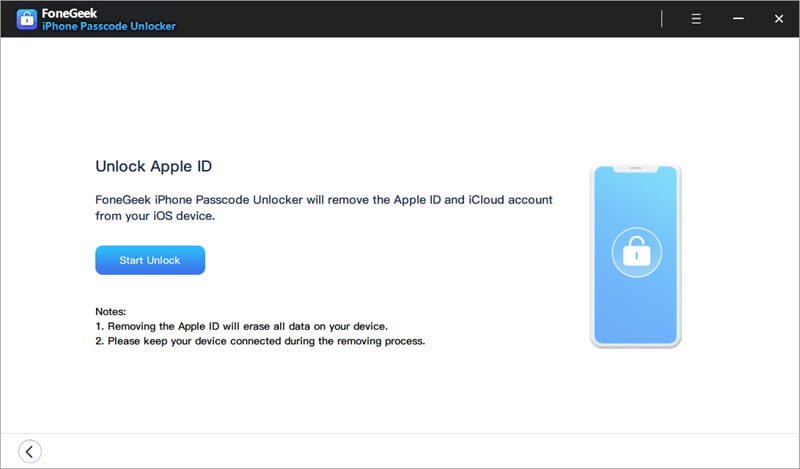 The unlocking process will begin immediately if Find my iPhone is disabled on the device. Give it a few seconds to complete the process, and you will see a notification on the screen when the process is complete.
Option 2. Unlock Screen Passcode 
Step 1: Run the program on your computer and then select "Unlock Screen Passcode" to begin. Click "Start > Next" and then connect the iPhone or iPad to the computer using USB cables.
Step 2: Follow the on-screen instructions to put the device in DFU or Recovery mode.
Step-3: Then click on "Download" to begin downloading the firmware that will be needed to unlock the device.
Step 4: Once the download is complete, click on "Start Unlock" to remove the device's passcode.
In a few minutes, the passcode will be removed from iPhone/iPad. You can then set up the iPhone as a new device and restore it from an iTunes/iCloud backup.
Reasons Behind my Reviews and Ratings 
This review is a result of a variety of tests on each feature of the program. The following are the reason why I would recommend this program.
Effectiveness 4.5/5 
This program is effective in that it works as advertised. It will unlock the Apple ID and remove the iCloud account on your device or unlock the screen passcode just as the steps above describe.
I was keen on testing this aspect because a program has to offer what it says, and I am happy to say that FoneGeek iPhone Passcode Unlocker was able to unlock our test device in just a few minutes.
Price 5/5 
Unlike most similar tools in the market, you will not need to spend too much to use this tool. At $49.95 for a lifetime license, it is very reasonably priced. It also doesn't hurt that you get a 30-day money-back guarantee with each purchase.
Ease of Use 5/5 
Of all features, the most impressive one is this program's user interface. It is so easy to use, it is almost self-explanatory, and some of the things that may be difficult to follow, FoneGeek iPhone Passcode Unlocker will explain each step to make the process simple.
Support 5/5 
FoneGeek is a company that is known for excellent customer support. They provide a wide range of knowledgebase how-to articles and FAQs to help you solve the problem yourself. But if you are unable to find a solution, customer support will help you through it.
Final Verdict 
This was a complete review of the FoneGeek iPhone Passcode Unlocker. There may be other iPhone unlocking tools in the market, but if you are looking for an effective, easy-to-use tool and will not break the bank, I recommend checking out FoneGeek iPhone Passcode Unlocker.