WhatsApp is one of the most popular applications primarily used for messaging and making calls. The number of downloads of this cross-platform app is a testimony to its popularity.
Not only can you communicate with people through chats, but you can also send photos, audio, and other media files instantly.
How to Transfer WhatsApp from iPhone to Android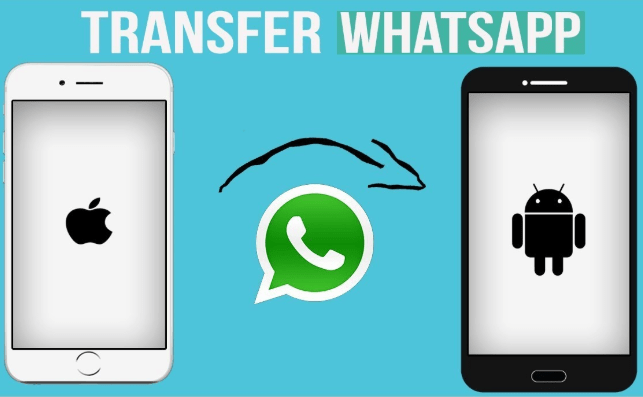 Moreover, it also helps in making long-distance audio and video calls. owing to its spectacular features, it is one of the most downloaded apps on Google Play Store and Apple's App Store. Both Android and iOS users prefer it to send and receive data easily without worrying about the privacy being breached.
Considering that a large amount of data is exchanged through WhatsApp, you might want to transfer the images from WhatsApp to your PC in order to free your phone memory.
However, transferring data from WhatsApp to PC is time-consuming. If, you end up changing your phone and want to move WhatsApp from iPhone to android you do not have to worry, several apps are available to help you do that with ease. One of the most popular app used to move WhatsApp from iPhone to android is the dr.fone app.
1] Why should you choose the dr.fone app for WhatsApp transfer?
Upgrading your mobile phone is a regular habit for people. This can be probably because these days phones are no longer used for merely communicating with each other. They double up as cameras and alarm clocks apart from serving the function of a computer too.
People use their phones to check emails and reply to them, access social media as well as make a presentation, reports, etc. With extensive usage, the life of a phone is reduced to a maximum of 2-3 years.
Another factor contributing to frequent phone changes is the upgradation of technology. The market is full of new mobile phones with additional features which often make your phone seem redundant.
If you are a person who frequently changes your phone, the first thing you wish to do is transfer important data from your old phone to your new one. When you change your phone, whether it is an iPhone or an Android one, transferring your WhatsApp account is the first thing to do.
However, your old conversations are not automatically transferred to your account. However, with dr.fone, your WhatsApp transfer, backup and restore can be easily done! With the help of dr.fone, you can easily transfer WhatsApp data from iPhone to android, from iPad to Android or vice versa.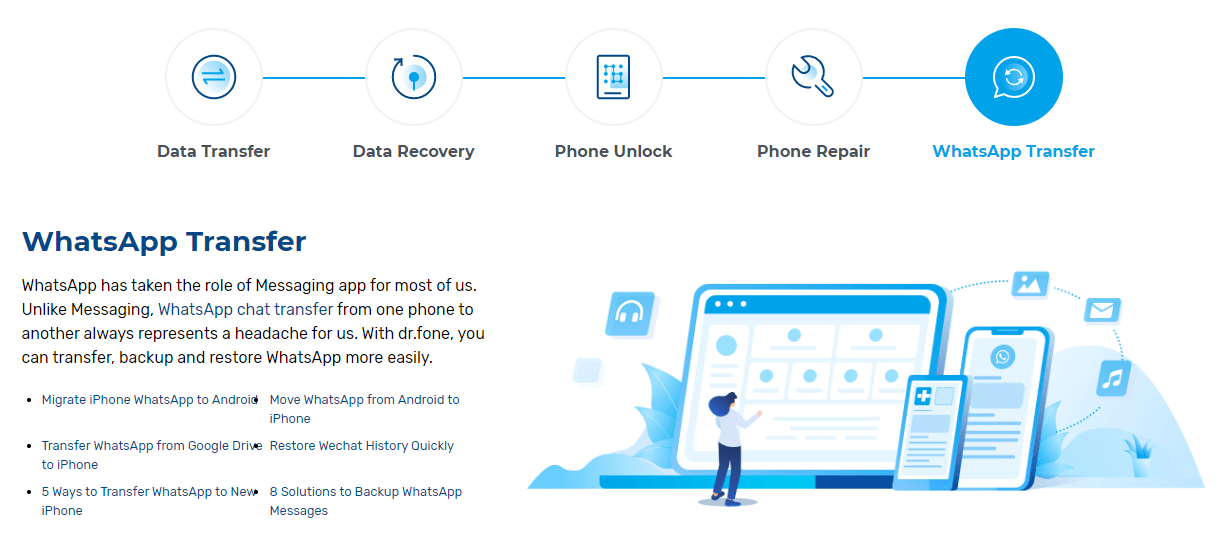 You could also backup and transfer WhatsApp messages to your PC with a single click and restore the WhatsApp backup to your new Android or iPhone through dr.fone!
2] What is the advantage of using dr.fone to transfer WhatsApp messages from iPhone to android?
There is no dearth of applications that could help you in the transfer of data from one phone to another. Despite the presence of several such applications dr.fone has emerged as the most popular option to transfer WhatsApp from iOS to android.
The various features which make dr.fone the best option to transfer WhatsApp from android to iPhone and vice versa include.
Easy handling of your WhatsApp chats with immense flexibility.
The option of backup or export of WhatsApp messages from iOS or Android phones to computers is available.
It can help restore iOS or Android WhatsApp backup to your iPhone, iPad or Android device.
It can also transfer WhatsApp chats between the two most popular mobile operating systems, Android and iOS.
You can also use it to back up your chat history from other messaging applications like Viber, LINE,

WeChat

, etc.
With the dr.fone application, the WhatsApp history and chat backup transfers are done effortlessly. What's more, you can selectively transfer your WhatsApp chat history between different devices like iPhone and iPad.
Even if you switch your phone from Android to iPhone or from an iPhone to an Android device, dr.fone can help you transfer entire WhatsApp conversations including attachments!
If you are looking forward to making a backup of your WhatsApp history, then you don't need to worry. Thanks to dr.fone, this becomes extremely easy. all you need to do is simply connect your iPhone or iPad and with a simple click, your backup is created on its own.
Additionally, you can preview any item you want prior to exporting it to your computer as an HTML file. If you no longer need the files on your computer, you can delete them while restoring the WhatsApp backup on your iPhone/iPad or Android device whenever the need arises!
If you want to know how to transfer WhatsApp to a new phone read along.
Although WhatsApp offers an official solution to transfer the WhatsApp chat history using Google Drive or iCloud, unfortunately, the system works only if you are using the same operating system.
Thus, if you are changing one Android device for another or switching between an iPhone and iPad you won't have a problem while transferring your WhatsApp chat.
However, if you want to transfer WhatsApp messages from one OS (iOS) to another (Android) or vice versa, it is not possible.
Dr.fone can help you transfer WhatsApp data from iPhone to android or from android to iPhone easily. Thanks to its Restore Social App, you can easily create a backup of your WhatsApp chats and history on your new device.
3] The steps involved to transfer WhatsApp from iOS to android include.
Connect your devices (iPhone and the Android phone).
Open the dr.fone tool. You can see several options including Recover (helps in recovering data from your phone), Transfer (transfers data between your phone and computer), Switch (copies data from one phone to another), Backup & Restore (backup and restores your phone including contacts, photos, etc.), Repair (repairs your iOS, Android systems or iTunes errors), Unlock (removes your phone's lock screen), Erase (permanently erases data from your phone) and Restore Social App (backup & restore your WhatsApp, LINE, Viber, WeChat, etc.).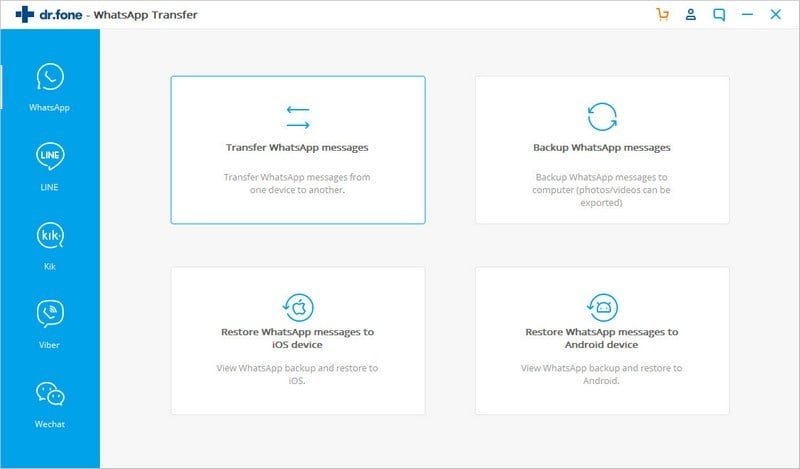 Among these options, select the Restore Social App option. The screen leads to four options: Transfer WhatsApp messages (transfers WhatsApp messages from one device to another), Backup WhatsApp messages (backup WhatsApp messages to computer including photos and videos which can be exported), Restore WhatsApp messages to an iOS device (view WhatsApp backup and restore to iOS), and Restore WhatsApp messages to Android device (view WhatsApp backup and restore to Android).
Since you wish to transfer WhatsApp messages from iPhone to android, you should choose the option of Transfer WhatsApp messages from an iOS device to an Android device and start the transfer. All your WhatsApp chats, photos, and videos that you had sent or received will be transferred to your new device with a click.