Something we tell all clients is the importance of tracking secondary goals in Google Analytics. Important to track these goals in Google Analytics so you can keep a record of how well your secondary goals are performing.
The Definitive Guide to Google Analytics Secondary Goals
1) What are secondary goals?
Not sure what some secondary goals are for your business? Some good examples are:
Newsletter Sign-ups
Wishlist/Add to Cart
Forum/Blog Membership Sign-up.
Job Application Submission (if you have a section on your site).
New Follower on Social Media.
These all show engagement on your site. The customer is interacting with the site, and although may not have converted directly into sales, has expressed interest in the company. Ask yourself "What is the value of an email subscriber?".
We know that email marketing is one of the most cost effective forms of online marketing, delivering one of the strongest ROIs. Getting someone on your email database is a huge achievement because now you have the ability to market to them in your monthly email newsletter for example.
2) What do I use these goals for?
So you understand the importance of identifying and tracking these goals, but what can you do with that information? If you're running any type of paid campaign whether it be Google Adwords, Email Marketing, Social Media Advertising, or other paid referrals, it's important for you to know exactly what you're getting for your money.
For example, a Google Adwords campaign may look like it is performing poorly (at a high level), but you may notice that your goal conversion rate for newsletter sign-ups is high. You now have the option to send highly targeted email marketing campaigns to these people and turn them from newsletter subscribers to customers.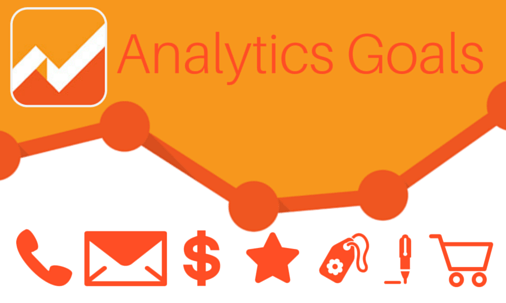 Looking at your secondary goals may make you realise that the money you have invested has not gone to waste, and there are other factors in place that lead to indirect/long term revenue gains.
3) Sit down and think
It's all well and good getting a sale, but you need to always be thinking about the customer lifetime value. For example, once you've got someone on your email database you've got the potential to continue marketing to them for years to come. You need to sit down and ask yourself "what value does the completion of this goal bring to my business?".
Just like you want your ad spend to be approximately 10-20% of revenue, you need to know what you're willing to pay for a secondary goal completion. This figure will be different for everyone, and will depend on information such as:
Average Order Value
Average Customer Lifespan.
Average Customer Order Frequency.
Once you know this information you should be able to piece together exactly what a customer is worth over the course of time, and can then work out exactly what you're willing to pay to get them engaged with you through primary and secondary goal completions.
Author bio: Carol James, writer and editor EssayLab
I'm an academic writer at EssayLab is a great service that provides write proficient school essay help for people of all school star. Our objective is to simpleness your high school studies and gives everyone a possibility to flourishing without having excess strain. 🙂