Workings of any business have changed due to the internet. Marketing tools too have evolved to benefit the manufacturers. It is one of the best times to turn entrepreneur, thanks to the internet. People focus on the product and leave the creation of the website to professionals.
Free Online Keyword Research Tools for SEO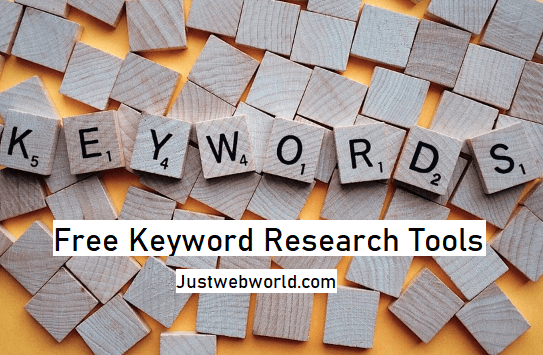 It is, however, important to understand that despite having an exceptional user interface, ease of navigation in the website, and excellent content to promote an outstanding product, you might not get traffic on your website. Without traffic on your site, there is a bleak chance of your project taking off and providing you return on investment.
While writing content for the website, it is important to choose appropriate keywords. SEO writing is preferred to direct traffic to your website, otherwise, it will be extremely difficult for users to look for your website.
People use keyword research tools to generate keyword for dedicated content which causes your website to feature prominently on search engine research pages. There is no dearth of keyword research tools available, however, these are Top 10 Free Keyword Research Tools.
1] Google Keyword Planner
It is one of the preferred choices for any new site. The best benefit is that it is easy, you can directly use information from Google. The keyword list apart, you can also find average monthly searches, competition and any suggested bid (in case of Adwords users).
Get keyword data from the source, along with statistics including average monthly searches, the average cost per click, competition level (low, medium or high), etc.
2] SEMrush
You can start the search by just entering your or a competitor's URL to get keywords ranking for the site. You can use these keywords to edge out your competition and emerge on top. The free version of SEM rush provides limited ability to pull data and use other tools.
3] Google Trends
Search trends change with time. What was prevalent a couple of months back might not generate the same buzz later. It is therefore important to keep abreast with the latest trend and Google Trends does the same for you. It sees the trend for the past 5 years and makes use of related queries to provide you with alternative keywords.
4] AdWord & SEO Keyword Permutation Generator
Despite knowing the top keyword in your specific field, you might not know how to create further content to popularise your website. You can use this tool to generate alternate keywords using a permutation generator tool to get creative keywords which line up with your marketing strategy.
5] Google Correlate
It helps to provide you a list of words that are generally searched for together. This correlation along with your keyword can be used to create content to attract potential users to the site. Making use of search patterns on Google along with real-world trends, this tool provides excellent keyword options.
6] Soovle
Use a root keyword and Soovle will provide you any keywords related to yours, that have been used on any search engine including Amazon! With this, you get a list of potential keywords which can be used to create content.
7] Ubersuggest
If you want to find unlimited keywords for a root keyword, then this is an excellent tool. Ubersuggest provides you an unlimited list of options, with the alphabet and numerical variations. This is like a treasure trove of potential keywords.
8] Wordtracker Scout
Another Chrome extension, it picks the most relevant keywords and displays the content on the word cloud. You can either surf through your competitors' website for relevant keywords, Wordtracker does it efficiently and in less time. Thanks to high-level keyword performance metrics, you get to know the best keywords.
9] Wordstream Free Keyword tool
This tool is completely dedicated to finding related keywords with further suggestions regarding the competition. You can group the keywords based on a common theme to generate highly targeted traffic to your website.
10] Keyword In
You might have come up with some keywords related to your product, but don't want to use the same in all your content. You can easily modify them with this tool, which creates a list of potential keywords by mixing and matching to direct webpage hits.
You may also like.