Today, the internet is full of mobile application development companies. A wide number of freelance artists advertise their services on freelance platforms and social media. But how can you find a reliable performer among this multitude?
How do you know if your chosen developer can create exactly what you want, using the most modern technologies? Here are some guidelines for your convenience.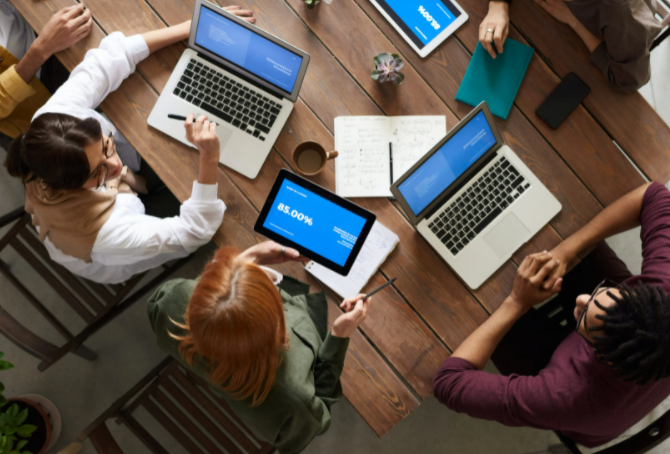 How to Find a Mobile Developer
The team of mobile app developers has to be skillful, experienced, and guarantee that the final product will perfectly match your request. To achieve this, look for developers that.
Work in a professional studio
If your goal is a custom mobile app with wide functionality, look for studios with a staff of 50 or more people (not only Android and iOS developers).
Have engagement
The team should offer solutions: make analytics of the business, competitors, goals, values ​​of your startup, and analyze the target audience. Professionals fully delve into the customer's business.
Are experienced enough
Look for the studios that have experience in similar projects that are relevant to yours. If there is no portfolio, then.
The studio is young, and there may be not enough experience in the implementation of projects.
Projects cannot be shown to a wide audience because either this is explained by the NDA (agreement on non-disclosure and confidentiality of project data), or projects of poor quality. Make a choice.
Pay attention to the methodology by which the team works. Chaos and confusion will not make the app cost-effective.
Provide reasonable prices
A quality product comes at a price. If you want to get the most out of your app, don't go for cheap. Does a web development studio promise fast results for a low price? This is not what you're looking for.
Guarantee deadline accuracy
Of course, we are worried about when the first users will be able to download the application to their smartphone and start making a profit for the business.
As a customer, it is important to understand that this is not a two-week process, but not a year either. If the company is leaning towards one of these extremes, this is a wake-up call for you.
How to determine development time?
The complexity of the application and the number of platforms on which it will run are the factors that you need to pay attention to in the first place. If a web studio cannot name a clear deadline, this is a red flag that refers to the lack of experience and inadequate management system.
On average, it takes 400 hours to develop an app for one platform. 20% of all the work goes to QA (testing); the remaining 80% is allocated to the development itself, design, and other things.
Care for their customers
Post-development project support is equally important. A professional web studio will offer services to promote the application, upload it to the App Store and Google Play, and give you a guarantee option. Users will "try" the application, and if errors occur, they will be fixed at no additional cost.
Test the product
Professionals usually have a dedicated QA department for this. The specialists should be equipped with a whole range of various gadgets: from old phones to new products, and have access to a variety of platforms.
Want to Hire a Professional? Be a Professional!
Be clear about the objective and requirements for the product. To get a good application, the customer first needs to understand what they expect from the software product. Therefore, before looking for a developer, create a list of requirements for the application. Try to answer the following questions.
Who are my target customers?
How do I want the application to be static or dynamic?
Which functions should the application perform, and which tasks should it solve?
And which platform do you plan to develop the app for, Android or iOS?
Which is the project budget?
Use budgetary tools to test hypotheses
Before you start working on the app, you need to make sure that your product is needed by users and will perform the functions assigned to it. A trial version of the product will help you test your hypotheses and the effectiveness of the application, as well as visually present it.
You can create a trial version with the help of app builders, without deep knowledge of mobile programming and a serious budget.
Assess developers carefully
If you are looking for a serious web studio, take advantage of the ratings of mobile developers. Explore the websites of companies and carefully study the products they have developed. Pay attention to tech stacks and check out customer reviews. If possible, contact them and ask them to share their experience of working with the developer.
Make a list of 5-10 favorite web studios and start negotiations. The quality of customer service, as well as the approach to project implementation, tells a lot about the company.
Choose companies that provide service cases
Creating an application is not only about programming. Design and testing are very important too, and after the product is ready, a proper promotion is a must. Further, you will have to modify the application more than once.
That is why we recommend choosing web studios, which, unlike independent developers, will help you with all these issues.
Don't fall for too cheap offers
Don't let price become the main selection criterion. You need a high-quality, functional product, and you shouldn't skimp on that. It is better to overpay a little than to be dissatisfied with the app and then redo it more than once. The latter approach results not only in disappointment but also in higher costs.
Find Professional Team You Can Trust
As you can see, creating a good app means not only hiring one mobile developer, but getting a professional team of testers, designers, and analysts that will be responsible for their job and the final product.
Mobile app developers for iOS and Android are at the core of your product implementation. Choose your team carefully and get a reliable, highly functional app that will help to successfully develop your business.