Cropping the video is a usual practice to get rid of the unwanted part in a video or cut something out, allowing your audience to focus better on what you want to show them. So that's when a video cropper works its charm.
Why do you need a video cropper? Because unlike some built-in Photos apps on mobile phones who have a basic cropping tool, a video cropper offers more to users with even presets of different picture sizes for Instagram, Twitter, or even YouTube. Therefore, keep reading and check the highlights of 6 advanced video croppers here.
Part 1: 4 Workable Online Video Croppers for Beginners
To spare you the effort of looking around for a suitable video cropper for yourself, here is a list of the top 4 video croppers online without any extra charge. Meanwhile, these online croppers enable you to enjoy the services of desktop browsers and mobile phones.
Clideo – Online Video Cropper
Clideo is a toolkit of all kinds of video and audio processing tools. You can crop your video to the desired size with the online video cropper and adjust the resolution, trim the video length, and add background music to the video afterward. You can see it is an omnipotent online tool.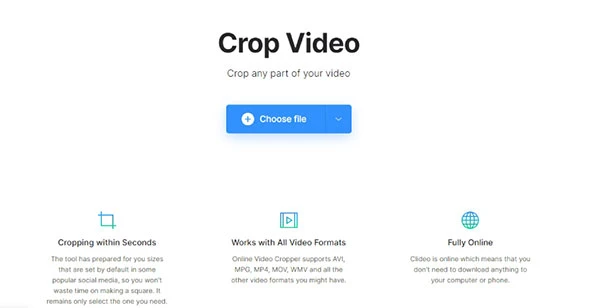 Pros:
Support all kinds of video formats for cropping.
Choose your video files from online sources.
Offer different video cropping sizes.
Cons:
There will be a watermark for your video exported.
Uploading speed can be slow for large video files.
123APPS – Crop Video
123APPS website is also a web-based toolbox that contains all sorts of practical video and audio tools. The online video cropper is just one of its useful tools. Apart from the easiness, this cropper also has a clear layout that clearly shows your video and each frame with a preview section. Moreover, you can also customize the picture size of your video by entering the new dimensions precisely.
Pros:
Easy-to-use drag-and-drop uploading actions.
Enable you to choose the format when exporting the video.
Clear display of each frame in your video.
Crop the video and change the duration at the same time.
Cons:
Your video will be compressed during cropping.
Quality drop when exporting and saving the video.
Uncertain limits for uploading video size and number.
ArkThinker Free Video Cropper Online
Looking for a quick and user-friendly cropper online? Try ArkThinker Free Video Cropper. Focusing on cropping features only, this online video cropper gives you a straightforward layout and easy operations. All the buttons are easy to find and almost all the video formats are supported for cropping here.
Pros:
Maximum file size of 50MB and 100MB after signing up.
Free customization options for aspect ratio.
Many preset for different popular social media platforms.
Offer setting tools for video and audio adjust.
Cons:
The uploading speed is a bit slow for large videos.
EZGIF
EZGIF, different from the three video croppers above, specializes in GIF processing and most of the tools on this website are related to GIFs. But the video tools on EZGIF are as efficient as its powerful GIF tool. When uploading a video, EZGIF allows you to paste a URL link to upload. After cropping, you can either export the video in the original format or MP4 format.
Pros:
Allow precise cropping with the dimensions set.
Quick processing and cropping speed.
Keep the original video quality after saving the cropped video.
Cons:
Compress the video during cropping.
Only videos under 100MB are acceptable for uploading.
Part 2: Reliable Video Cropper on Desktop [Windows & Mac]
Apart from online video croppers, there are many offline options for your desktop, and the ArkThinker Video Converter Ultimate is such a reliable partner for you to handle all kinds of video processing tasks including video cropping, compressing, merging, and so on.  When you crop a video inside this program, you will see there are more cropping presets than online tools. Meanwhile, there are more presets than just cropping ones, you can easily polish your video with the filters or effects offered in this program after your crop the video. You can also use this program as your one-stop solution for all sorts of video issues.
Pros:
Enable users to preview the cropping results.
Withdraw your action with reset features.
Maintain the video quality while cropping without any loss.
Place the focus on the center of the video picture automatically.
Cons:
Offer free cropping for only 5 files.
How to Crop a Video in ArkThinker Video Converter Ultimate
Step 1: You can get a free download and installation of the program on the official website of ArkThinker. Then, launch it on your desktop and go to Toolbox on the main interface. Next, scroll down and click the Video Cropper button.
Step 2: Afterward, click the plus icon on the new pop-up window to select a video from your computer to upload. Once you upload it, a new cropping window will open for you. You will then see a graphic square around your video for you to crop.
Step 3: To abandon unwanted parts, you may drag the square around your video to change its size and select the parts you want. Or you can click the AspectRatio dropdown button to choose a pre-designed ratio for cropping. After cropping, click the Export button to save the video.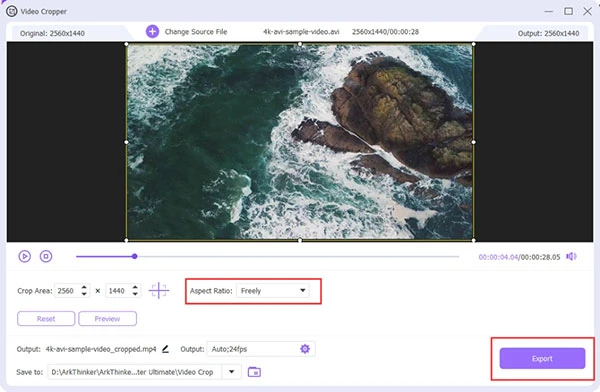 Part 3: Best Video Cropper to Resize Video on Mobile [iOS & Android]
Seeking an app that covers all the video editing functionalities more than cropping video? Picsart is a perfect solution for you rather than a mere video cropper with adaption for both iOS and Android systems. Meanwhile, being an all-in-one-creative tool, Picsart can save you plenty of time and boost your productivity with versatile tools, presets, and templates.
Pros:
Provide users with robust editing features and functionalities.
Large library with different sources for video processing.
Crop your video with presets designed for specific platforms.
Cons:
Lots of buttons and features are hard to find.
Some operations can be complex for a beginner.
Final Words
In a conclusion, the above-mentioned 6 best video croppers for different devices offer you a clear picture of the features, pros, and cons. Now, you can find a suitable cropper for yourself. Then, you can enjoy the benefits of cropping the video and get your productivity boosted during the post-production stage.