Keywords play the most crucial role in our web surfing. Even now, you made a google search, and this article showed up. Perhaps you were searching for "free SE0 tool" or "free research tool," or simply you searched "Ubersuggest review." Whatever it was, this article came up, and now you can understand how keywords play a significant role in website traffic management and marketing techniques.
SEO stands for Search engine optimization. The purpose of an SEO is to flag terms and phrases, commonly called Keywords, that will increase the quantity and quality of traffic generated to a user's website. SEO works towards making websites more search friendly for search engines using keywords.
UberSuggest is an excellent and free keyword research tool that is highly effective for keyword suggestions. A tool that all of us should be aware of in this day of fast internet activity and searches. The tool provides a far easier alternative to using difficult, complicated SEO tools when users want to keep track of keyword traffic, competition and miscellaneous factors affecting their website traffic.
UberSuggest is useful because it generates, within a matter of seconds, enough keywords that you will find right for your target niche that your audience is searching for. User's website will get a good ranking in no time when they write posts and articles based on keywords that they have extracted using the UberSuggest keyword suggestion tool.
How does it do this? The UberSuggest keyword suggestion tool is quite straightforward to use. It takes whatever keyword the user types in and proceeds to provide all the suggested searches for that keyword. Within a few seconds, the tool goes down every alphabet letter and will give the user hundreds of suggestions. The wide array of choices ensures that users can find several words with a low Keyword Competitiveness (KC) score.
How to use UberSuggest SEO Keyword Search Tool?
Step 1: Go to the UberSuggest.
Step 2: Type in the keywords you want to focus on, the language from the drop down option and the source.
The source is what sets UberSuggest apart from the other tools. It provides searches from various sources such as different verticals, namely web, news, shopping, images, recipes, videos, etc. So for each keyword, there is a different array of results depending on the source that is selected by the user. Which is why it makes it such a fantastic option to get keywords related to search words.
After this, the user must click on the "Look Up" button option to get his or her desired results. A select all keywords option may be used by the user once he or she has results for all the suggestions.
The main purpose of the tool is to generate keywords and many of them at that. Ubersuggest takes the user's keywords and brings forward suggestions. It does this by adding a word or two in front of it. The suggestions that show up in the extensive list can be used to compare words which have higher traffic results and more bids in the Google.
Keyword Ideas:
Perhaps one of the most likable traits of the tool is how it seems to tell the users that his or her options are limitless. The tool offers ideas and keywords without any constraints. It provides the users with as many ideas as possible based on the keyword that he has entered into UberSuggest. The user can increase the words to increase the suggestions, thus resulting in a wider extent of ideas. This way, UberSuggest provides users with a splendid opportunity to get varying ideas and to use those variations in posts, articles and blogs.
Keyword Stats:
UberSuggest gives you complete data on your desired keywords. Whether it is for PPC of SEO, you will get a complete overview of the search volume, competition, and cost per click.
Smart competitive intelligence:
UberSuggest's competition feature makes it far more effective. And gives you an idea on how competitive the keyword will be to rank on search engines. With this a user can determine which keywords have the best combination of a low competitiveness score, and an adequate amount of search volume.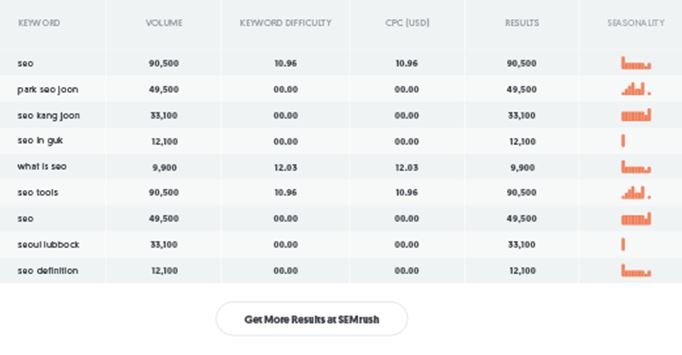 UberSuggest can be used to get "Buyer Keyword" suggestions. Buyer keywords are basically words that show buyer intent, where the buyer will make searches that indicate that they are close to making a purchase. For example: "where can I buy a fridge from?", "phones under $300", "best camera lenses" and so on. So, these can also be incorporated into the website's posts, resulting in an even greater number of hits.
Conclusion:
The variety of combinations when it comes to keywords provide websites with an amazing opportunity to garner heavy organic traffic. Users can get their website visitors to opt-in to their lists via content upgrade or some other incentives.