There are many proven ways to successfully brand your company, but video branding is making its way to the top of all business brand communication.
Are you currently taking advantage of everything a video marketing strategy can offer for your brand?
We will be discussing some of the beauties of video branding and what it can do for you!
When we say you should already be on track for making company videos we don't necessarily mean that you need a big production.
Or to hire a few extra people to make a short film.
Fortunately, there are now many tools available online for you or anybody in your organization to be able to make a professional video.
And with a very few skills that will complement your marketing plan wonderfully. You can even scale your marketing plan by creating viral videos and leveling them up with translation to attract a foreign audience. You can create amazing viral videos by using this link: https://thestorytellerstudios.com/industrial-video-production.
Using an online video maker can do wonders for your brand!
But first, let's take a closer look at video branding concepts.
What Is Video Branding?
Strategic communication creates an emotional bond between the brand itself and its customers. This connection can be made by narrative visuals and storytelling, in other words, videos which make your branding way more interesting.
In order to be effective, you should pair up your viewer's expectations with your own brand's standards. This means always ensuring that you post high-quality content. Video branding is sharing your messages through video, literally! This type of brand communication is great for.
Promoting

brand awareness

.
Brand recognition.
Building your business reputation.
Retaining loyal customers.
A compelling video marketing campaign will not only effectively brand all your channels but also engage your potential customers more easily. This is why it's no surprise that the demand for video is steadily increasing. It's always easier to digest information when it is in video form.
However, as your company creates more and more videos it also becomes important to invest in digital asset management for video in order to keep everything properly organized and available to everyone on your marketing team.
All Sorts of Branding Videos
There are many video styles you can use to brand your business everywhere. Some videos are perfect for short social media stories, some others work great in a business presentation. Take a look at the following examples to get inspired by some of the videos you can create for your brand and maybe even think of something new!
Product Videos – Showcase your products or services and what makes them unique. Talk about key features and show off as much as you can!
Tutorial Videos – Make step by step videos showing users how to use your products, subscribe to your page, or to solve any questions your customers may have about your brand. Before making a tutorial video you need some real insight on what your customers want to know. Most buyers nowadays watch a tutorial video before making a purchase.
Event videos – Got an important event coming up? It's so easy to remember and re-live your most important events when you make a video out of it. Also, with a video, you can always replicate your event again and again on your social media timeline. Events are usually a great way to show your company's culture.
Company's Culture Videos – So talking about your company's culture, sharing things like a project's behind the scenes, a view of how the build-up to your project was, your team members, what you do in your business on a daily basis is golden for your customers to get to know your brand.
You can even use videos instead of your typical corporate presentations. It's way more fun and it's just as easy to make. Nothing spices up a boring presentation like making a fun video out of it.
Another great idea for your videos is to arrange a partnership and make a video out of it. You could have an influencer that is relevant to your business industry, collaborate with other brands, etc.
Video Branding 101
Before you wow your audience with rich animated videos, there are a few points you should have in mind when creating content for your branding communication.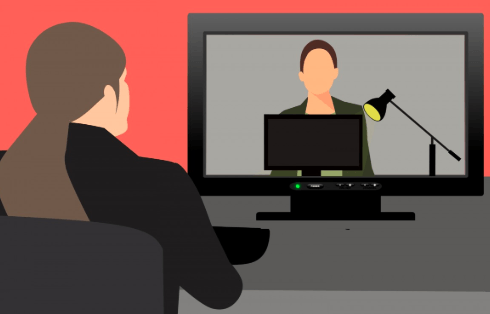 Brainstorm
When brainstorming, think about what your customers want to look at. Search for the most popular channels related to your business. You only get about two seconds to catch someone's attention so do go deep on your research before deciding what your video will look like.
One last thing before moving on, when you integrate your brand into your best video idea try to make it as natural as possible. Trust us, it's pretty obvious when something was forced.
Videos are better when they are short and to the point
So while you are building slides for your video remember to focus on your brand message. Remember you are not making a movie out of anything, so be as clear as possible to get the right message out there. Short videos usually have a better response, and by short we mean under 2 minutes. Tops!
First things first
You need an amazing logo animation or logo intro to brand all your videos in a creative way. You don't necessarily have to use a logo intro for all of your videos especially if you are posting on other social media platforms that are not YouTube, like on Instagram stories, for example.
However, when you are making longer videos for your YouTube channels, spreading some news, or showing your customers how to do something, we would advise you to have a cool logo intro to brand each one of these.
Make it worth watching
Just because you are making a promotional video doesn't mean it should be boring or salesy. You can always add humor or some amazing animations, plus your content should be relevant and helpful for anyone who watches it.
Build your own style
Retain loyal viewers with authentic videos that have your own style in terms of fonts, your company's colors, textures, animations, and other branding aspects like your logo. This will help you to connect in an emotional way with your viewer.
If you ever decide to make some changes, try to be as subtle as possible because customers are usually resistant to brand's changes. We all know how it goes every time Facebook has an update that changes the whole interface.
Set the tone
Think about how you want your viewers to feel about your videos. People can forget about the content of a video but they won't forget how it made them feel. Infuse your videos with your company's unique voice.
Visuals are valuable too
The biggest mistake people make when creating a video is putting all their emphasis on the script and they forget about the visuals. Pay attention even to the smallest of props.
Every single element in your video should be a valuable speaking piece to help you viewer understand your message. Yes, even a lamp in the corner is important. This means strategically incorporating accessories into your video.
Social media is definitely something to keep an eye on!
You can either decide to make a YouTube channel to constantly upload content about your brand or share your videos on any other social media platform like Facebook, Instagram, or LinkedIn, etc.
Either way, your videos will help you engage more with your followers, no doubt. Pay attention to the size and format of your video since it varies from social media platform to social media platform.
Branding on YouTube
Do you know about the powerful reach of a YouTube channel? In most cases, YouTube is practically a must for businesses since it is the second largest search engine after Google.
A few interesting stats.
YouTube has over 9 billion monthly active logged-in users.
More than 70% of YouTube watch time is generated from mobile devices.
Over 50,000 years of product review videos have been watched on mobile devices over the past two years.
70% of YouTube users watched a video to learn how to do something new or learn about something.
68% of YouTube users watched a video to help them make a purchase decision.
YouTube users are more likely to prefer watching a YouTube tutorial video compared to reading the product's instructions.
So let's say you do decide to make your business YouTube channel because you will have to create a lot of content to keep your brand updated. It would be smart to create content with as little effort as possible. If you are not currently using a video maker, this would be the perfect time to start.
Video Makers Online
Are you shy in front of the camera? No worries you can make all kinds of videos that don't involve yourself or anybody else on camera. Using an online video maker tool allows you to keep actively posting videos that only take about 5 minutes to be created.
For example, slideshow maker tool allows you to make slides or upload your own video fragments (for example your logo intro). You can even add music, images, animations, and more to make a video that your viewers will love.
It all becomes really easy once you get the right tool to make your videos. Apart from Placeit, there are tons of amazing tools to complement your videos, like Mixkit where you can get professional video scenes already made for your or use Audio Jungle to find amazing soundtracks for your videos.
Brand Differentiation
Differentiate yourself from your competitors with unique branded campaign ads and advertising videos. Succeed in your brand differentiation with videos that look undeniably yours! There are many ways to brand your videos, from your color palette to your logo and even your music.
Use a consistent font and logo. Viewers will unconsciously notice your brand in your videos. Familiarity is an important thing to look for in all your brand videos. Also, adopt a style; you can use humor, be cute, or use a completely young, fresh vibe for your videos.
Let's Wrap It Up
Last check: Does your video reflect your brand's values? Is your video design branded, brand colors incorporated along with other aspects?
Branding communication is an important aspect of your whole marketing plan and even your brand identity because it is the way companies inform, persuade, teach and remind customers about its brand values.
Communicating your brand values shouldn't be a boring task for yourself or for your customers. You can share all your information in fun ways, making videos is just one of the options.
Videos are a powerful marketing tool you can use to effectively brand your social media, website, presentations, and anything else. Use online video makers in your favor.
Good brand communication always has a positive impact on your customers, it increases your brand loyalty and it differentiates you from other similar brands.