YouTube is the world's number one video streaming website. It has billions of users who are very active. There are billions of videos as well, so much so that you would need to spend years to watch all the videos available and even that might not be enough.
Step-by-Step Guide to Watch Blocked YouTube Videos Easily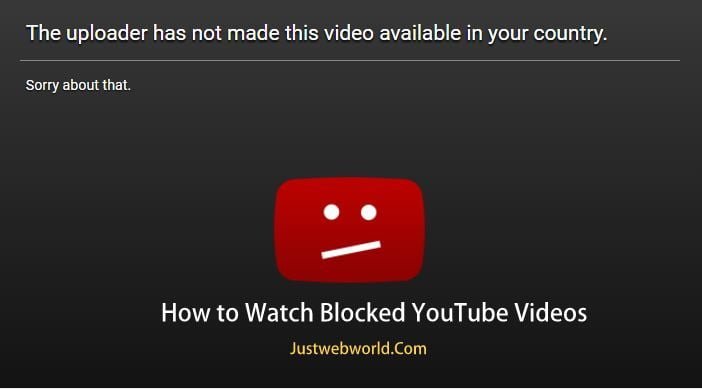 From music to TV shows, you can find everything and anything on YouTube. But there are many videos which have regional restrictions. This means that these videos will be blocked for the users who try to access them from the regions other than where it is allowed to be streamed.
So whenever you try to watch such videos, an error message will appear on your screen. It will be like – "The video is not available, or, "This video is not available in your country." This is one of the most common problems that a user has to face on YouTube.
But you don't have to worry anymore. There are many ways through which one can overcome this problem. We have mentioned a few ways through which you can watch blocked YouTube videos. Let us take a look at them.
1) Watch blocked YouTube Video by using ProxMate and proxies
YouTube blocks the videos in a particular region by determining the country of the user. They determine that with the help of the IP of the user. But your IP address and your identity on the internet can easily be hidden. This can be done with the help of proxies. Various servers such as the HideMyAss offer the users some great proxy servers to hide your identity.
You can also use some good chrome extensions such as the Proxmate. Proxmate, a great extension, is also available for Mozilla Firefox as well. All you need to do is to install this extension on your favorite browser and then you can easily start watching the YouTube Videos which are restricted in your region. Besides this, there are many YouTube proxy sites as well.
You can use these to watch blocked YouTube videos. All you need to do is to point your browser to these proxy sites. After that, just enter the YouTube URL of your favorite and thereafter you'll able to play the restricted YouTube videos.
If these prosy sites are not working for you, click here to check out top best free proxy sites.
2) Use VPN to unblock videos instantly
Another great method to watch blocked YouTube videos is to use VPN. Also known as the,Virtual Private Network, it is one of the easiest ways to watch blocked YouTube videos. A lot of free VPN service providers are available for both mobile devices as well as the computers. Most of them offer the users upto 3GB free usage per month.
All that the user is needed to do is to change the location of VPN from settings as per the location of the video. As the error arrives due to restriction by the uploader, the user can simply change their location by using the VPN. The video will play easily after that without any hassle.
Now, there are some great VPNs which are available for different platforms. So if you are watching from mobile, then you can try VPN apps such as DroidVPN, Hotspot Shield Free VPN or Free VPN Master. These are some of the hottest VPN apps and can be downloaded from the play store or the app store for free. Also, if you want to watch the restricted video on your PC or Laptop, then VPNs such as PDProxy or FinchVPN can be used.
These are the best available VPNs for computers which provides up to 3GB of free usage per account with which you can easily watch blocked YouTube videos. So download these VPNs now and enjoy watching videos on YouTube without any restrictions.
3) Change the Web Address of the video
This is one of the quickest and easiest methods to watch a YouTube video even if it is restricted in your location. The steps for this method are –
Let us consider that the URL of the blocked YouTube video is http://www.YouTube.com/watch?v=yEwD37nsk81jw.
Now all you need to do is edit the address. Just replace /watch?v= with /v/.
Now the modified address will look something like http://www.YouTube.com/v/yEwD37nsk81jw.
Now just point your browser on this modified URL. The restriction on the video will be removed and now the video will play without any problem. So you can easily watch blocked YouTube videos.
4) Directly Download the Blocked Video
Downloading a video is one of the best options to watch blocked YouTube videos. Not only it removes the restrictions from the video, but it saves loads of data which you may spend to stream the video again and again. Now downloading the restricted video isn't too difficult. All you need to do is to follow the given steps.
As you know, all YouTube videos start with http://www.YouTube.com/watch?
Now in the address of your favorite video, remove the http://www. and replace it with only'ss'.
Now the address of your favorite video will look something like ssYouTube.com/watch?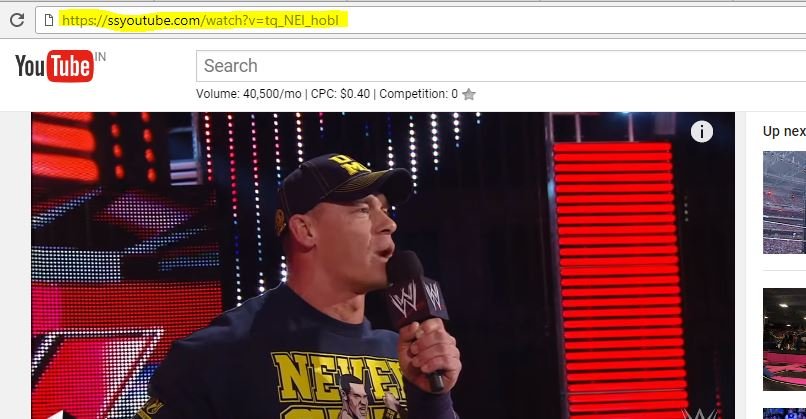 Just hit enter and you will see an option to download. Just choose this option, select the quality you want, and directly download the video.
Now you can easily watch blocked YouTube video multiple times for free without spending any data on streaming the video.
The Last Words
So we have seen that there are many videos on YouTube which have restrictions. Due to this,people were unable to watch blocked YouTube videos. But there are many ways through which one can even watch blocked YouTube videos. These methods are mentioned above.
These methods are really easy to follow. Just go through them carefully and then you can change your location. Doing this will remove the restrictions and hence you will be easily able to watch blocked YouTube videos. 🙂