If you still haven't fully grasped the context of infographics, it might be time to learn how implementing these elements in your website you can increase customer engagement and increase your conversion rates at the same time. Infographics are not only helping your audience understand your message better, but can also serve entertainment purposes.
Making sure that you have a good balance of graphics, text, animation, and videos on your site will make it easier for your audience to find and share the content. Below you'll find a list of ways you can use them to improve your traffic, conversion, and customer engagement.
1) They Break Up Long Content
If you have a long industry insight, white paper, or research to share with your audience, there is one surefire way of making sure your message will be understood and read. Instead of boring black-and-white reports that are full of numbers and statistics, you can present the graphs and charts in a fun way.
Whether you are looking to convince your customers that you are achieving results, or highlight a problem in your industry that they might be struggling with, infographic designs can help you give them the information they need to make an informed decision.
2) Easy to Understand
One of the best features of infographics is that they only take a few minutes to review, compared with reading a 2000 word article or research excerpt. Most Millennials are visual learners, so you don't want to force them to read too much.
They are more likely to grasp the numbers, figures, and issues highlighted if you present them in a graphic form. With plenty of infographics design templates available throughout the internet, you can choose the right format to present your message.
3) 
They Are Professional
Instead of creating a blog post or article that is filled with random pictures to break up the content, you can make a professional infographic presentation and hit the professional tone.
For companies looking for more branding opportunities online, infographics offer a lot of opportunities. You can present your vision, mission, values, and achievements in a form your potential clients will remember.
4) They are Entertaining
Image via Wikimedia Commons
Infographics often have a lot going on. Funky colors and themes, graphics, and sliding charts; whatever you would like to implement, there is a tool.
Whether you want to help your clients choose the right product or service on your website, or would like to summarize your financial reports, customer feedback scores, and report on your completed projects, you can do it in a more entertaining way, using infographics.
5) You Can Add Animation
A few years ago, a new trend has started in the world of online marketing. You can now add moving GIF images, and even video elements and animation to make your content more engaging. Some companies even decide to turn their infographics into YouTube videos and create more awareness of their brand and offerings this way.
No matter if you are using your infographics to create an unique slideshow or you are explaining a problem or your manufacturing processes, you can keep your visitors focused on the topic longer than you could if you sent out a white paper or industry report.
6) Easy to Share
The good news is that infographics behave like images, when it comes to sharing, and – if they like it – your visitors and followers might share and distribute your content for free. The more engaging and informative your infographics is, the more chance you will have for it to go viral and make its way to industry magazines and authority blogs.
7) You Can Highlight the Important Issues
By using animation, flashing and moving elements, you can now draw your visitors' attention to the most important issues presented in your infographics design. You might want to present your main findings in a separate box in the middle, or use a question as a title and provide different summarized answers to it throughout your infographics.
Combining GIFs, colors, animation, shading, and unique graphics, you can get them to focus on the main takeaway of the content better than you can when you are blogging or creating a report.
8) Good for Social Proof
The more people like, share, and comment on your content the better exposure and more social proof your brand will get.
If you own a new company, and would like to increase your brand awareness, there's no better way of doing so than creating a stunning infographic design and sharing it with your existing followers, asking them to give you feedback on it.
Don't forget to share the content on your social media accounts; LinkedIn, Facebook like page, and Twitter, so you can reach more people and increase the level of social proof in your company.
Search engines simply love infographics. They are images, but seem to attract more interest than them. You can add a description or a transcript to the infographic, and increase your post's SEO score. However, today, professional SEO companies, like ignite digital use infographics for different reasons.
The more social interaction your site gets the better your site's search engine rankings will be. Therefore, by attracting more followers and fans, you can get more branding, selling opportunities, while increasing your search engine position.
10) Fun to Create
With plenty of drag-and-drop infographic design tools available free or at a low cost, you now have no excuse not to make one. You can try Canva which offers a free trial, and experiment with the different themes, colors, and fonts.
Once you master this skill, you will be able to design a new infographic every day, and take advantage of this unique tool. You can experiment with sound effects, narration, transcripts, and video elements that will help you grab your audience's attention more and make information fun.
11) Easy to Distribute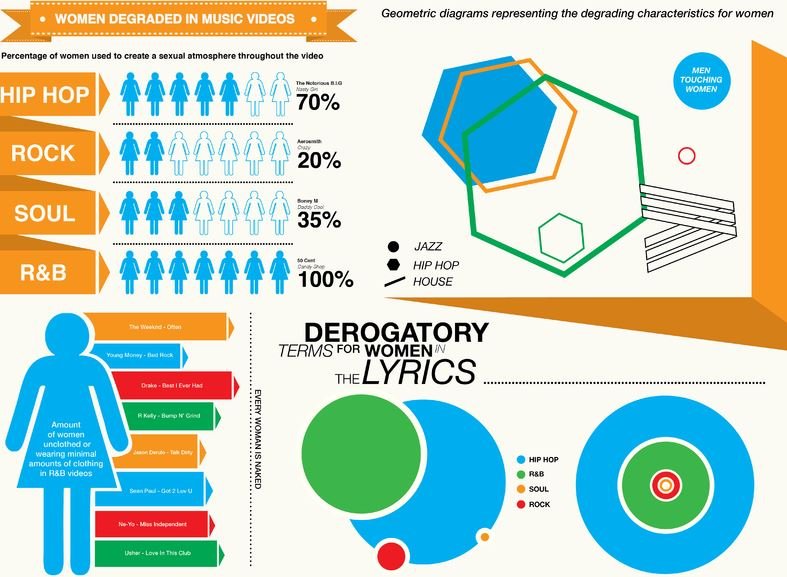 Image via Wikimedia Commons
You can also share your own infographics on your blog, social media accounts, or even turn them into a slideshow or narrated video. You might want to turn some of your old content into infographics, and make them more interesting.
Also You can send out infographics in newsletters, emails, and through messaging apps and collaboration platforms. Some companies use them to educate their customers or staff through their Google Suite accounts, while others turn them into tutorials on their Google Plus pages.
12) Good for Intro Videos
In case your company is lacking a strong branding message on the landing page, you might create an infographic video to explain your visitors what your company offers and how you can help them solve their problems. Focus on your unique selling propositions, and you can make the most out of the branding opportunities your website has to offer.
13) Video Infographics are Great for Educating Your Customers
Whether you would like to tell your customers why your product is providing more value than your competition's, or want to make it easier for them to choose the right level of service, infographics can help you out.
You can draw attention to the importance of an important trend in your industry, or highlight some of the unique features your product has to offer.
Whether you are an online marketing expert of a blogger, you can take advantage of the many great features infographics have to offer. It doesn't take a lot of time to learn how to design infographics, and they are easy to share.
You can instantly increase your social proof and make your content go viral, if you learn how to turn your existing content into an engaging and shareable infographic.