Microwaves have become a necessity in today's times. They come loaded with numerous options to cook several delicious cuisines. However, you can enjoy a quick, easy and hassle free cooking experience only if you opt for a microwave from a good brand. If you are planning to purchase a microwave oven then the information shared here should come handy.
List Of Most Popular Microwave Oven Brands In India
Here is a look at the best microwave oven brands in India.
Samsung
Samsung is a multinational conglomerate company that originated in South Korea. Among other things, it is known for manufacturing high quality electrical appliances. Its refrigerators, air conditioners and microwaves are particularly in demand in India. It has launched several big and small microwave models with various functionalities.
These are known for their solid interiors and beautiful exteriors. Many of its models come with triple distribution system that makes sure the food is cooked/ heated completely. They also come with rapid defrost feature that heats the frozen food in a way that it takes just the right form.
Samsung microwave ovens offer high performance and are power efficient. Many of these models come with smart child lock feature which is useful for families with small kids.
Samsung MC28H5033CK/TL 28 litre convection, CE 104VD-B/XTL 28 litre convection and CE76JD-B 21 litre convection are some of the most sought after microwave models from the brand.
LG
LG microwave ovens are known for their unique design and useful features. The brand has launched microwave ovens in different sizes to match the requirement of different users. Most of these come with stainless steel cavity that allows excellent reflection and uniformity of heating.
LG microwave models are known for enabling cooking in less amount of oil. There are several options that help in preparing various delicious Indian recipes.
LG MC2883SMP 28 L convection microwave and LG MC2844SPB 28 L convection microwave are among the brand's most popular microwave models.
The make and design of these models will add to the appeal of your modular kitchen. The microwaves come with at least one year warranty. Magnetron usually has a warranty of 5 years.
IFB
IFB is one of the preferred brands when it comes to electronic items. It is particularly known for manufacturing high quality microwave ovens and washing machines. It has launched many microwave models that have been loved by consumers in India. Their microwaves are known for their design as well as utility factor.
IFB 23BC4 Convection Microwave Oven, IFB 25SC4 25 L microwave oven and IFB 20 L Convection Microwave Oven are among the brand's hot selling products.
These microwaves have many interesting and useful features such as auto cook menu, auto clean, reheat, child lock, defrost, fermentation and multistage cooking. You can easily cook and reheat your food in this microwave oven. You can also defrost frozen food in few minutes.
These microwaves are not only available at a reasonable price but their power consumption is also quite low. They come with a warranty of 1 year. 3 years warranty is mostly provided for their important parts such as magnetron and cavity.
Godrej
Godrej is one of the oldest and most trusted brands among Indians. It has been selling a variety of electrical appliances in India since decades. It offers a wide range of microwave ovens that are known for their beautiful designs, robust body and high performance.
These work well when it comes to basic cooking, elaborate preparations as well as simple heating. These microwaves are a user's delight as they facilitate express cooking, combination cooking as well as multi stage cooking. Many of them also have insta-cook option. The microwaves are built with the finest material and are easy to clean.
Godrej GME 30CR1BIM 30 L convection microwave, GME 723 CF3 PM Black Matrix and Godrej Solo microwave oven GMX 20 SA2 BLM, Godrej GME 20CM1 MJZ20L are among the best microwave models offered by the brand.
Electrolux
Electrolux microwave ovens make use of smart ware technology that ensures uniform cooking and maintains the nutritional value of food. It makes sure there are no cold spots or overcooked edges.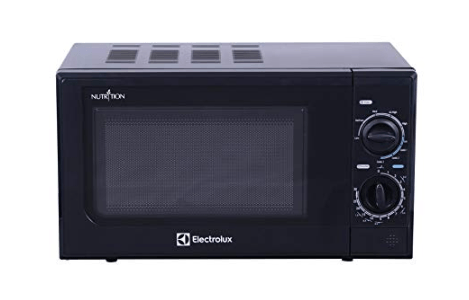 Many of its models are equipped with 360 degree clean system that automatically cleans the stains formed during cooking. They also have several pre-programmed auto cook buttons for quick and easy cooking. These are power efficient and easy to use.
Electrolux C23J101-BB-CG microwave oven and 20 ltr G20M.BB-CG Grill microwave oven are among the top selling models of the brand. C23J101-BB-CG model comes with a special tandoori heater that allows you to prepare delicious tandoori items. Most of Electrolux's models come with 3 years warranty.
Morphy Richards
This home appliance company originated in the United Kingdom. It has made a mark worldwide by offering high quality electrical appliances. Its microwave ovens are quite in demand in India. These are easy to operate.
Cooking food is a breeze with Morphy Richards microwave ovens as they come with several pre-programmed cooking options.
These microwaves offer uniformity of cooking as they are equipped with high speed velocity fan that facilitates equal distribution of heat in different parts of the oven. Many of them also come with over heat sensor which is a very useful feature.
Its models are known for their scratch free and stain resistant interiors. These are easy to clean as there is very less scope of food fragments to deposit on the corners due to the round design of the inside cavity.
Morphy Richards MWO 23 MCG convection 23 litres microwave and MWO 25 CG microwave oven are the brand's top selling microwave models. Most of its microwave models usually come with 2 years warranty.