If you work on a PC, then you must be worried about the security of your system and its data. To keep your data secured and your system free from viruses and malware attacks, you must use reliable antivirus software which can safeguard your system against malicious activities while surfing the web.
Bitdefender Antivirus Plus 2020 is the perfect security solution for your system. The company has recently upgraded its software range by adding advanced features and security tools. Let's decode this latest Bitdefender Antivirus Plus 2020 now!
Bitdefender Antivirus Plus 2020 – Best Antivirus for Windows
Bitdefender is one of the most popular and trusted companies with a range of different types of security solutions for all types of PC and Mobile systems.
You can use the related app on your device to protect it against malicious attacks and viruses. The upgraded edition brings a couple of advanced tools to let you surf the Internet securely.
The following list of its key features will let you know more about what's newly included in the best antivirus software for Windows users.
Key Features
1] User-friendly Interface
This security software lets you make use of its features and tools easily. If you are a non-technical person and want to secure your system, then this software has got your back. You can easily select from different tools and functions to scan your system and to protect your web browsing.
2] Quick Scan
The main purpose of using antivirus software on your system is to keep your system free from viruses and malicious files. With the help of the Quick Scan feature, you can quickly scan your system with just one click.
You can partially scan your system as well by selecting the custom scan option. Additionally, you can also scan your entire PC system by selecting the System Scan feature from the home page.
3] Multiple Protection Features
This security solution provides you with multiple protection features which include Antivirus, Vulnerability, Firewall, Anti-spam, Advanced threat defense, Ransomware remediation etc. You can select from these different sections to protect your web activities and to keep your system clean from viruses.
The 2020 edition brings an upgraded Firewall to protect your system automatically against the malicious files. You can enable different security features and tools or can disable the unwanted ones by launching the app of this Antivirus software.
4] Multi-layer Ransomware Protection
The 2020 edition includes multiple layers of security against ransomware. Ransomware encryption attacks your system by while surfing the web which can fetch all the information stored in your system and can affect your online activities as well.
With this multi-layer ransomware protection, you can surf the web freely without the threat of the ransomware attack.
5] Prevents Phishing
This software prevents your system from phishing and online fraud. If you love to shop online from e-commerce websites or make online transactions, then this software protects your personal banking details and other information from third-party accesses. It also protects your system from emails which can also fetch your system's information.
6] Built-in VPN
The security solution comes with a built-in VPN tool. You can use this Virtual Private Network to surf the web anonymously by keeping your system's identity hidden. Your IP address and current location will be changed and you can surf the web securely while using public wi-fi networks etc.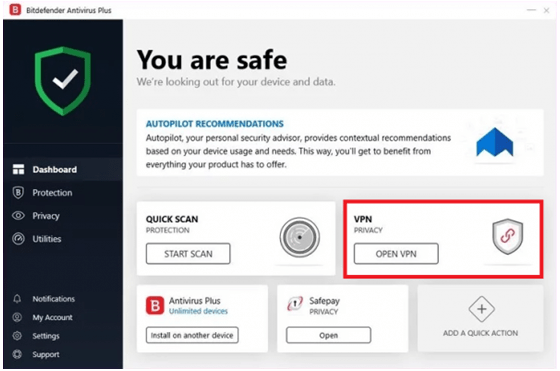 7] Anti-tracker
Anti-tracker is the latest tool included in this software for web-user. You can use this extension to block website trackers from accessing and collecting your personal data. This extension tool helps you to view and manage information on each website you visit.
You can also see what type of data a website collects without your consent. You can also use the block feature to stop that particular website from collecting your data.
8] Social Network Protection
We all use different types of social networks to stay connected with our loved ones and to grow our businesses. You can now safeguard your social network browsing from viruses when you click on irrelevant links given on the websites.
Apart from this, you would get a number of extraordinary security features to manage your passwords, to protect your passwords, to secure your wi-fi network and much more. Apart from this, the software has improved its security for making online payments.
9] Pricing
Depending on your needs, you can select from a suitable product, which lets you select the protection plan for a single year or multiple years. You can also select the plan for one or multiple devices.
Conclusion
Bitdefender Antivirus Plus 2020 is the most reliable security software for your PC system. Interestingly, you can test out this security solution on your PC by selecting its free 30- days trial edition. Once the trial period ends, you can select from a premium plans which suits your requirements.
You may like: Does Mac Need Antivirus?