One of the crucial steps to take if you or your loved one was injured in a motorcycle accident in Los Angeles is to retain an experienced motorcycle personal injury attorney.
You want to understand the nature of your relative's injuries and you want him or her to have the best possible medical care, but you also have to take responsibility for the accident, the medical bills, and your loved one's responsibilities. You may find it difficult to get even his or her own insurance to pay the medical bills.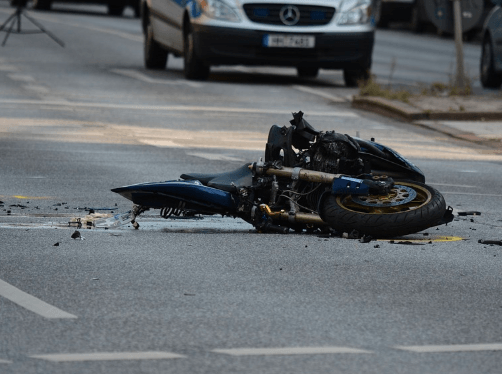 1] Liability for the Accident
Unfortunately, of the 5,172 motorcyclists killed on the highway during 2017, 28% of them were drunkand 29% didn't have a motorcycle license. Even though helmets prevent brain injuries and death, not all cyclists wear them.
Reviewing 8,539 motorcyclists' death certificates, the NHTSA decided that 57% died from multiple injuries and 55% died from head injuries.
Weather and highway conditions may have contributed to or caused the accident. A gap or hole in a road can throw a motorcycle rider. At intersections, the car or truck turning left into the path of a motorcycle traveling straight through the intersection caused 42% of the accidents.
2] Motorcycle Accident Attorney
You need a motorcycle personal injury attorney who understands your specific needs and will take the time to answer all of your questions. You need a motorcycle accident lawyer in Los Angeles who can help you.
Get quality medical care.
Fight for your motorcyclist's rights.
Prove liability for your loved one's accident.
Get compensation for his or her medical bills.
Get compensation for his or her lost wages.
Form a guardianship or trust for the victim's family.
3] After a Motorcycle Accident
Get immediate emergency medical care. The doctor's treatment notes from the emergency room will describe your injuries with the date and time they occurred. The emergency treatment record is also an indication of the medical treatment you or your loved one needs, but not all injuries are immediately apparent.
4] Head Injuries from Motorcycle Accidents
Even if your loved one is in a coma, he or she may recover fully from the accident. A coma is altered brain function, or actual brain damage, caused by the collision. If your loved one is in a coma, he or she is totally unresponsive to you and to stimulation.
As his brain's functions stabilize, your loved one will enter a vegetative state. He or she will gradually start to respond to you. It can take weeks, but he or she can progress from the vegetative state of awareness to alert and recuperating. The most common type of temporary brain injury from a traffic accident is a concussion.
5] Notify Your Insurance Company
Call your insurance company within 24 hours of the accident. Simply tell your insurance agent the facts of the accident when, where, and how it occurred. Anything you say to an insurance claims adjuster can be used to deny your claim in full or in part. Refer your insurance company to your best motorcycle accident attorney.
It's not uncommon for a claims adjuster to accept liability for an accident and refuse to pay for treatment that may not have been caused by the accident. If you were intoxicated at the time of the accident, your contributory negligence may mean you do not receive compensation for your injuries from the third-party who hit you.
6] Keep Documentation
Photograph the scene of the accident and your injuries. The Document as much information as you can about the scene of the accident. Document the weather, the speed limit, any holes in the surface of the highway, and the light conditions.
Document the mile marker to go back and photograph the scene of the accident later. Note road construction, streetlights, and neighboring businesses that might have surveillance cameras. Talk to the witnesses as soon as possible after the accident. Thoroughly document what they say before they forget the details.
Continue to photograph the injuries through your loved one's recuperation phase and keep all your records current. Get the accident report.
The accident report tells you who was involved in the accident, and it may name witnesses with contact information. The police report has the name and number of the officer who filed the report. The report may tell who caused the accident, and the police officer may have additional information.
7] Workers Compensation
If the motorcycle accident occurred while you were traveling to or from work, immediately tell your employer when and how you got hurt. Your motorcycle injury lawyer may be able to get you workers' compensation.
Workers compensation claims are time sensitive. Your employer completes a portion of your application, and you should understand your workers' compensation benefits. Promptly attend all of your appointments.
Workers' compensation pays medical bills and brings you peace of mind as you recover from your injuries. You don't have to prove that someone caused your injuries to receive California workers' compensation benefits.
Workers' compensation offers short-term disability benefits. A social worker may be able to help you get workers compensation, but you'll do better to get a motorcycle personal injury attorney who files workers' compensation claims.
8] Agency Doctors
If you're applying for workers' compensation or social security disability benefits, obtaining treatment from health care providers who work with them may make it easier for you to get the benefits you need.
Their providers know exactly how to document and file your medical records. Even insurance companies work with doctors who know what facts to submit to them, and the agency or insurance company is more likely to be influenced by one of their own health care providers.
9] Wrongful Death Claim
If your loved one dies as a result of injuries caused by the motorcycle accident, our motorcycle accident lawyer in Los Angeles files a wrongful death lawsuit against the defendant who accidently or deliberately caused the death. Only the next of kin can file a wrongful death lawsuit.
The administrator of the deceased's estate becomes the plaintiff in a wrongful death lawsuit. The wrongful death lawsuit can recover not only compensation for the deceased's medical bills and burial expenses.
The wrongful death lawsuit can recover compensation for the financial losses of the deceased's family from the time of his or her death until his or her retirement. The settlement amount becomes part of the deceased's estate which the administrator distributes to the deceased's beneficiaries.
10] Motorcycle Injury Lawyer
Your motorcycle accident attorney may be able to file a third-party lawsuit against the person who caused the accident to get you compensation for your medical bills, your lost wages, and your pain and suffering caused by the accident.
Our aggressive motorcycle injury lawyer has proven road and weather conditions caused motorcycle accidents in cases when others thought there was no hope for recovery.
And Our lawyers mediate settlements for motorcyclists against government entities who can be held accountable for their road maintenance. Our personal injury lawyers strive to get compensation for your.
Surgical expenses.
Hospital costs.
Doctor bills.
Diagnostic tests.
Rehabilitation costs.
11] West Coast Trail Lawyers
Call today for a free consultation in our Los Angeles office to discuss your loved one's motorcycle accident and injuries. Our motorcycle accident lawyers in Los Angeles are Los Angeles Super Lawyers.
Our attorneys are familiar with the most dangerous freeways in Los Angeles, and we will not hesitate to prepare your case for trial. And Our legal team speaks eight different languages to make you feel at home.